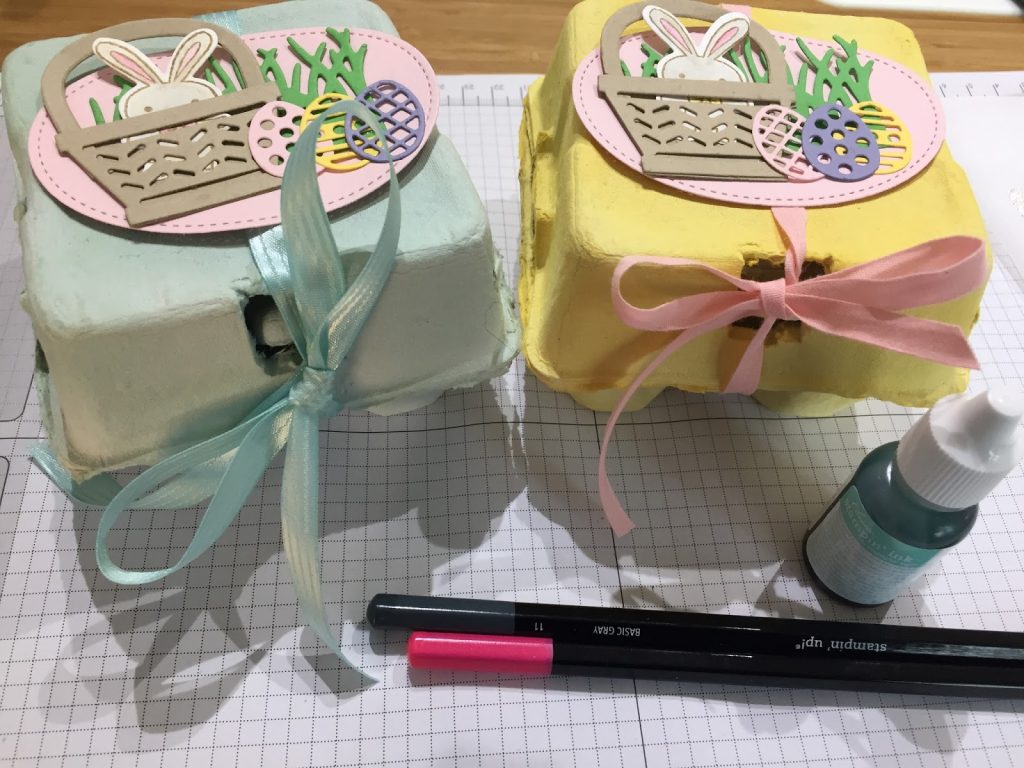 So I am back from Onstage convention and still have so much to share with you but it is Easter this weekend and I couldn't wait to show you this fun project using the cute Egg cartons from Stampin Up! When I spied them in the Spring /Summer catalogue I knew they would be great coloured and dressed up with chocolate inside!
They come in a pack and are a lovely cream colour so perfect as they are or for colouring. Stampin Up are amazing at matching their inks, cardstock and ribbon etc. and I wanted to see what the boxes would look like in these yummy colours. I have seen Sally from Sallys Stampers and Sam from Pootles successfully use this technique to colour the boxes and I couldn't wait to have a go myself.
The Stampin Up ink pads have matching re inkers you can inexpensively purchase so that your inkpads have a very long life. They are also used to refill the Stampin Write Markers and as I found out today can be used for more inky projects too. I have used the Stampin Up spritzer bottle and filled it almost to the top with rubbing alcohol. (I got mine from Amazon but pharmacies stock it too). I added 12-14 drops of the re inker. I chose Daffodil Delight and Pool Party colours. I then liberally sprayed the egg carton. The more you spray, the more intense the colour you get. Let it dry for a little while. the alcohol evaporates easily so it's not too wet but ensure you are in a ventilated room and your table is protected with paper.
To decorate the top of my egg carton I have used the Basket Bunch Stamp set and Basket Builder dies. Can you see the bunny peeping out of the basket? I added some of Stampin Up's lovely ribbon and filled them with chocolate. I think my children will love these. This is how I made them.
I hope you like seeing how I made these cute Easter treat boxes. If you like the video please give me a thumbs up.
Materials Used
Egg Cartons
Rubbing Alcohol
Re inker Daffodil Delight
Re inker Pool Party
Ribbon Soft Sky
Ribbon Blushing Bride
Scraps of cardstock in :
Blushing Bride, Pear Pizazz, Crumb Cake, Wisteria Wonder, Daffodil Delight.
Water colour Pencils
Basket Bunch Stamp set
Basket Builder Dies.
Stampin Up has its brand new Annual Catalogue coming in June and yesterday announced the products from the current range that will be 'retiring' to make room for lots of exciting new things. Lots of items are discounted and there are bargains to be had. But be quick because popular items may sell out fast and wont be replenished. Take note especially if you have any of the ink pads from the 2015- 2017 In Colour range as you may want the re inkers or matching card stock. These items often sell out first. You can see the products I used and the retiring list at katebolt.stampinup.net so have a browse. I would love to earn your custom. Thanks for stopping by X