Y
ey for Mondays!. I know Mondays is often a drag yourself out of bed and groan day for lots of us but I have something lovely planned into my Monday mornings.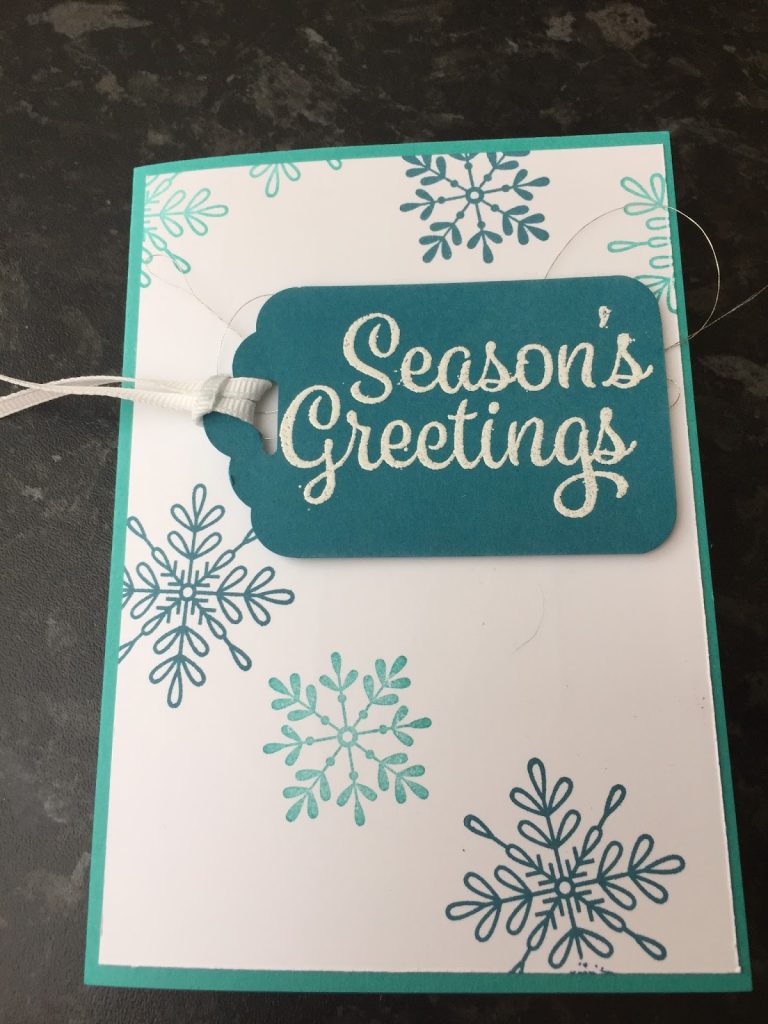 This is the card we made at Coffee and Cards today. Just a few weeks left until Christmas so it is lovely to get a few beautiful hand made cards done and ready to post. I hold Coffee and Cards in a delightful community coffee shop called More+, locally to where my son goes to school. Every Monday 10 – 12 (except Bank Hols) and you can drop in anytime to make a card or two. It costs £5 which covers the cost of your supplies, tuition, and your hot drink too. The coffee here is great and they also do some awesome cakes and bacon sandwiches too.
Its just a great way to start your Monday for all of us. Being a Stampin Up! demonstrator is the perfect job for me to fit my paper craft love and job around my children. And what better way to start the week but to do the school run and then wander across the road to hold Coffee and Cards.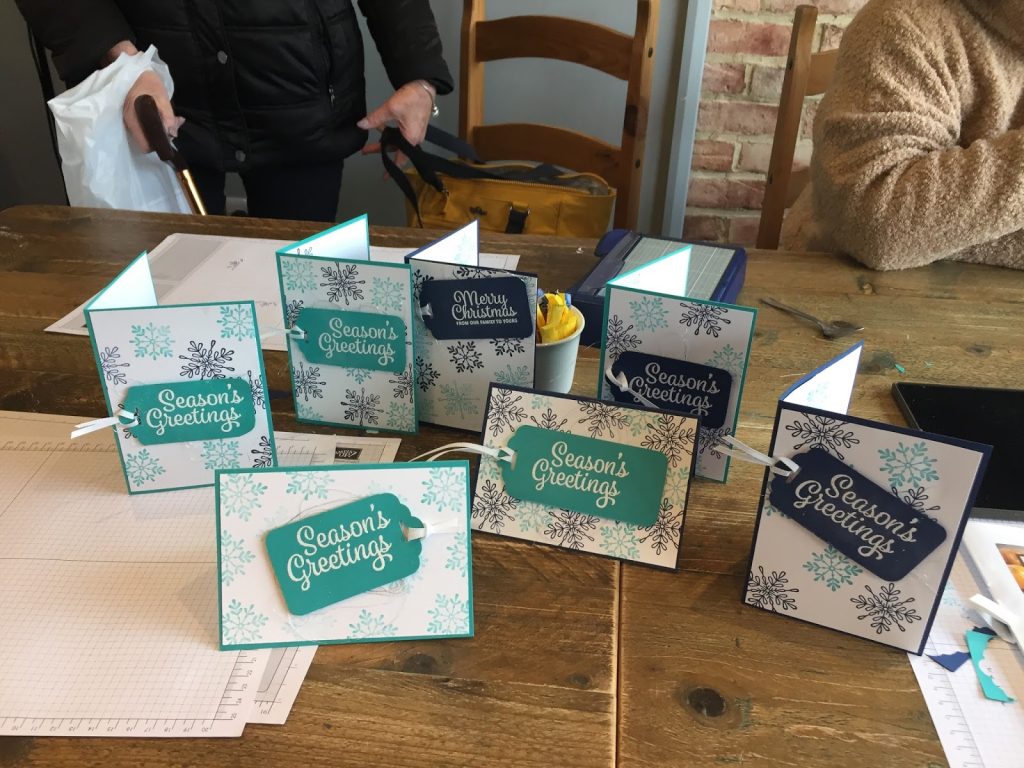 The ladies did a great job didn't they? We used Snowflake Sentiments stamps and also the Scalloped Tag Topper Punch. This punch is a must have in my stash. I use it so much for lots of things.
Coffee and Cards is a simple one layer card. Suitable for everyone to take part in and enjoy and then leads onto my classes where more techniques are used. Still suitable for everyone though.
I thought we would add a little heat embossing today though and we have embossed out tag in white embosssing powder to give it a pop.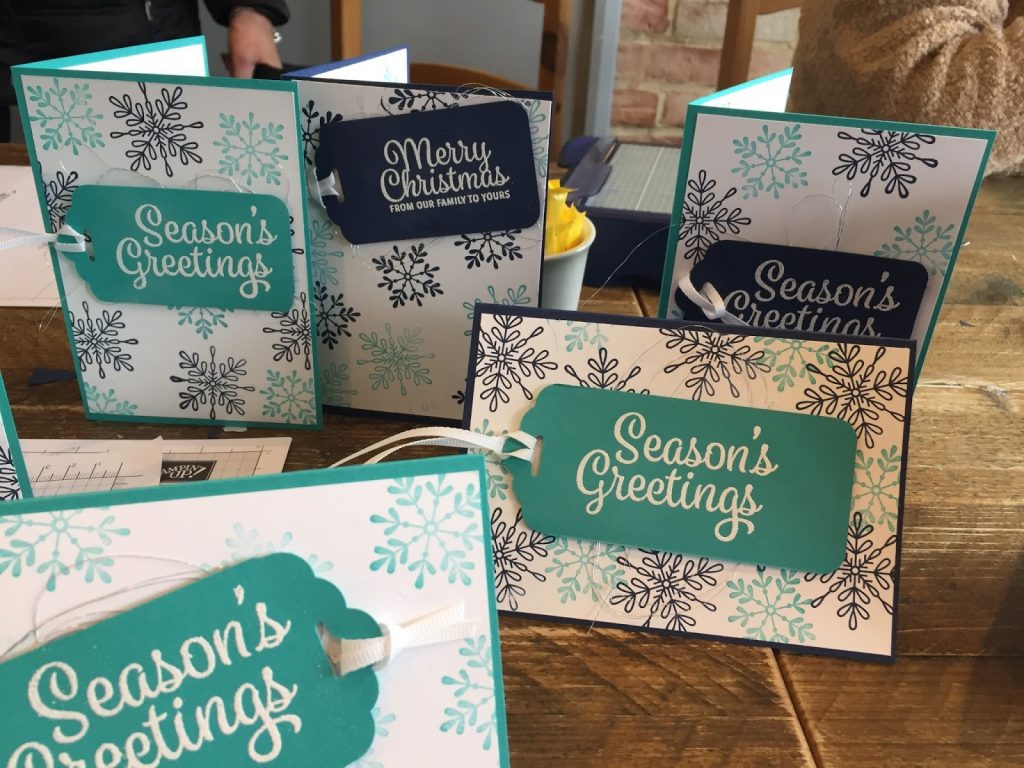 And added a little silver metallic twine behind.
If you think you would like to join us for Coffee and Cards at More+ Community Coffee shop on Parton Rd. Aylesbury on a Monday, do drop in we would love to have you.
Another piece of news to make your Monday extra special is the Free Shipping Offer today only! How fabulous. All our goodies are hand picked in the ware house, shipped from Germany and couriered to your door and today it is FREE! So stock up and make the most of saving. Or that small item you couldn't justify the P & P for? Well now it is free! So go for it.
Looking for a Christmas present? Take a look at our beautiful fully inclusive kits. Everything needed to start stamping inside a beautiful box. Or our gorgeous Planner! With the Free P & P today that's Christmas wrapped up!
And if you would like to take advantage of the fabulous working from home opportunity Stampin Up! offers, do get in touch. I would love to have you in my team ,there is lots of support, training and a whole community of Stampin Up! demonstrators out there to join. Brighten up your Monday too. I'd love to hear from you. Contact me for more information here or click Join in the sidebar.
I run monthly Card Classes and Memories and More Scrapbooking crops too. Suitable for all abilities. See the dates on my events page in the side bar or contact me here for more details. I'd love to craft with you.
If you place an on line order for between £20 and £150 please

add

hostess code

Z29XEWW3

on checking out and I will send you a little thank you gift at the end of the month. If your order is £150 or more there is no need to add the code as you will earn your own Stampin Rewards! If there is anything you would like help with, don't hesitate to ask. I would love to earn your custom.
Have you got a big wishlist from the catalogue? Would you like to save money or would like to get your hands on all the
new Stampin Up products at a great discount!
join an amazing paper crafting family, have access to training and of course a great discount then
JOIN MY TEAM HERE
or get in touch for a chat. It really is easy. I'd love to have you in my team!
Thank you for stopping by and taking a few moments to read my blog post. If you like any of the products used you can click on all the products used at the bottom or Shop Here
I value all my customers. Without them I wouldn't be here. All my online customers receive a small thank you gift from me at the end of the month they have shopped. Happy Crafting!