I am soooo happy to share this news with you. We have been waiting a long time for this. Stampin' Up! have developed their own brand new Stamping tool, the Stamparatus! And it does more than other similar tools on the market.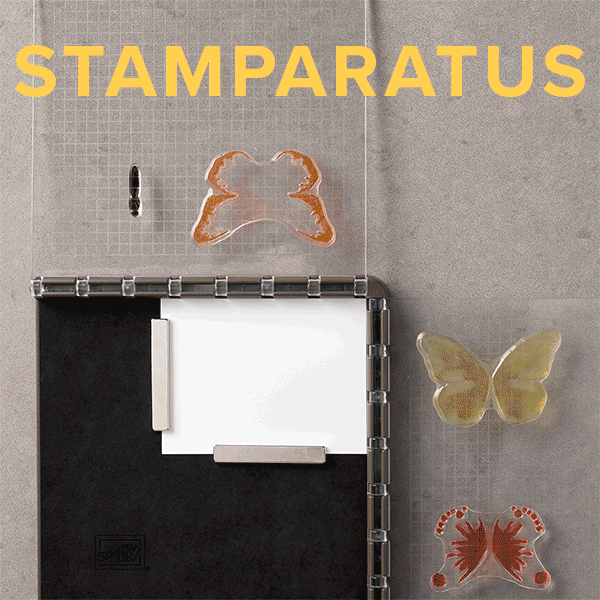 This tool is a game changer!
See it in action here and all its features and benefits.
I have come back from Stampin' Up! convention absolutely buzzing after seeing this tool in action. It really is brilliant. No more missed stamping, being able to stamp perfectly EVERY time, being able to stamp multiples of the same card easily with perfect alignment every time, but the best thing for me has to be that it has two window to place your stamps! You can build stamped images so easily! and it fits any size paper. The stamping plates are hinged adjustable, reversible and removable! The magnets come as standard too!
Anticipating high demand for this product Stampin' Up ! are releasing this product through a pre -order reservation system. This is the only was to be able to get one for the time being but it means you can reserve yours. No payment is required to reserve one but your name must be down to be able to get one!
The first Pre order period is 16th – 30th November and goes live tonight at 9pm
See my You Tube video on how you can get yours!
If you would like yours, you can do so at http://katebolt.stampinup.net, click on shop and fill out the form to reserve from 9pm tonight. No payment is required to reserve. Once all the slots Stampin' Up! has allocated for the first pre order is full, you will need to wait until the next pre order slots open up on December 15th so get in quickly if that's what you would like. Both demonstrators and customers are ordering them at the same time. So I will be doing the same too!
I hope you have found this useful information so you can get your hands on one. Any questions at all, do get in touch x
I really hope you like to see what I have been up to, click on the subscribe button at the top for my posts to drop into your inbox if you don't want to miss anything!
I run monthly Card Classes and Memories and More Scrapbooking crops too. Suitable for all abilities. See the dates on my events page in the side bar or contact me here for more details. I'd love to craft with you.
If you place an on line order for between £20 and £150 please

add

hostess code

Z29XEWW3

on checking out and I will send you a little thank you gift at the end of the month. If your order is £150 or more there is no need to add the code as you will earn your own Stampin Rewards! If there is anything you would like help with, don't hesitate to ask. I would love to earn your custom.
Have you got a big wishlist from the catalogue? Would you like to save money or would like to get your hands on all the
new Stampin Up products at a great discount!
join an amazing paper crafting family, have access to training and of course a great discount then
JOIN MY TEAM HERE
or get in touch for a chat. It really is easy. I'd love to have you in my team!
Thank you for stopping by and taking a few moments to read my blog post. If you like any of the products used you can click on all the products used at the bottom or Shop Here
I value all my customers. Without them I wouldn't be here. All my online customers receive a small thank you gift from me at the end of the month they have shopped. Happy Crafting!