Incredible Like You – Welcome To My Team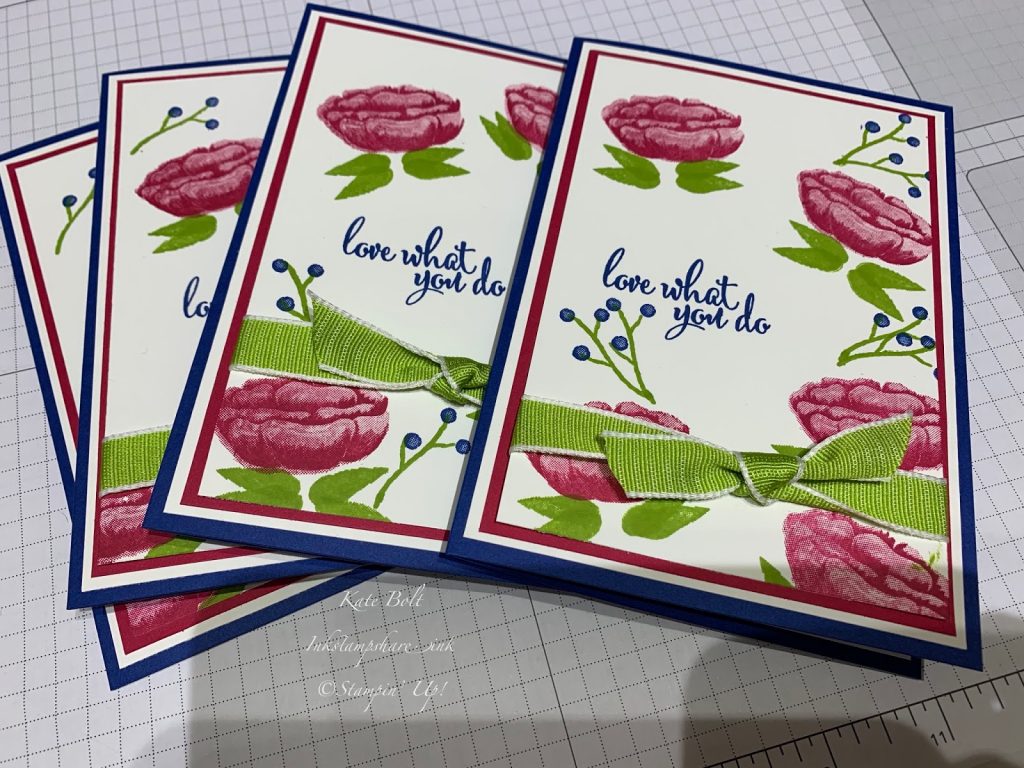 I am so happy to have welcomed a new member to my team today. The current joining offer during Saleabration is too good to miss and I am so glad she took advantage of it. I love to send a welcome card out to each new team member with their welcome pack and I thought the new Incredible Like You stamp set was perfect for the job! My team name is Inkredibles and I hadn't realised the connection between the that and the name of the stamp set until right now 😂There are some gorgeous sentiments in this set that I can't wait to use but I needed something craft related so instead I picked out the "Love What You Do" stamp from the Love What You Do stamp

set.
I used Lovely Lipstick ink to stamp the flowers, Granny Apple Green for the leaves and stems and Blueberry Bushel for the small buds. I stamped onto Whisper White and layered it onto Lovely Lipstick and Blueberry Bushel card. I have added some of the pretty Granny Apple Green Ribbon to finish it off.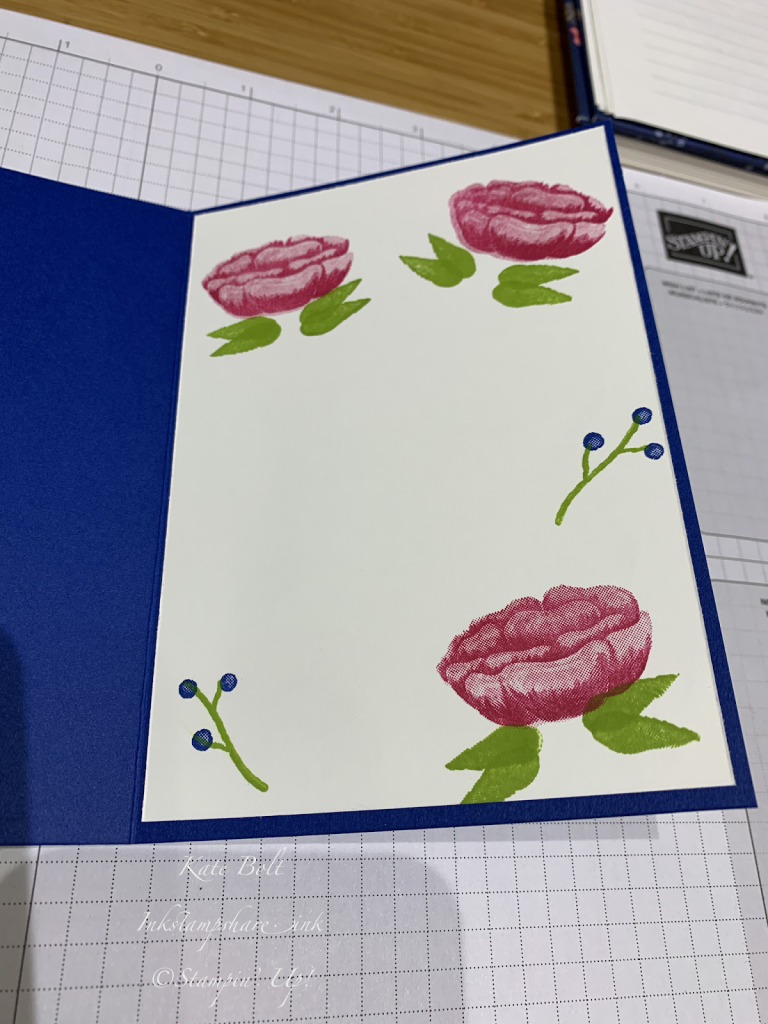 Such a simple but pretty card. I hope you like the bright colour combination. Not my usual at all, but I love it!
I am in the middle of making a few of these cards. I am working hard to grow my team and Saleabration is the perfect time to join. The offer is amazing and then of course there is the ongoing 20 – 20% discount, Saleabration and all the other perks that go alongside joining up.
Did you know that people join Stampin' Up for all sorts of reasons. Some just for themselves, some sell to family and crafty friends to fund their hobby and some do it as a business opportunity and earn an income, rewards and trips. Indeed, most of the people who run it as a business will tell you that they started out as a "hobbyist" and they loved it so much it turned into a business. There really is something for everyone and you never know where it will lead to!
I love my team and am there to support them to do as much or as little as they want to. They all have different goals and I love that. We also have team meetings where we craft and chat and share inspiration. I have face book groups for them too and send out e mails, so it doesn't really matter where they all live. We connect. We go to events together too. There are lots of those in the Stampin' Up calendar. It really is a great crafty community to be a part of.
Theres a great sentiment in this stamp set that says "incredibly proud of you" That would be perfect to put on a card for one of my inkredible team when they reach one of their goals wouldn't it! That's making me chuckle now.
Have you seen the current joining offer?
It is awesome! Especially if you have a wishlist. Have you seen the new Spring/Summer Catalogue?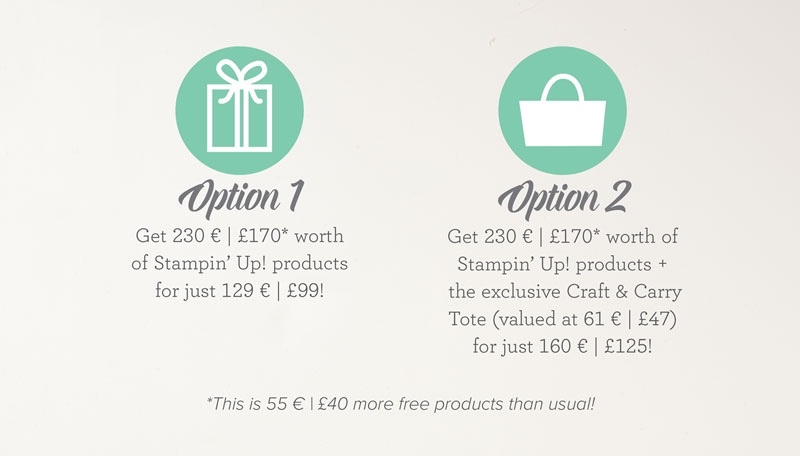 So Option 1 is £170 of your choice of product from the Spring/Summer and/or Annual Catalogue for only £99 with free shipping too.
Option 2 is £170 of your choice of product from the Spring/Summer and/or Annual Catalogue plus the new Craft & Carry Tote (worth £47) for only £125 with free shipping too.
And have you seen the Tote? . Yes it is gorgeous! In the new colours and it carries loads!!💕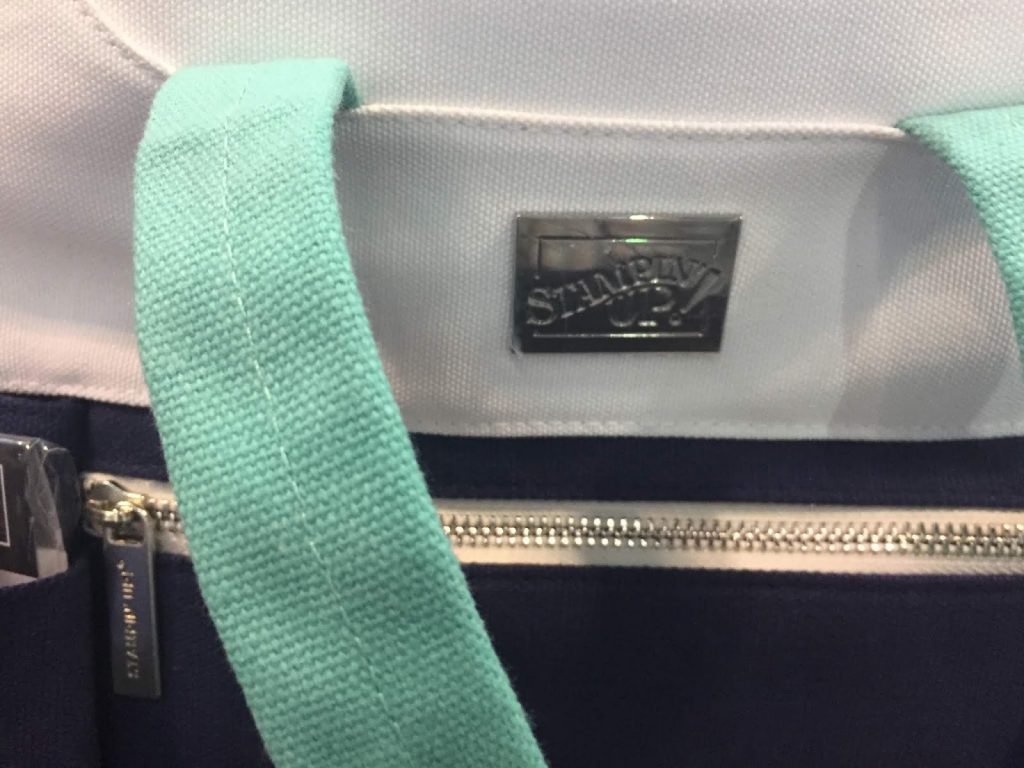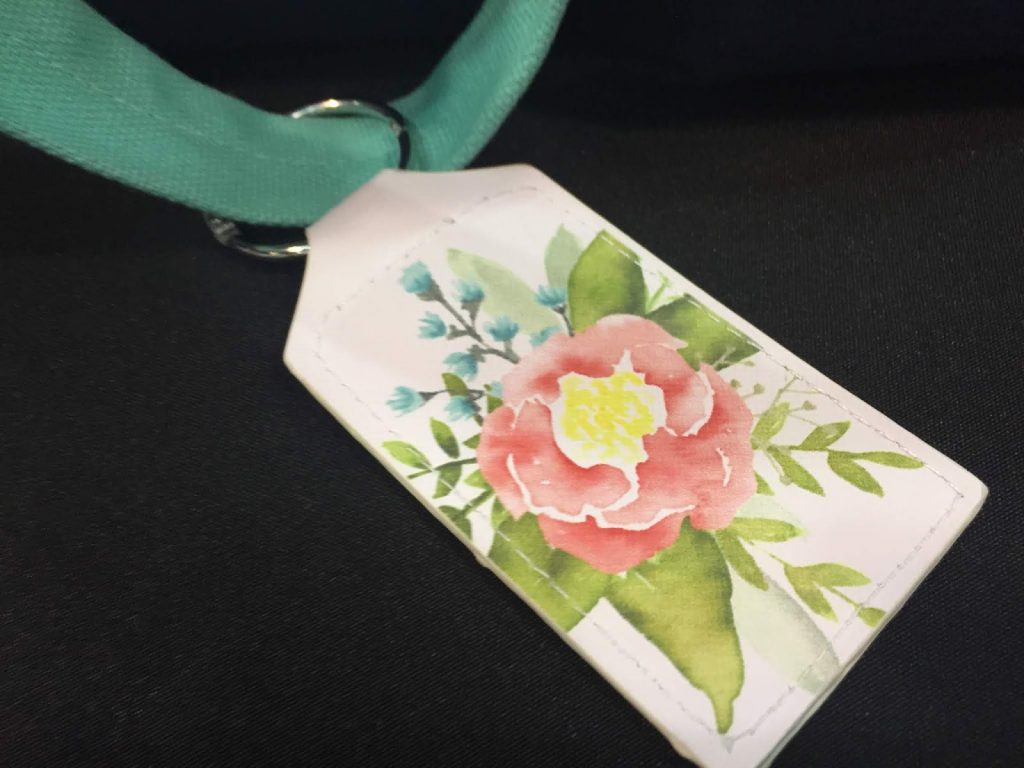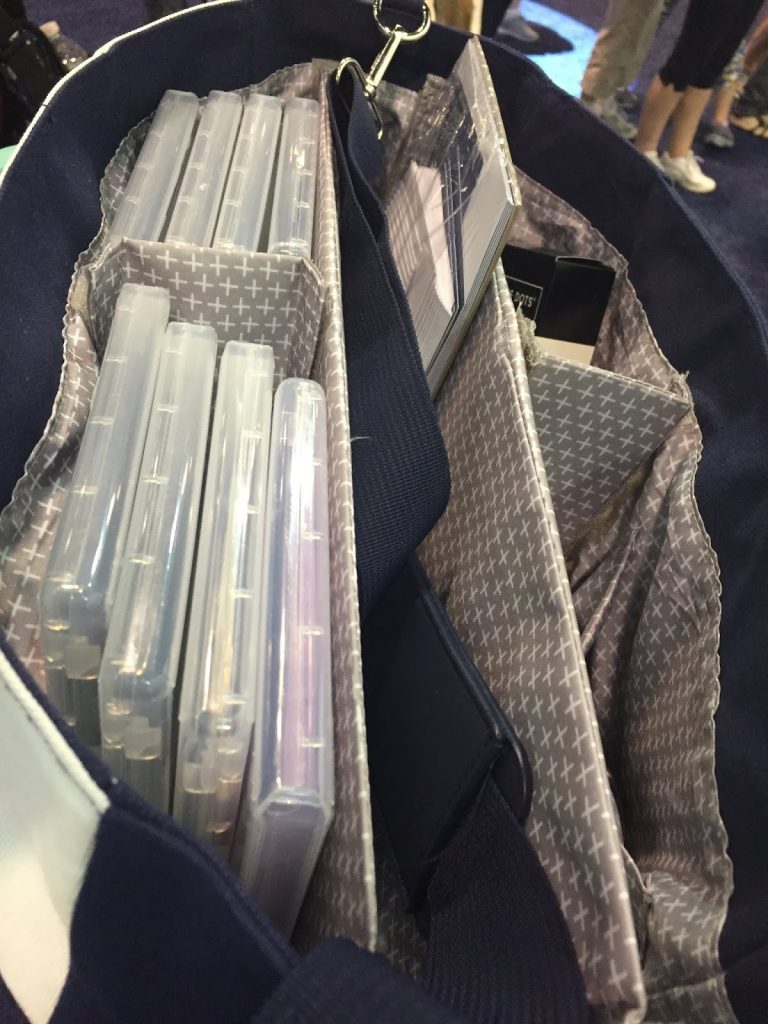 It's exclusively for demonstrators. I love that they have made this a starter kit option and saving money on it too. It's perfect for carrying all your crafty stuff around.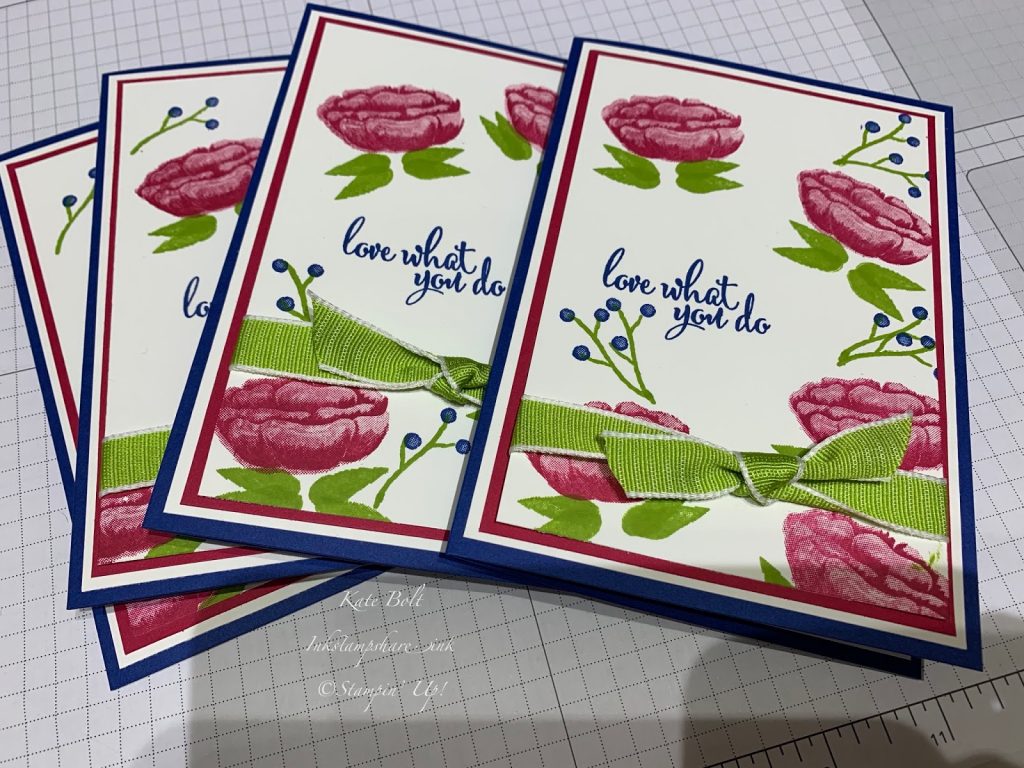 I must go and finish making my welcome to the team cards, I have some colour family swatch cards to make to send out with them too. If you would like to join my team – and I would love to have you, you need to be in the UK, France, Germany or the Netherlands. Here is the link to join, or alternatively get in touch for a chat to see if it's right for you.
I hope you like the card, here are the products I used with clickable links straight to my online shop.
The new Spring Summer catalogue has now LAUNCHED! It is full of beautiful, fresh, spring colours and is stuffed full! Do let me know if you would like a copy wont you!
I am of course, very grateful if you choose me to be your demonstrator and you shop with me.
If you shop online, don't forget to use the hostess code if your order is between £20 – £150 for a small gift from me.
Hostess Code This Month –
KG9UTWY4
I also send a little hand made gift and card to all my customers . I really appreciate all my customers because without them I wouldn't be here.
Drop me an e mail or a message if you would like me to send you your own – theres nothing like browsing a paper copy 💕
I really hope you like seeing what I have been up to. Do drop back in to see what I will be making next! Click on the subscribe button in the side bar to follow my bl
og if you don't want to miss anything.
Hope to speak to you soon,