Country Floral Embossing Folder In Vellum
Casing The Catalogue!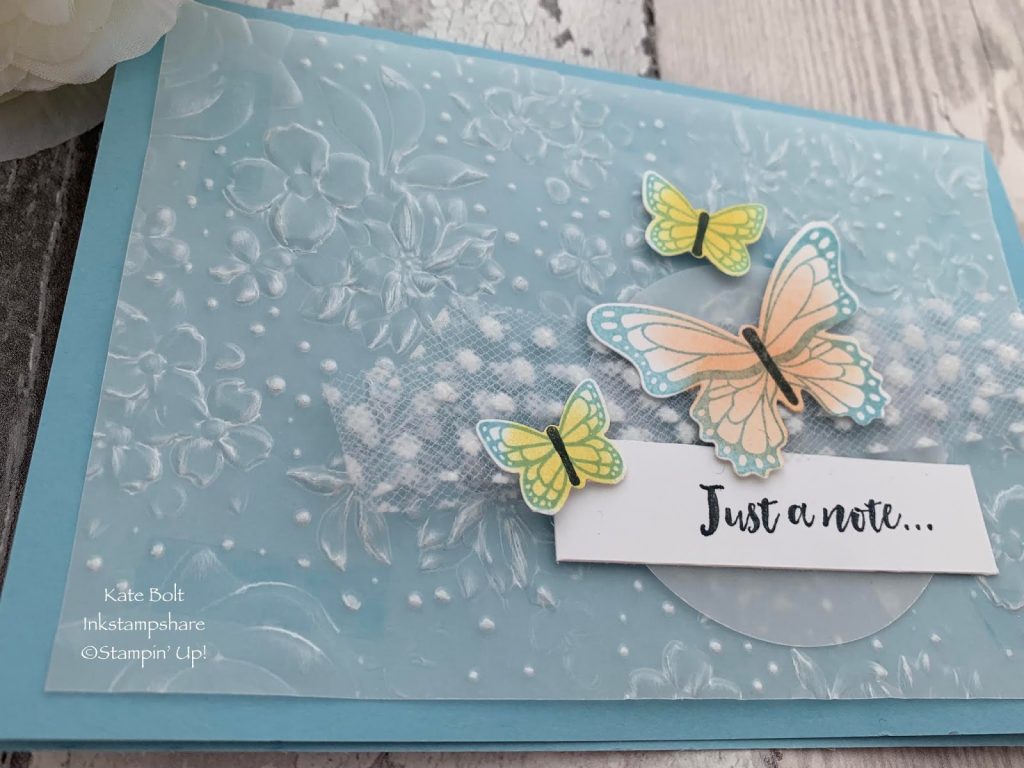 Welcome to my blog today, we have just one month left of Saleabration at Stampin' Up! and I have loved playing with all of the amazing free products we have had. One of my favourites has to be the Country Floral Embossing Folder and it goes really well with our Vellum sheets.
A couple of weeks ago I was set a creative challenge, to CASE a project from the front of one of the catalogues. CASE means to Copy And Selectively Edit. This is the card I chose to CASE.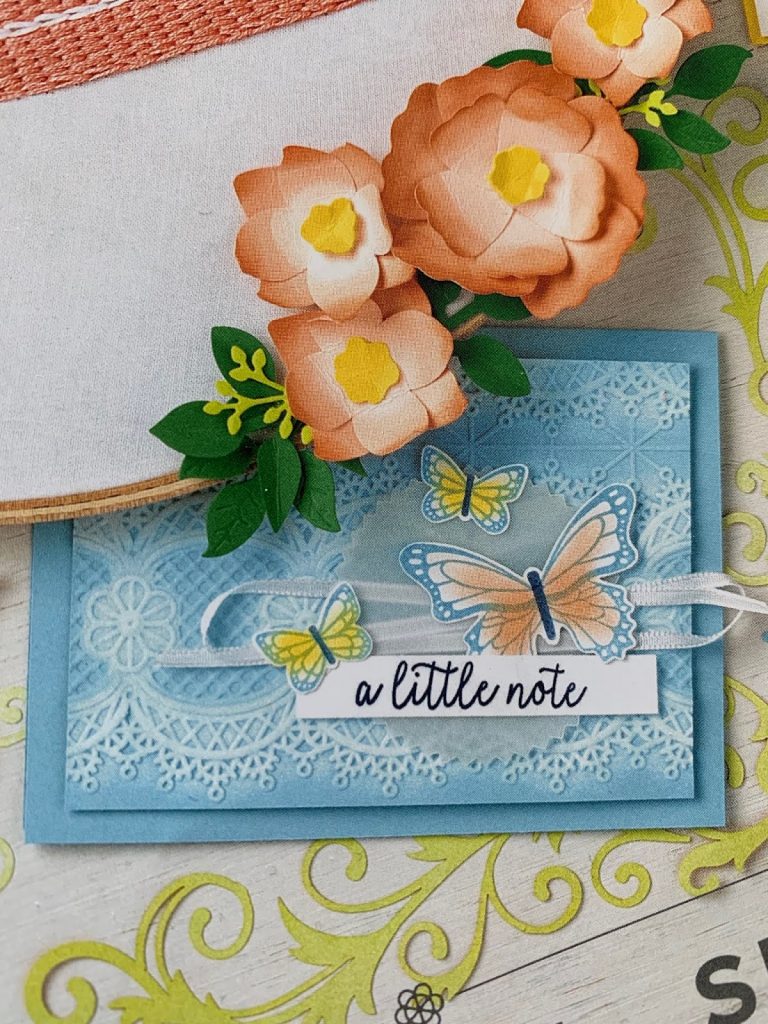 Isn't it pretty? I kept the same Balmy Blue card Base, Used the same Grapefruit Grove and Daffodil Delight sponging on the butterflies from Butterfly Gala, stamped in Balmy Blue and punched out with the Butterfly Duet Punch. I used an embossed vellum layer and a vellum circle but I changed the embossing folder to the Country Floral Embossing Folder and changed the ribbon to the White Polka Dot Tulle Ribbon. I also changed the sentiment to Just a note from the free Home To Roost Saleabration stamp set – purely because my "a little note" went missing! I've found it now. They do go astray don't they 😂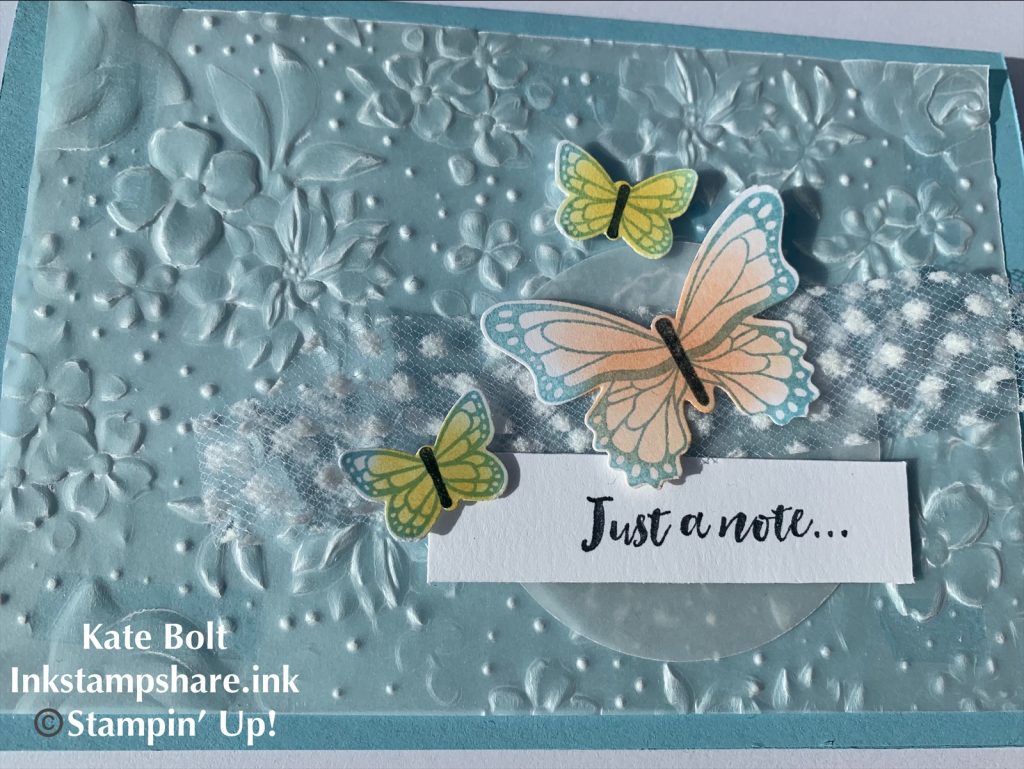 So whilst it's the same it actually looks very different don't you think?!
I loved CASING the catalogue. It was a lot of fun. When you browse through your catalogue, have you noticed how many samples there are? There are tons of beautiful samples in there. They are not just there to encourage you to buy the products either. They are there to give you inspiration. So when you get that stamp set you have ordered, you have loads of ideas to use to get you started. It's just as much an ideas book as it is a catalogue. So do have a go at CASING the catalogue too.
I hope you like the card. Do let me know in the comments. If you love the embossing folder as much as I do and would like it, you can get it from my online shop with any £45 order (before P&P ) for free until March 31st or whilst stocks last.
Here are the products used in the card with clickable links to my online shop.
The new Spring Summer catalogue and the Saleabration brochure is in full swing with new items that were added on March 1st, including some from the Annual catalogue!. It's full of beautiful, fresh, spring colours and is stuffed full of everything you need for your papercrafting. Do let me know if you would like a copy wont you!
I am of course, very grateful if you choose me to be your demonstrator and you shop with me.
If you shop with me online, don't forget to use the hostess code if your order is between £20 – £150 for a small gift from me.
Hostess Code This Month
I also send a little hand made gift and card to all my customers . I really appreciate all my customers because without them I wouldn't be here.
Drop me an e mail or a message if you would like me to send you your own – theres nothing like browsing a paper copy 💕
I really hope you like seeing what I have been up to. Do drop back in to see what I will be making next! Click on the subscribe button in the side bar to follow my bl
og if you don't want to miss anything.
Hope to speak to you soon,