Painted Seasons Pen Pot



Saleabration Sunday
Wow today is the very last day of Saleabration! We started Saleabration on January 3rd when the New Year had just begun and it was very definitely the middle of Winter and it's ending today on March 31st which also marks the first day of British Summer Time, our clocks went forward last night! So it seemed fitting to bring you a project with fresh summery colours today.
It's also Mothering Sunday in the UK today and I have had a lovely couple of hours in my craft room making this Pen/Pencil Pot and playing with the Painted Seasons Papers. They are beautiful. You gat a full pack of 12, 12 x 12 papers free with Saleabration.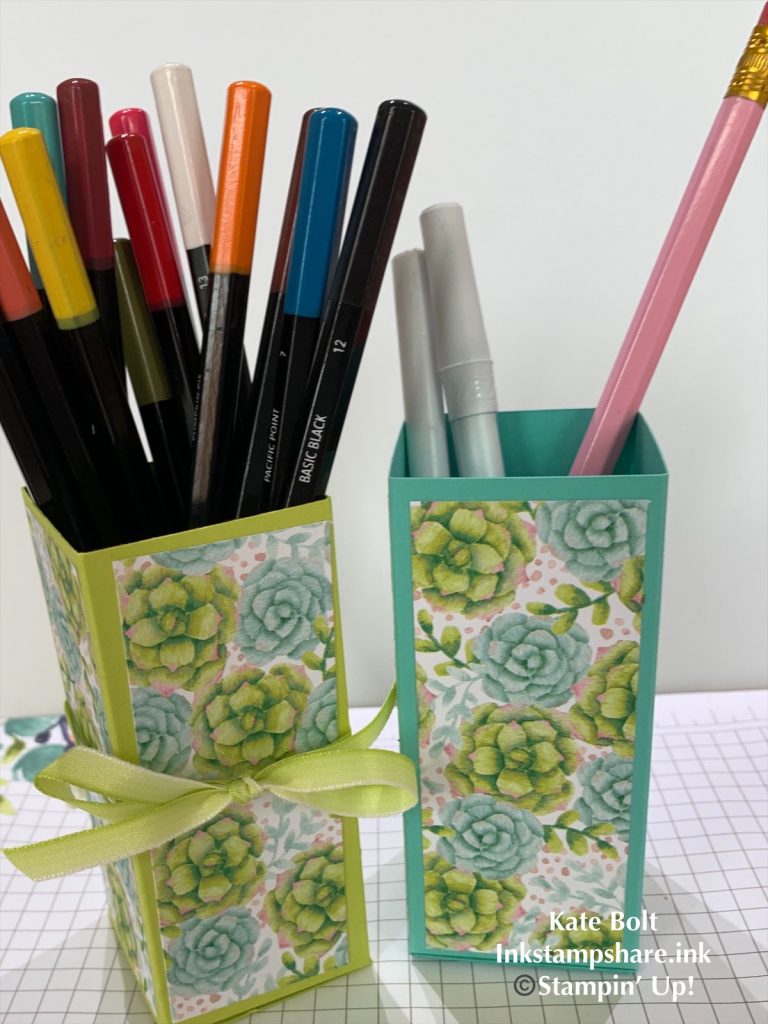 There are lots of gorgeous designs in these papers and I pulled out this one as I wanted to pick out the Lemon lime Twist colour. They are so simple to make and perfect for all the paraphernalia on my craft desk.
Here is the You Tube Video showing how I made it
I hope you like it. Do give me a thumbs up and subscribe if you do. Don't forget to click the little bell for notification of future videos.
Here are the dimensions
Lemon Lime Twist Card 5 3/4″ x 7 12″
Score with short side at the top at 1 3/4″
Score with the long side at the top at 1 34″, 3 12″, 5 14 " and 7″
DSP panels 1 12″ x 3 34″ x 4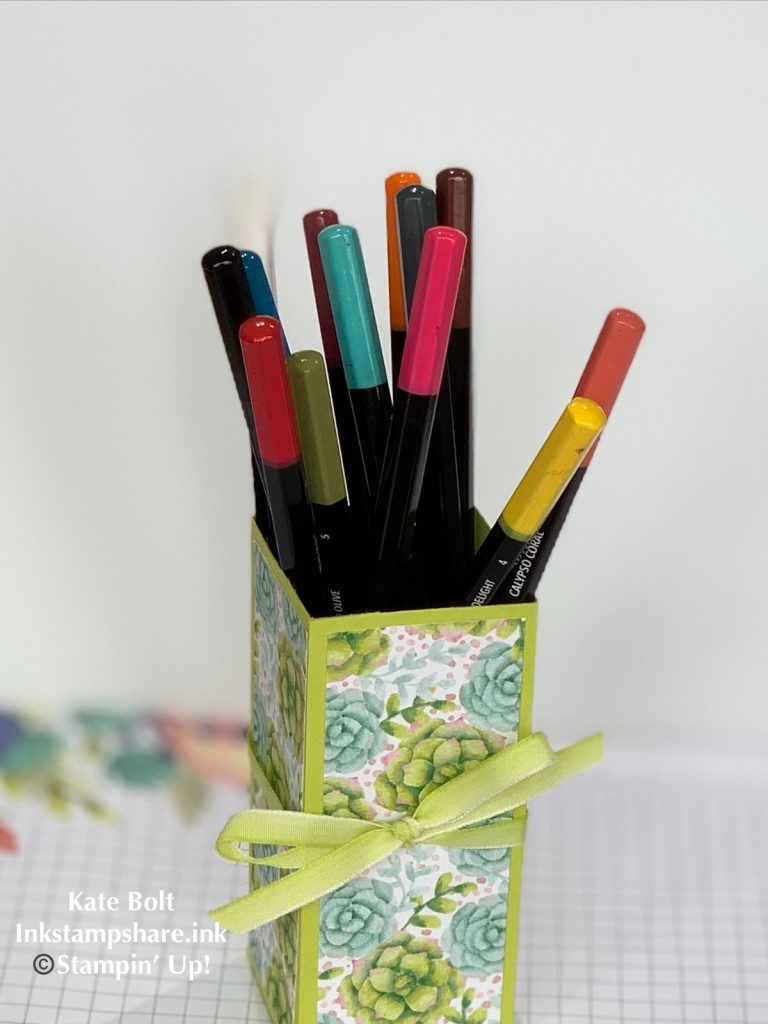 We have been thoroughly spoiled this year. The Saleabration items have been great, we have seen three releases! and for the first time we have had Salabration Coordination items too. I have loved playing with all of the lovely free items and I hope you have enjoyed the selection I have brought you every week for my Saleabration Sunday post. There is still time to order to get your free Saleabration items today. You can choose one for every £45 spend, so don't miss out.
You can shop online with me here.
And if you have a wish list ( and who doesn't!) then the amazing Saleabration joining offer is for you! £170 of products of your choosing for £99! This is an amazing deal and you are not obligated to demonstrate or sell at all if thats not your thing. So don't miss out will you.
You can join here
Here is a list of the products I used for todays project with clickable links to my online shop.
The new Spring Summer catalogue is in full swing and is full of beautiful, fresh, spring colours and is stuffed full of everything you need for your papercrafting. Do let me know if you would like a copy wont you!




I am of course, very grateful if you choose me to be your demonstrator and you shop with me.

If you shop with me online, don't forget to use the hostess code if your order is between £20 – £150 for a small gift from me.



Hostess Code This Month



I also send a little hand made gift and card to all my customers . I really appreciate all my customers because without them I wouldn't be here.




Drop me an e mail or a message if you would like me to send you your own – theres nothing like browsing a paper copy 💕





I really hope you like seeing what I have been up to. Do drop back in to see what I will be making next! Click on the subscribe button in the side bar to follow my bl

og if you don't want to miss anything.







Hope to speak to you soon,