Hello and welcome. Today I have a Christmas card to share with you from my Merry Snowflakes class last month. It's a clean and simple card using the Merry Snowflakes Bundle from Stampin Up.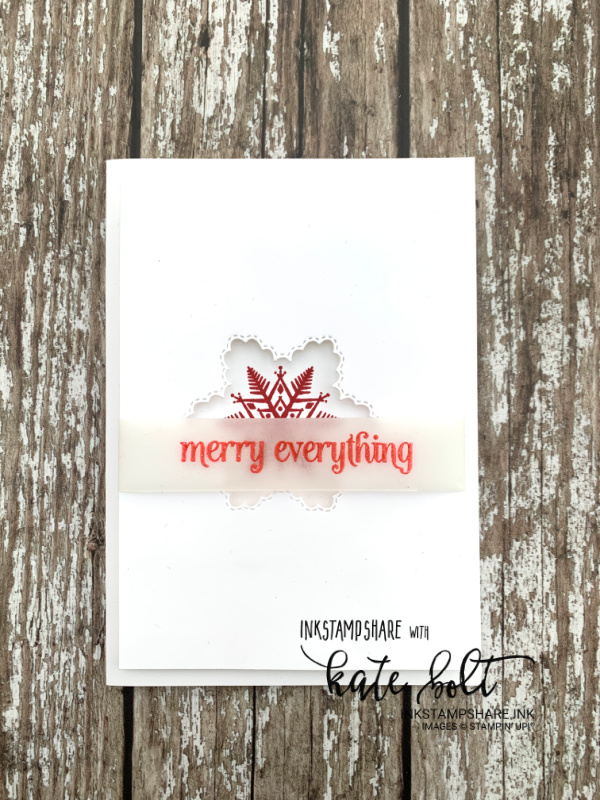 Merry Snowflakes Class
The dies in this bundle are beautiful. Use the stitched aperture left behind for the focal point of this card. Stamp the snowflake in Real Red ink onto the card base through the aperture in the Basic White card layer. Raise the layer on self-adhesive foam strips. Add the Merry Christmas in Real Red on vellum.
TIps For Using Vellum
Stamp onto the vellum strip and leave lots of time to dry before adding to the front of your card, or stamp in the colour of choice and use clear embossing powder and heat set as I have done here. No more ink smudges and also, using clear embossing powder over ink means you can emboss any colour you like!
Adhesive can easily show through the vellum. Make the strip of vellum a cm or so longer than required. wrap around the edges of the card layer and use adhesive dots to glue behind before adhering your card layer to the base.
I love a clean and simple card, easy to put together, and doesn't require too many supplies. Great for batch-making! The Merry snowflakes bundle has so many possibilities. I hope you like the card, do leave me a comment, I love to read them all.