Hello and welcome. I have a fun technique to share with you today using white kraft ink for colouring. You can use it to colour images that are stamped onto coloured card? I was inspired by an old botanical painting of daffodils I saw in a photography presentation. The gorgeous delicate yellow and white petals – so pretty.
It's such an easy an effective technique to add colour to your image when its not stamped onto white card. It also adds a little delicatness (is that a word?) and a brightness too. See the replay of this week's Coffee & Cards and exactly how it's done here on my YouTube channel. I hope you enjoy it and find it useful. Please give me a thumbs up and subscibe. It really helps my channel.
Using White Kraft Ink For Colouring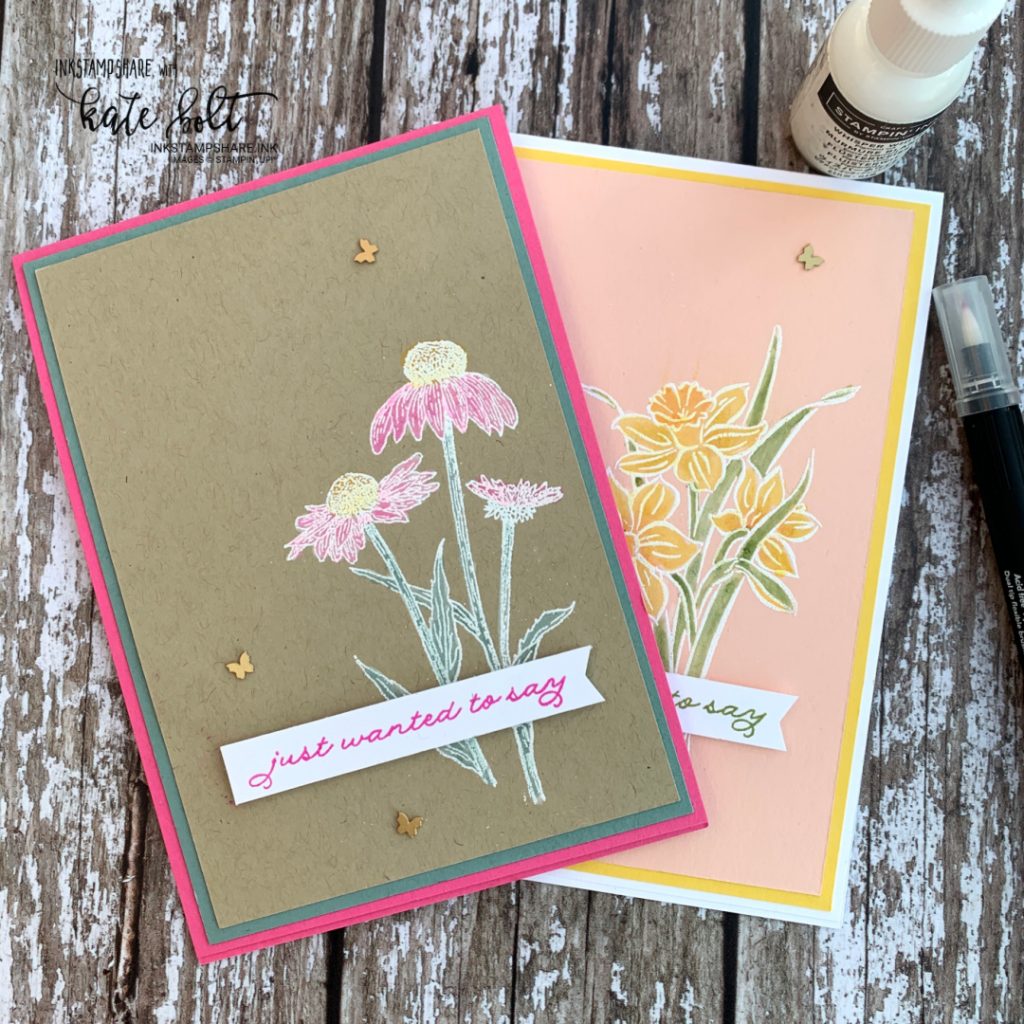 Coffee & Cards this week is on International Women's Day so I have created a couple of cards for some inspirational women in my life. You can find the symbolism of most flowers on google. Apparently the Cone Flower from the Nature's Harvest stamp set is courage and strength and the Daffodil, from the Daffodil Daydream stamp set is honesty and truthfulness.
The Nature's Harvest and the Daffodil Daydream stamp sets both have great sentiments but as it's to send to an inspirational friend I am using the Ornate Thanks stamp set. It a great one to have in your stash! "Just wanted to say…..You're amazing" Perfect for these cards don't you think. Swap it out for a birthday sentiment and they would both be perfect for birthday cards too. I hope you are inspired to have a go with using White pigment ink for colouring.
During the month of March, you can snag the Mini Stampin' Cut & Emboss Machine at a 20% discount! This miniature machine is compatible with a large selection of Stampin' Up! embossing folders and dies. Build your craft collection and combine the Mini Stampin' Cut & Emboss Machine with any (or all!) of the select stamp-and-die bundles that are also available for 20% off during the month of March!
Take your crafting to the next level. Click on the image for all the details about this discount!