Hello and welcome! Today I have an easy gift bag for Fun Friday! This gift bag is super easy to make, is a decent size, and takes just one sheet of paper.
I needed a gift bag to pop some wax melts into from my favourite wax melt company to gift to a friend! We were meeting for brunch so I created this gift bag.
You can see exactly how I made it in the video for today's Fun Friday. The measurements are in the description box of the video for you to try it out!
Here is the original with the melts inside. They are Disney-inspired scents – these ones smell like the Philharmagic show at Magic Kingdom. Of course they do! ( My friend and I traveled together to a Stampin Up convention there together back in 2018 – Great memories!!
This is the original using the Delightfully Eclectic Designer Series Papers – so pretty!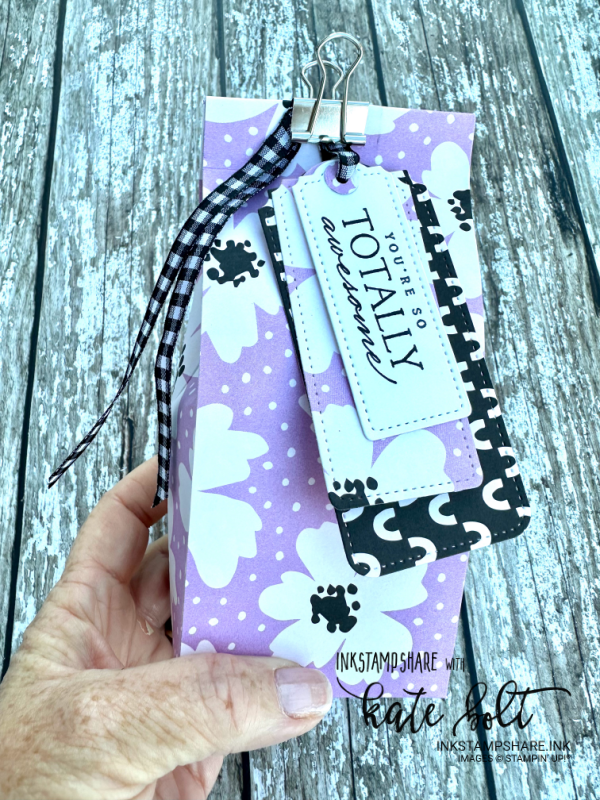 And this one uses the same paper pack – Delightfully Eclectic.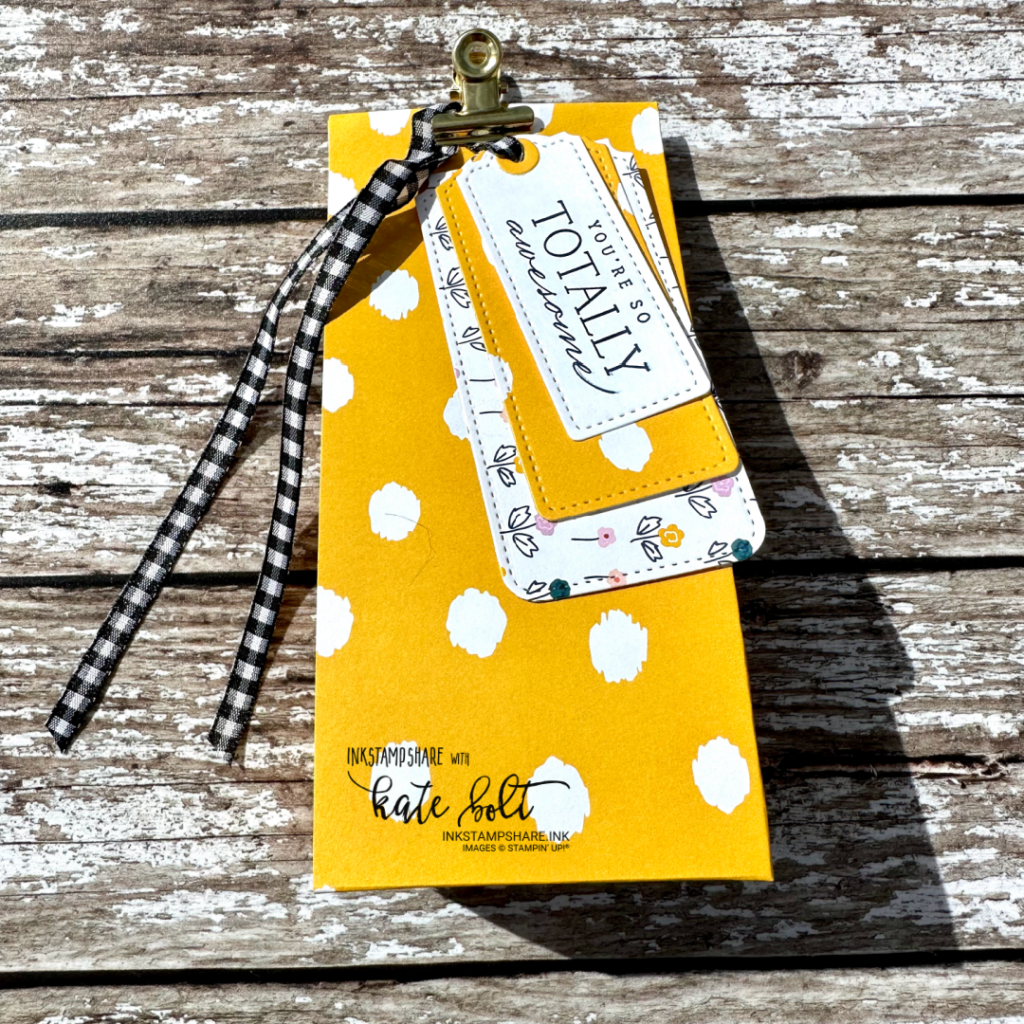 Create tags using the Tailor Made Tags dies with the offcuts from the same sheet of paper. Add the top tag cut from a scrap of Basic White Card. The dies have the little ring reinforcer dies in too! It's easy then to add a little ribbon and a clip to keep it secure. Easy to open too!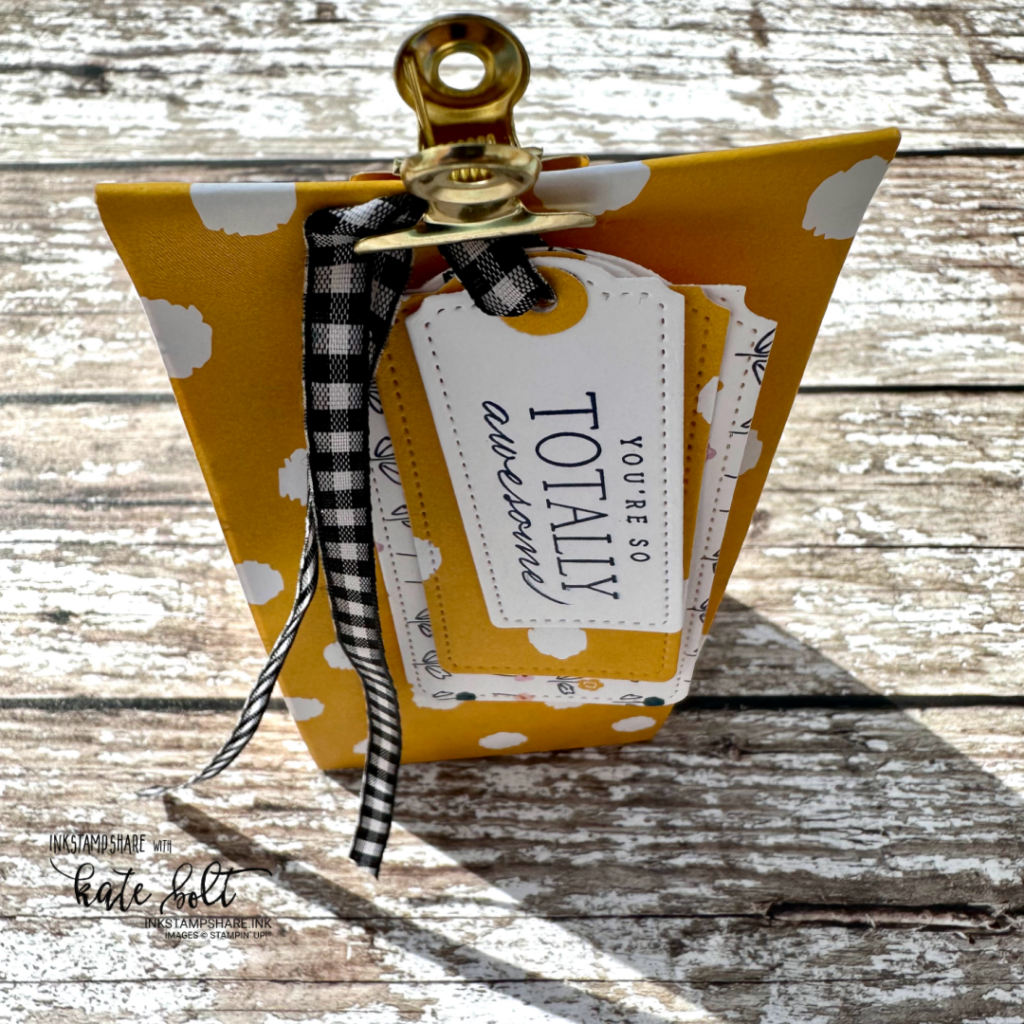 This stamp is from the Waves Of Inspiration stamp set. She really is totally awesome. She has just earned the next Stampin' Up! Incentive Trip to Mexico!! No mean feat at all!!!! It's a HUGE amount of work. Less than 0.1% of demonstrators achieve it.
Big Goals!
Well, on that note, If you've read this far I'm going to share something with you. I have a huge goal too! It's to earn the next incentive trip in 2025. Can you guess where it will be? Walt Disney World!! What a combination!! Stampin' Up! and WDW! A match made in heaven! So…. I desperately would like to go and treat my long-suffering husband. He puts up with all my paper-crafting shenanigans. I have never set a goal for the trip before!! But now I've told you, I have to go for it right? What do you think?
Thanks so much for popping by! I hope you enjoy the bag tutorial and might be inspired to have a go.
You can find all the products I've used in my online Stampin Up shop here with clickable links.