Eclectic Expressions stamp set. Three ink pads, one stamp set. The possibilities are endless!
Saleabration
runs for 12 weeks until March 31st which takes it right up to British Summer Time on March 25th marked by the clocks going forward bringing in the lighter evenings. It's nearly here and I am SO looking forward to that but in the mean time we can craft the winter away. Win/Win!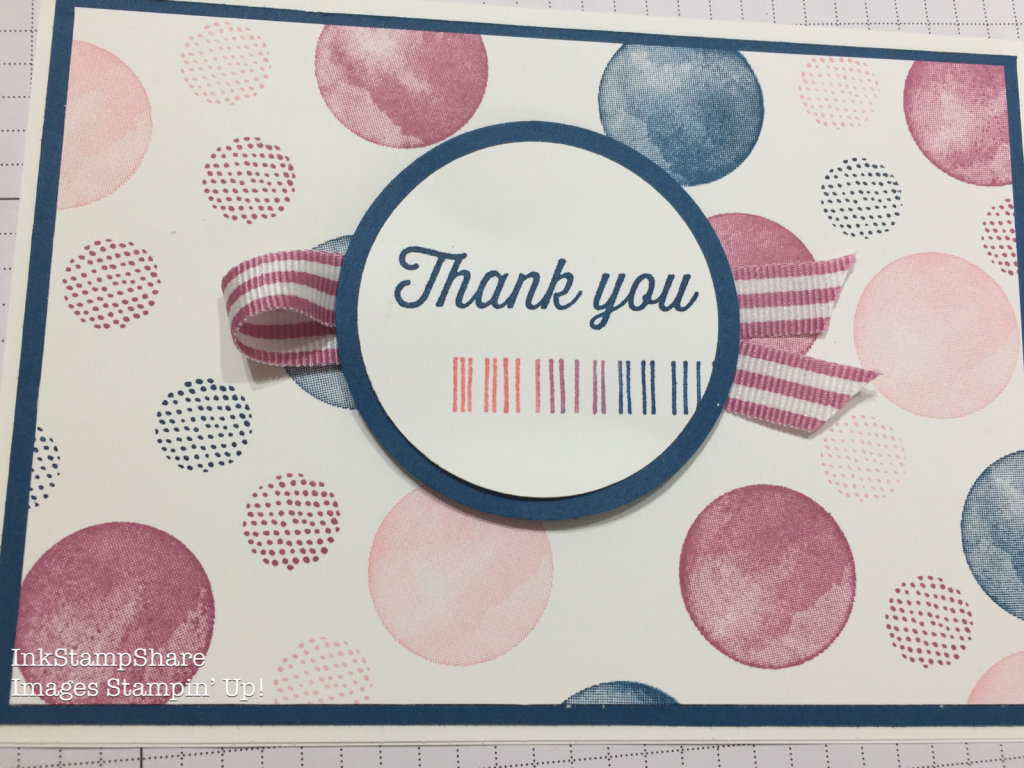 This fun stamp set is full of fab background images. Perfect for making clean and simple cards suitable for lots of occasions. I have used the circle images here. They give a water colour impression and are very pretty. Change up the colours, the background stamp and the sentiment from the set to make as many different cards as your imagination allows!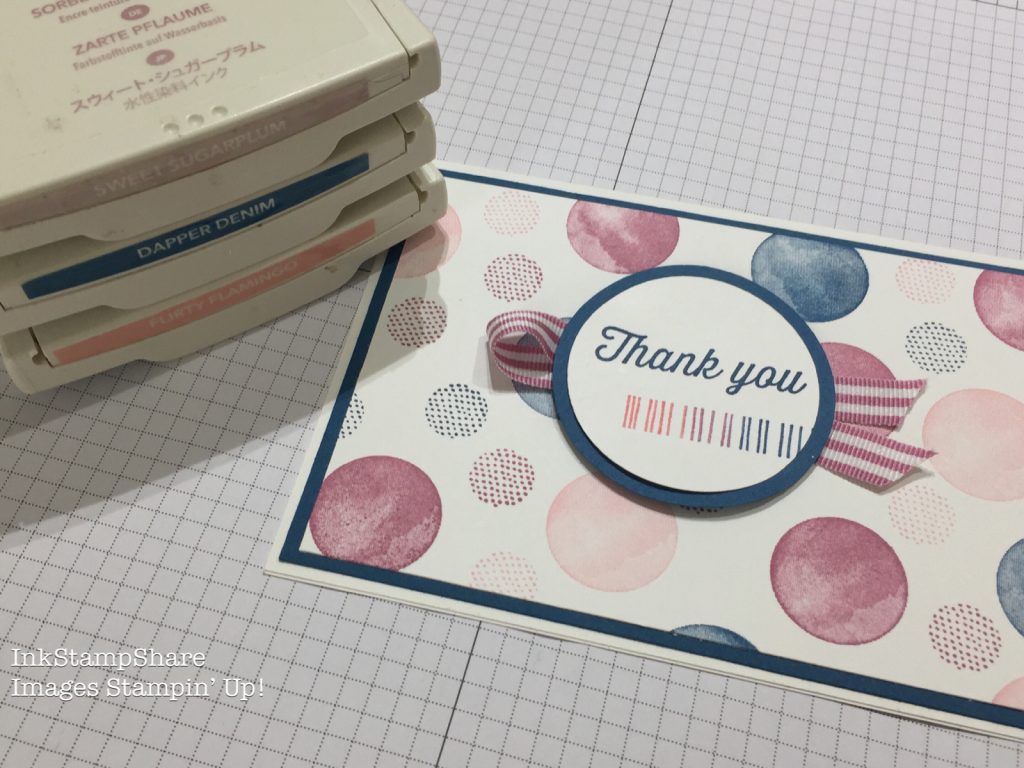 I have used Sweet Sugarplum, Dapper Denim and Flirty Flamingo. Three of the five Stampin' Up! 2016 – 2018 In Colours. The card layer is Dapper Denim card stock, as is the 2 1/4 inch circle. The striped ribbon is in Sweet Sugarplum.
These colours along with Peekaboo Peach and Emerald Envy will be retiring at the end of May to make way for a brand new set of In Colours! So if you have these or would like to have these colours make sure you stock up before they retire. Retiring In Colours do sell out towards the end of the selling period especially the ink refills for your ink pads and card stock – and of course if you do stock up before the end of March you can claim your Free Saleabration items! including these Eclectic Expressions stamps.
This is my You Tube Video of how I made it.
I hope you like the video. If you do, please like and subscribe.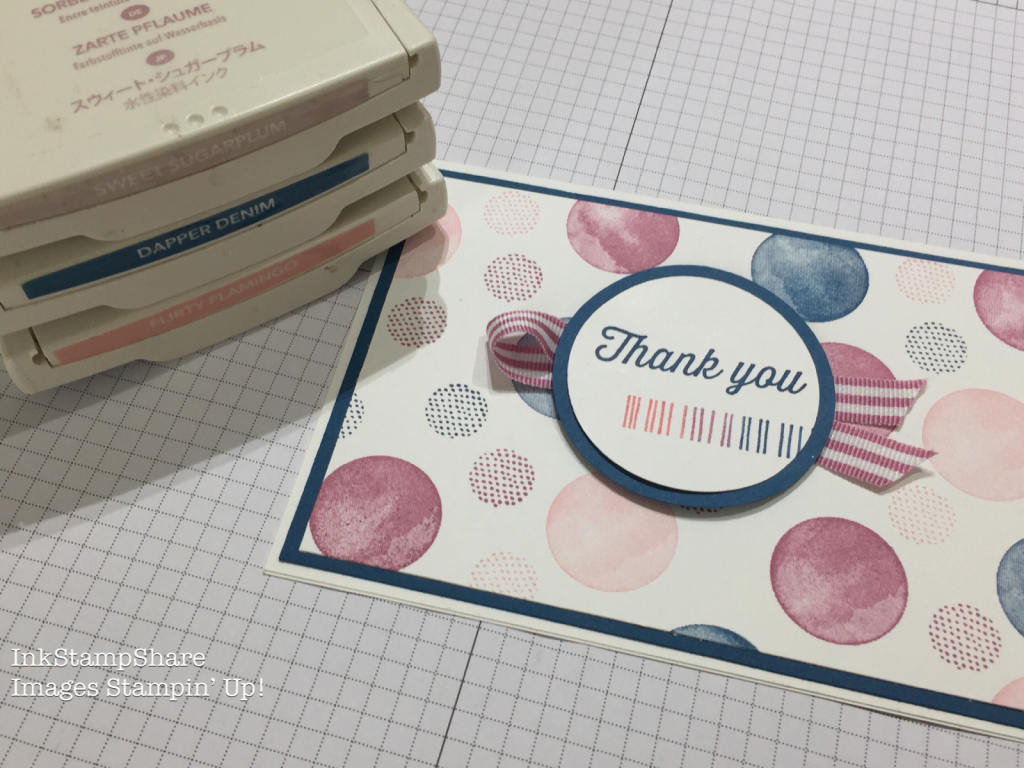 It is so easy to rustle up a clean and simple card with this set. It has both Happy Birthday and Thank You sentiments too.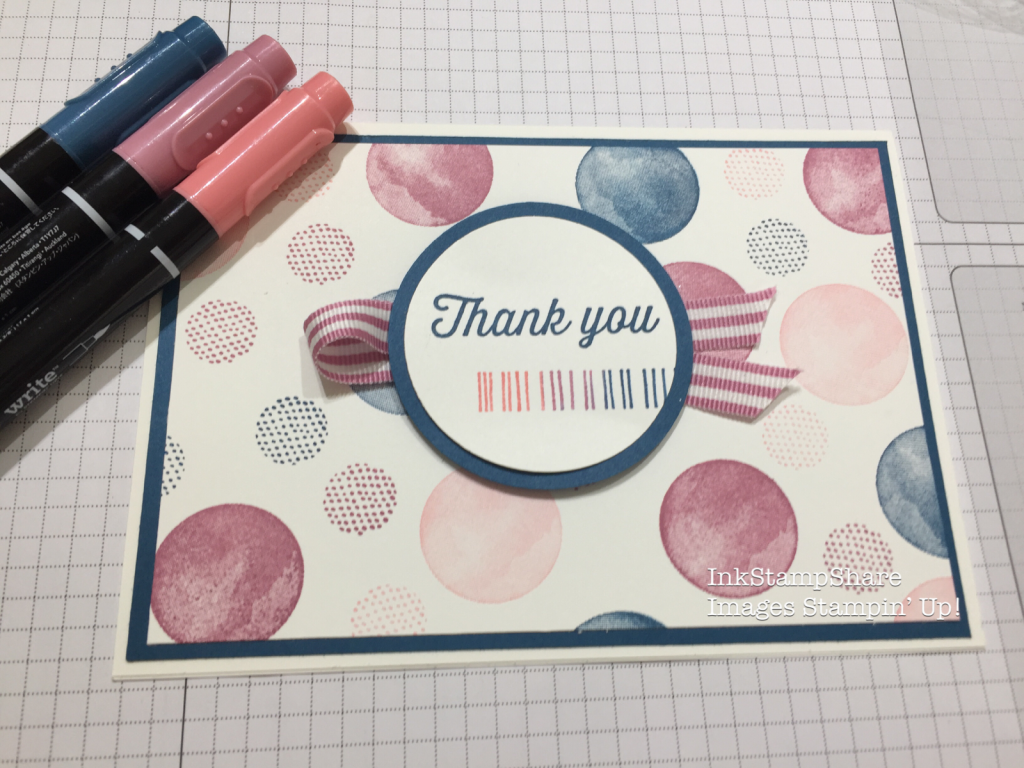 I have used the same colours in the Stampin' Write Markers to colour on the striped stamp and stamp the image.
We have only about 2 weeks left of Saleabration! It has been fabulous and I have loved all the free products on offer . We have had a whole new range of Saleabration items just this week.
I hope you have enjoyed the Saleabration Sunday posts so far and that I may have given you a little crafty inspiration. If you would like to take advantage of the free products don't leave it too long. Saleabration ends on March 31st – Everyone who orders from me online receives a hand made card and a small hand made gift. Don't forget to use the hostess code when yo checkout to get an added gift from me when you place an online order.
This Month's Hostess Code is K2SAED93
All the products used are shown below with clickable images to my online shop.
Do drop back in to see what I will be making using Saleabration items until March 31st.
You can choose a Saleabration item with an order over £45, or two for £90 or instead, one of the higher value reward items which are free with a £90 spend.
However, there is a much better deal
than that going on during Saleabration. Join Stampin' Up! and choose any £130 of products to go in your starter kit, plus a further two stamp sets of your choice of up to £90 value plus free shipping all for £99!
That's £220 of products for £99! WHAT A BARGAIN!
There is no risk involved, there is lots of support if you wish to take it as a business opportunity but also no obligation to sell or demonstrate if you choose not to WIN WIN! I would love to have you on my team. Do get in touch if you would like to take advantage of this great offer, only on during Saleabration or
Join Here
I really hope you like seeing what i have been up to. Click on the subscribe button in the side bar to follow my blog if you don't want to miss anything.
Thank you for stopping by. Kate x