Coffee Cafe At Coffee And Cards!
Coffee and Cards was literally that today! I love the Coffee Cafe stamp set. I haven't inked it up in a while so thought it would be perfect to use at this week's Coffee and Cards.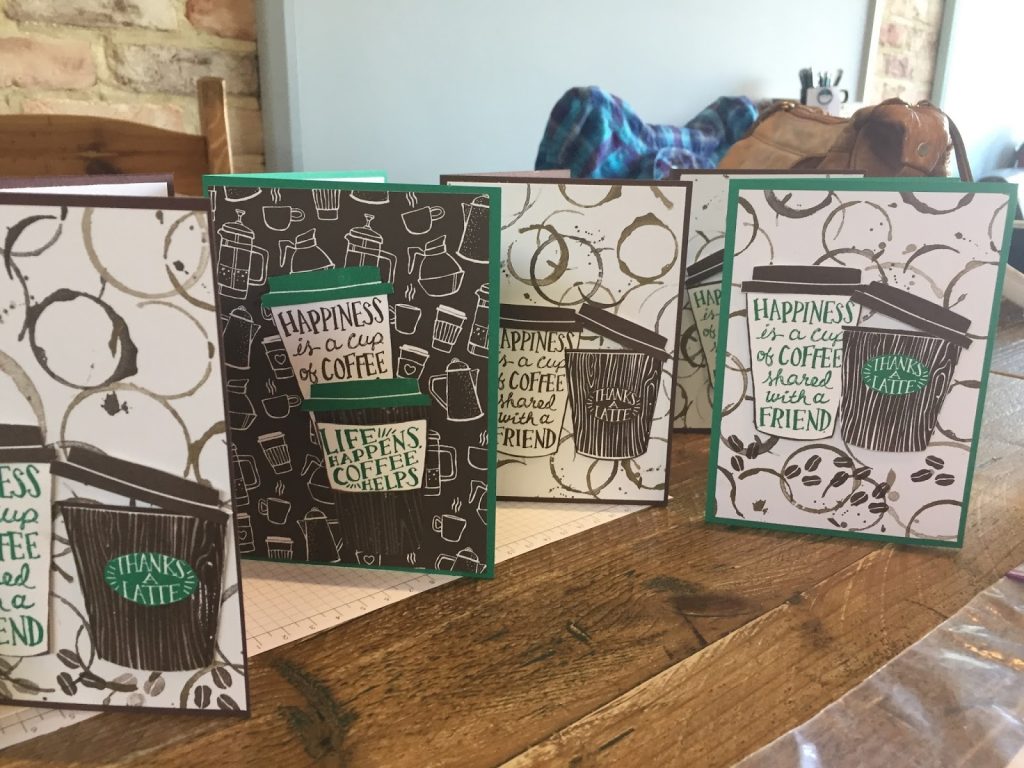 The Coffee Break Designer Series paper is great too
It is full of coffee rings, tiny coffee pots and gorgeous coffee colours.
We used Chocolate Chip and Emerald Envy today and I think they go really well together.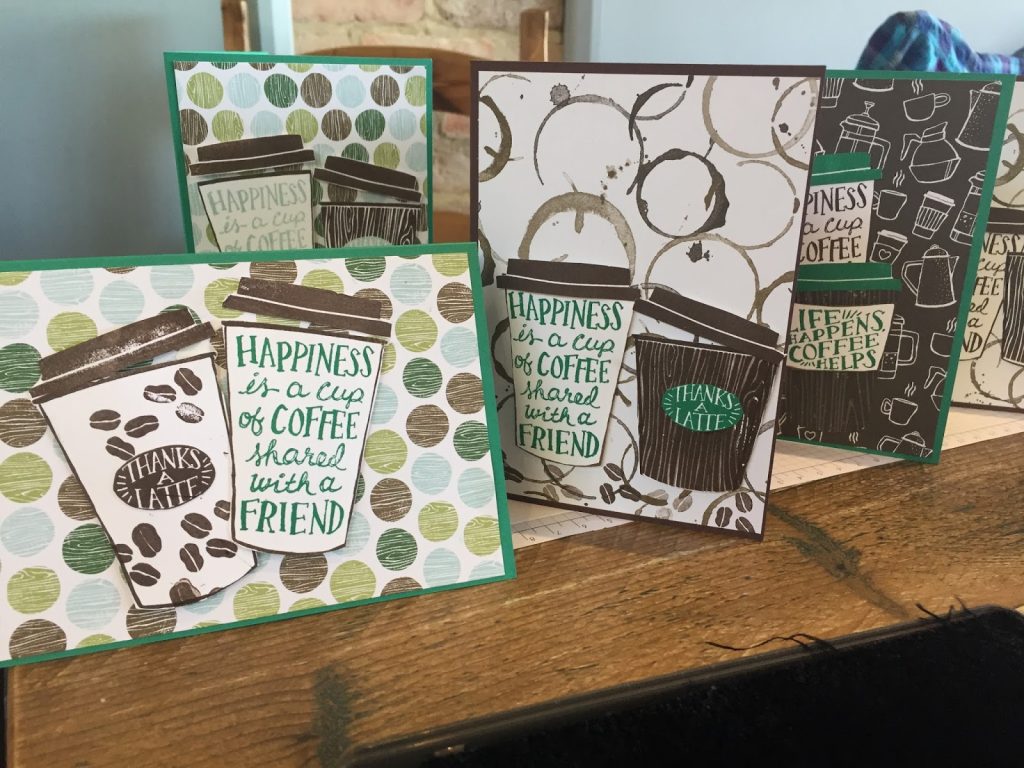 I love the sentiments in this set, especially that "Happiness is a cup of coffee shared with a friend" fits right on the front of the large cup too.
It just about sums up our weekly Coffee and Cards sessions – I love them and look forward to them very much. I did a very short face book live from the coffee shop during our session today. It was a lot of fun.
I hold them twice a week and they are open to everyone. If you live locally do come along and join us. Details are here.
The Coffee Break Designer Series paper is retiring at the end of the month. Emerald Envy and Chocolate Chip also are retiring colours so make sure you stock up on those if you need them.
You can see all the products we used to make our cards here. The images are clickable to my online shop.
Everyone who orders from me online receives a hand made card and a small hand made gift. Don't forget to use the hostess code when you checkout to get an added gift from me when you place an online order.
This Month's Hostess Code is
WS3GTJ6Z
We have a new catalogue coming!! It is amazing! Full of beautiful paper craft products! We also have lots of brand new colours coming into our colour families. I am able to pre order from the new catalogue early as a demonstrator perk! If you don't want to wait to order or want to see the new catalogue now you can if you take advantage of the brilliant starter kit offer!
Join Stampin' Up! and choose any £130 of products to go in your starter kit, plus free shipping all for £99! There is no risk involved, there is lots of support if you wish to take it as a business opportunity but also no obligation to sell or demonstrate if you choose not to WIN WIN! I would love to have you on my team. Do get in touch if you would like to take advantage of this great offer, or Join Here
I really hope you like seeing what I have been up to. Do drop back in to see what I will be making next! Click on the subscribe button in the side bar to follow my blog if you don't want to miss anything.
Thanks for stopping by. Kate x