Post It Note Holder – Statement Of My Heart.
I have been using loads of post it note's lately! I have a copy of the brand new catalogue in the house. Its gorgeous. Even the cover is a veritable rainbow. I have been using them to mark the pages of all the things I love. Mine is well thumbed and there are ALOT of post it notes in there!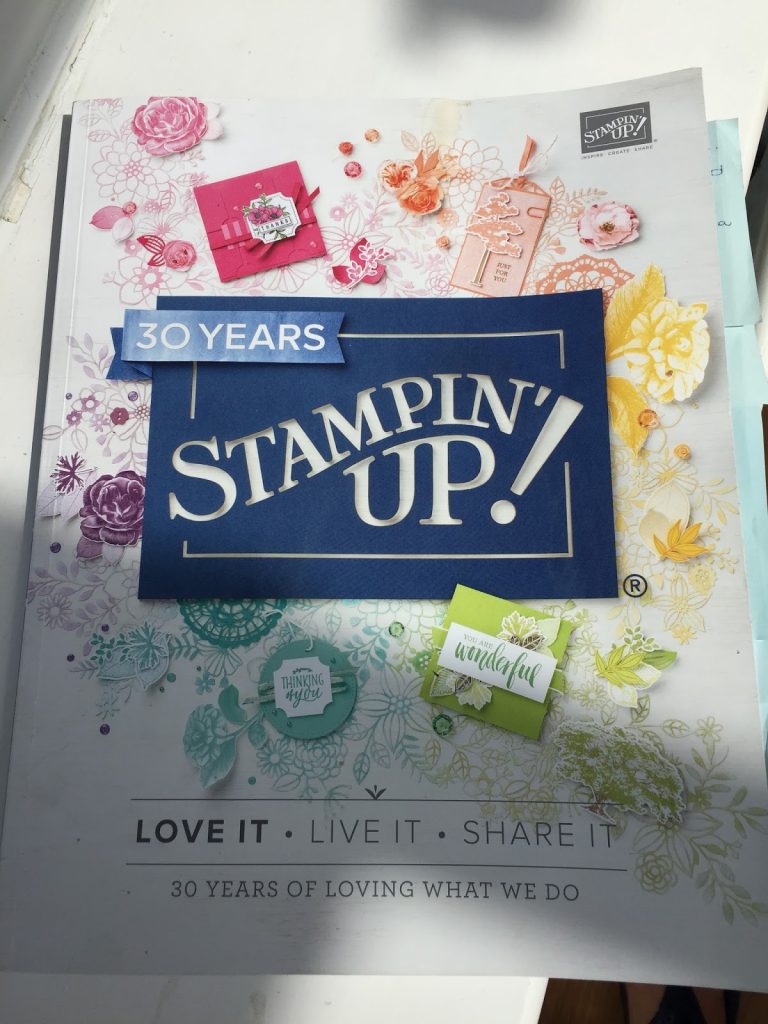 I have used Mint Macaron card to make this Post It Note Holder. Mint Macaron was one of my favourites and I was so happy to see that it is a returning colour in Stampin Up's colour revamp that is happening. Did you know about the colour revamp? I am really excited about this as we have some gorgeous new colours coming to our Colour Families. You can read all about it in my blog post here.

Here are the measurements
With the long side at the top score at
I have used some of the gorgeous new Share What You Love papers – these are available in my on line shop now as part of the Share What you Love Bundle.
Here is the you Tube Video of how I made it
I hope you like the video. Please give me a thumbs up if you do. Don't forget to press the little bell to be notified of future videos.
I am so excited for this new catalogue. I am waiting for my catalogue order to arrive and should be sending them out next week! If you have ordered from me in the last 3 months I will automatically send you a copy. Otherwise, just get in contact and I will be happy to send you a complimentary copy – Just a warning, you are going to need ALOT of post it notes!
I can send to the UK, France, Germany and the Netherlands.
I have a VIP facebook group, just for my customers. Those who have shopped with me or attend my classes. I will be sending them a hand made Post It Note Holder along with their catalogue. If you would like to place an order and want to be added to the group, do let me know. You can contact me here






All the products I have used are shown below with clickable links to my online shop


Everyone who orders from me online receives a hand made card and a small hand made gift. Don't forget to use the hostess code when you checkout to get an added gift from me when you place an online order.
This Month's Hostess Code is
WS3GTJ6Z
We have a new catalogue coming!! It is amazing! Full of beautiful paper craft products! We also have lots of brand new colours coming into our colour families. I am able to pre order from the new catalogue early as a demonstrator perk! If you don't want to wait to order or want to see the new catalogue now you can if you take advantage of the brilliant starter kit offer!
Join Stampin' Up! and choose any £130 of products to go in your starter kit, plus free shipping all for £99! There is no risk involved, there is lots of support if you wish to take it as a business opportunity but also no obligation to sell or demonstrate if you choose not to WIN WIN! I would love to have you on my team. Do get in touch if you would like to take advantage of this great offer, or Join Here
I really hope you like seeing what I have been up to. Do drop back in to see what I will be making next! Click on the subscribe button in the side bar to follow my blog if you don't want to miss anything.
Thank you for stopping by. Kate x