Dandelion Wishes Card

Inspire Create Stamping Challenge #022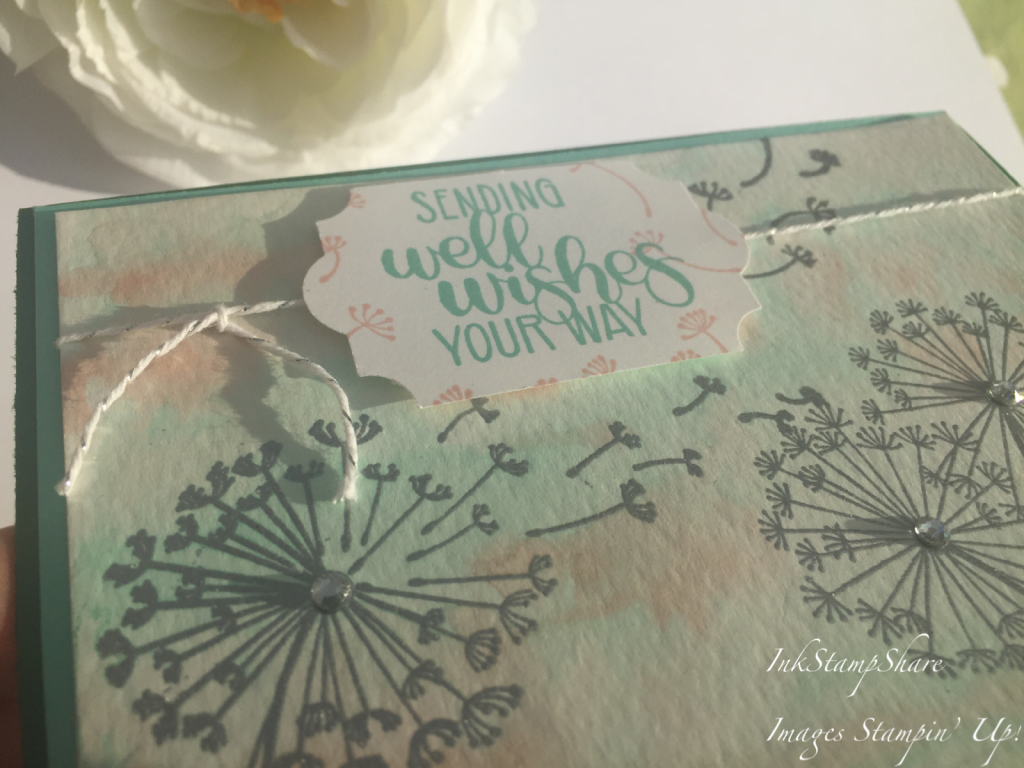 It's time for another Inspire Create Stamping Challenge and this time we have a colour challenge!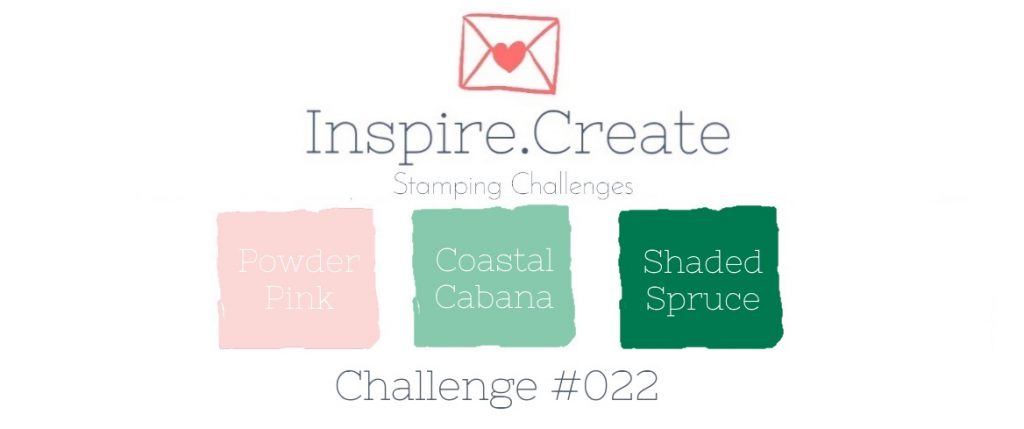 Aren't they a lovely combination? I love a colour challenge. I don't know if I would have put these colours together but now I have I love them ! Do pop over to the Inspire Create Stamping Challenges here to see what the rest of the talented Design Team have come up with and all the entries too. Do play along. Adding your link is easy, it's fun to take part and we'd love to have you!
I have been playing with the Dandelion Wishes stamp set a lot lately. I haven't been able to put it down. I thought it would be perfect for this colour challenge.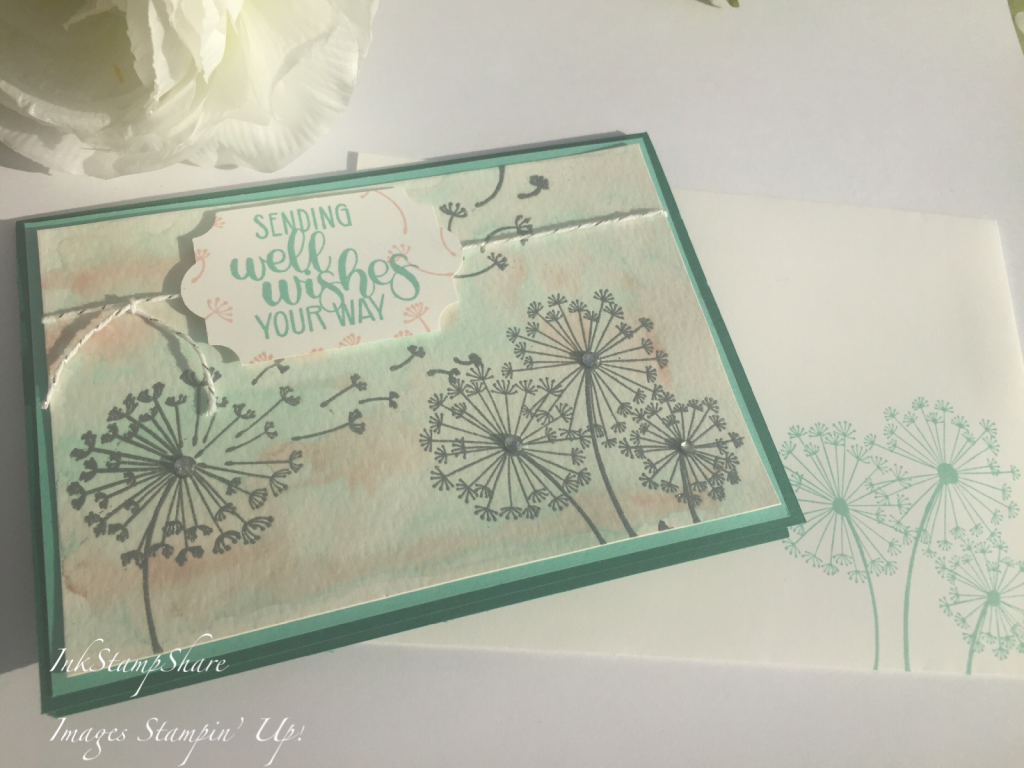 I wanted to give the impression of the Dandelion clocks blowing away against a summer sky.at sunset. The dandelions are embossed in silver to give a pretty contrast.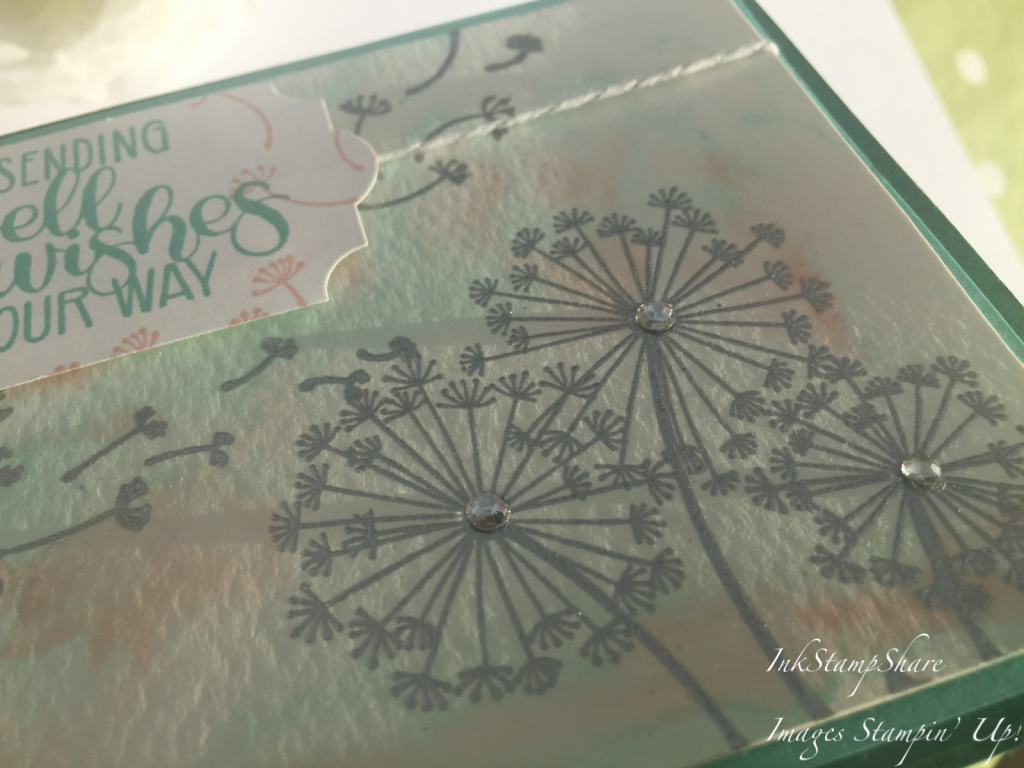 How I Made It
I wanted a watercolour wash background to give the impression of a summer sky. I used an Aqua Painter (this is a paint brush with a water filled chamber) to lay plenty of water down on a watercolour paper layer. I then picked up the colour from the Coastal Cabana Ink pad with the Aqua Painter and laid it down. I added the ink from the Powder Pink Ink Pad in the same way . I used less of the Powder Pink. My water colour paper is 9.5 cm x 13.8 cm.
The base of the card is in Shaded Spruce (14.8 cm x 10.5 cm) and the next layer is Coastal Cabana (14.3 cm x 10 cm)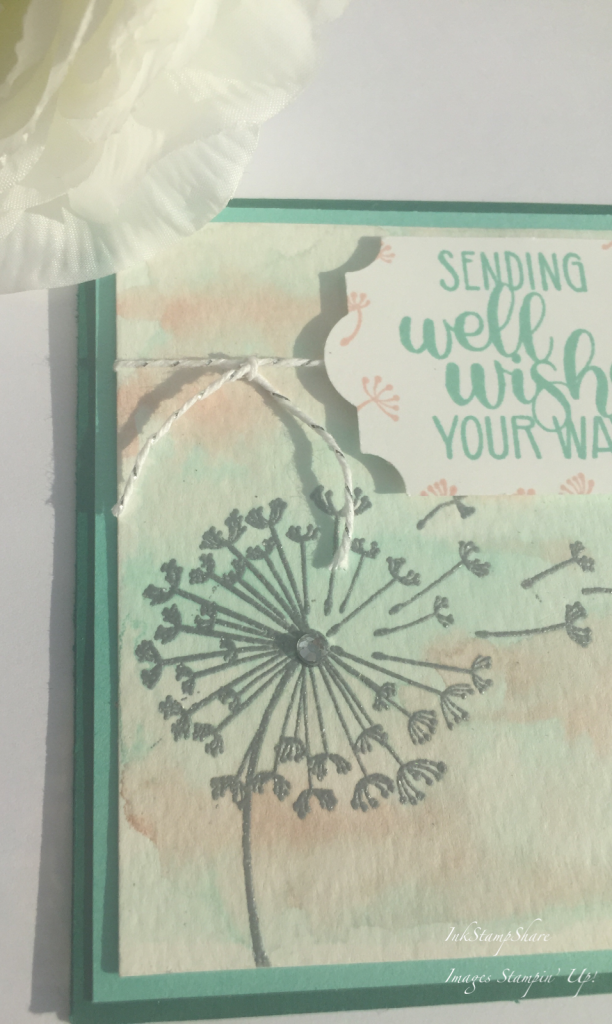 I have stamped the dandelion clocks in clear Versamark Embossing Ink and then heat embossed with Silver Embossing Powder. I have used the adhesive rhinestones for the centres of the dandelion clocks to add a little sparkle.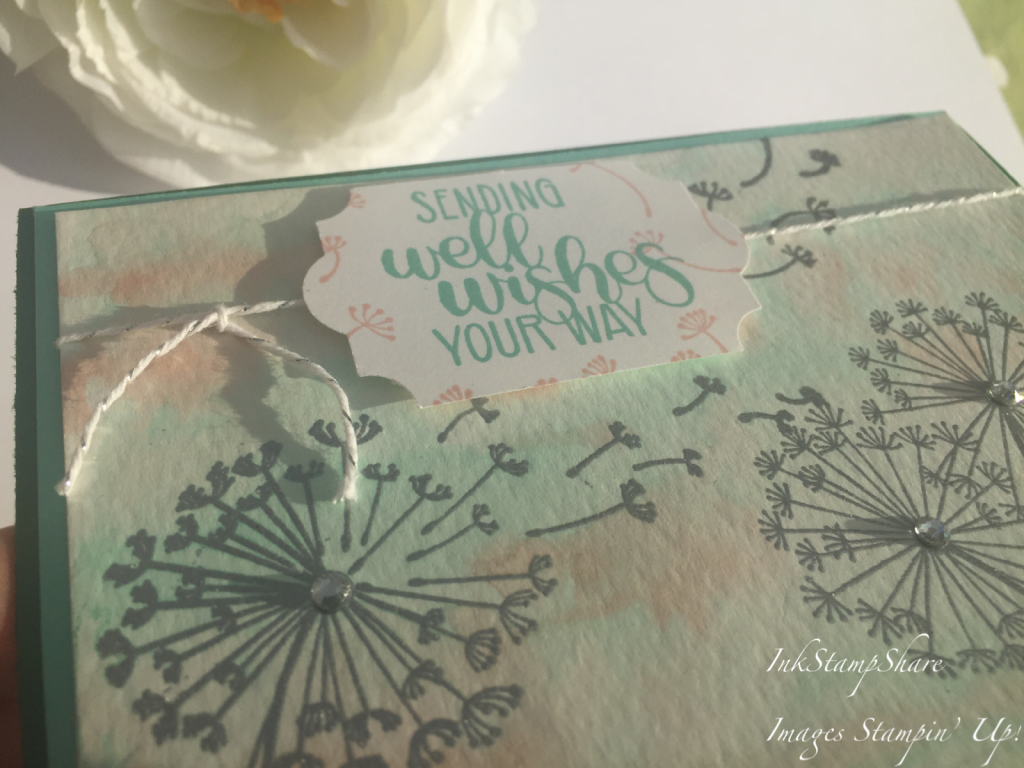 I have stamped the Sending Well Wishes Your Way onto Whisper White card using Coastal Cabana ink and stamped some of the little clocks in Powder Pink around. I wanted to created a label so I have used the oh so useful Everyday Label punch and raised it on a couple of Dimensionals. I have added some of the new Whisper White Bakers twine between the layers and tied a simple knot along the top.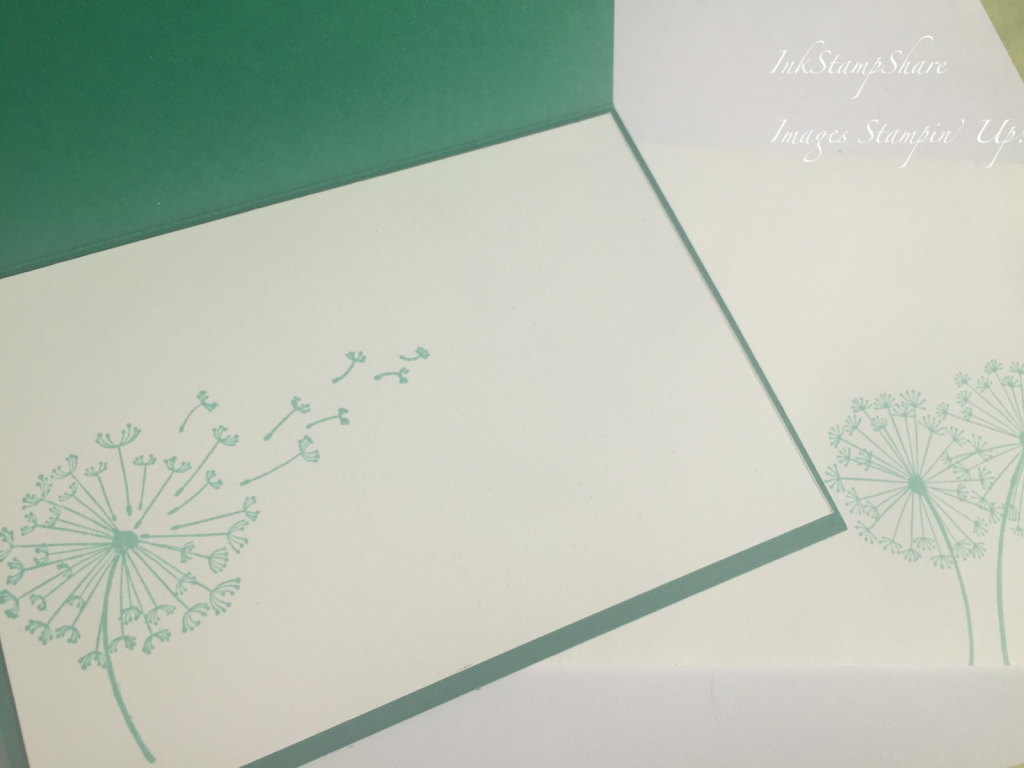 I have added a Whisper White layer (14.3 cm x 10 cm) inside the card and stamped the dandelion both inside the card,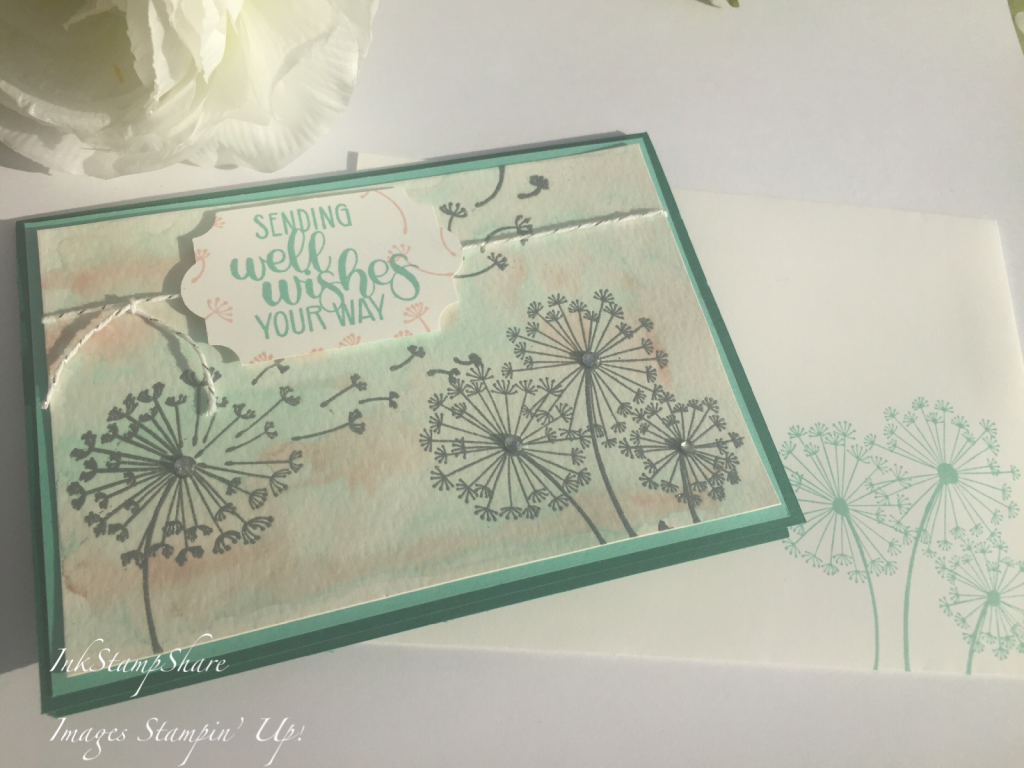 and on the envelope in Coastal Cabana ink. It's always nice to dress up the envelope a little.
Here are the products I used to make this card with clickable links to my online shop.
Shop With Me
You can shop with me here
or click the link at the top.
Expect a little thank you gift in the post with a hand made card too. I really appreciate all my customers because without them I wouldn't be here.
July Free Ink Pad Offer!!!
If you love ink, stamps and paper and would like to build your stash, Stampin' Up! have an AMAZING offer this July starting Sunday July 1st! I am so excited about this!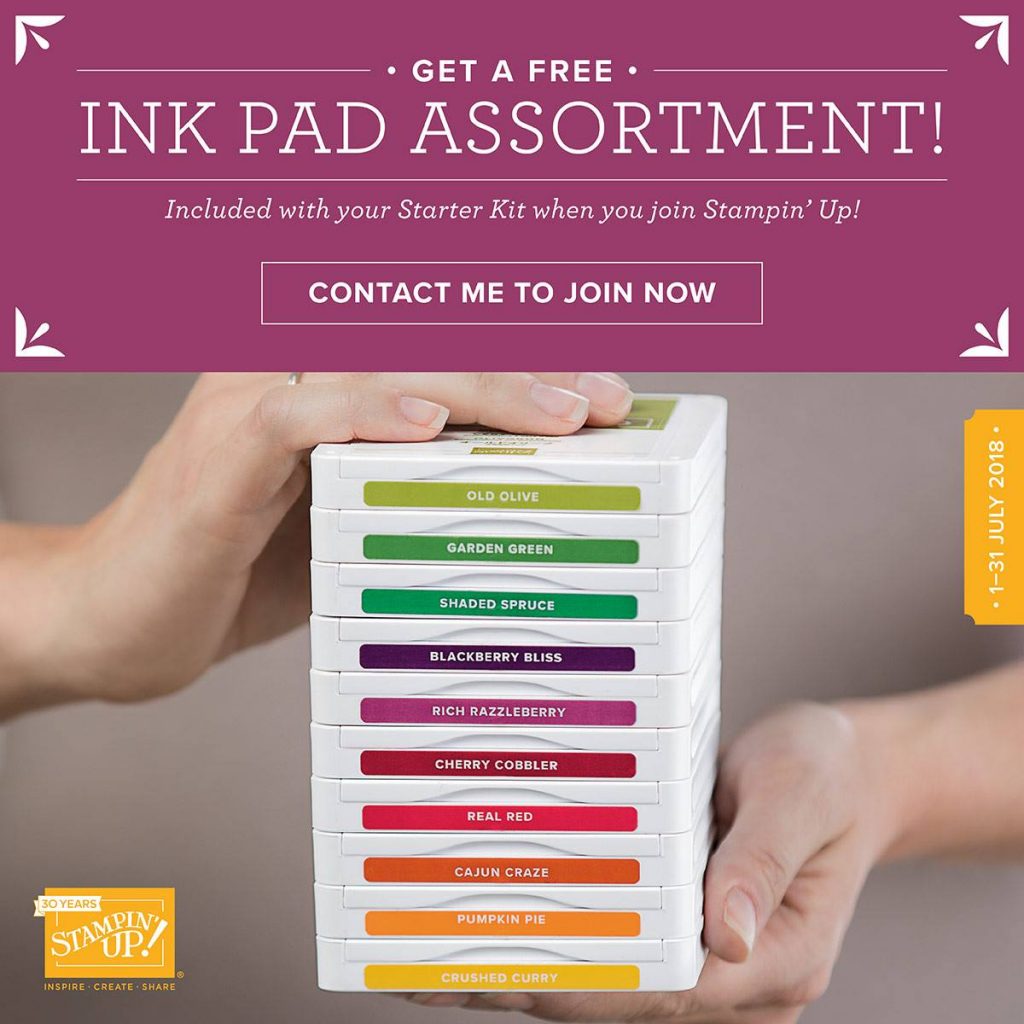 This offer is amazing! I do hope you will be tempted to take advantage of it!
Join Stampin' Up! and choose any £130 of products to go in your starter kit, plus during the month of July a whole Colour Family of Ink pads of your choosing, plus free shipping all for £99! There is no risk involved, there is lots of support if you wish to take it as a business opportunity but also no obligation to sell or demonstrate if you choose not to WIN WIN! I would love to have you on my team.
See my FAQ's page at the top of the post or contact me for further information or a no obligation chat if you prefer.
Let me know if you would like to join my Inkredible team and take advantage of this great offer, or Join Here
July Just keeps on giving!!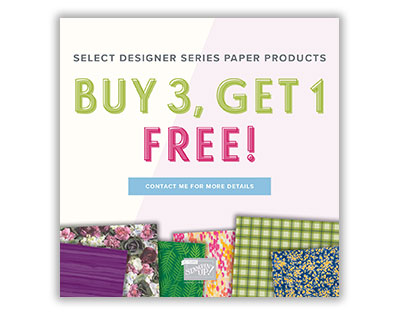 We have a fabulous offer on Designer Series Papers this month! Buy three packs and get a fourth completely free on select packs and there are loads of beautiful papers to choose from. You can see them all here and shop on my online shop.



I really hope you like seeing what I have been up to. Do drop back in to see what I will be making next! Click on the subscribe button in the side bar to follow my blog if you don't want to miss anything.
Hope to speak to you soon,