Jar Of Love Easel Card



Global Design Project #177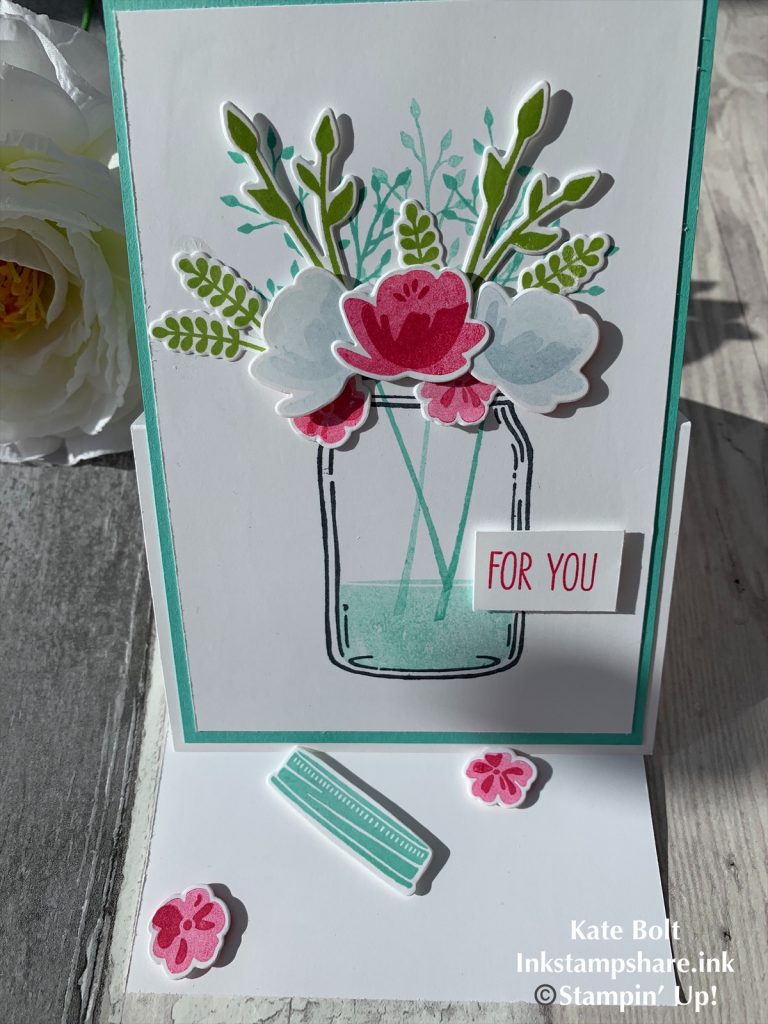 It's a Colour Challenge over at the Global design Project this week and what a gorgeous colour combination.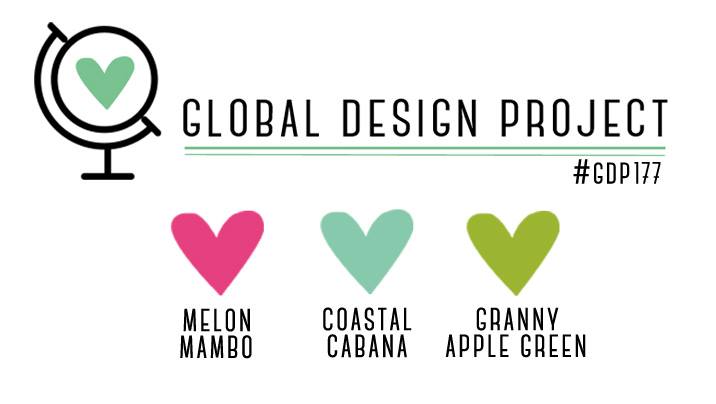 Do you ever buy a stamp set that you absolutely love and use, but then something else comes along catches your eye and it sits on the shelf? Jar Of Love , for me is one of those stamp/die bundles. It's absolutely gorgeous and definitely needed some love so I pulled it out for this challenge,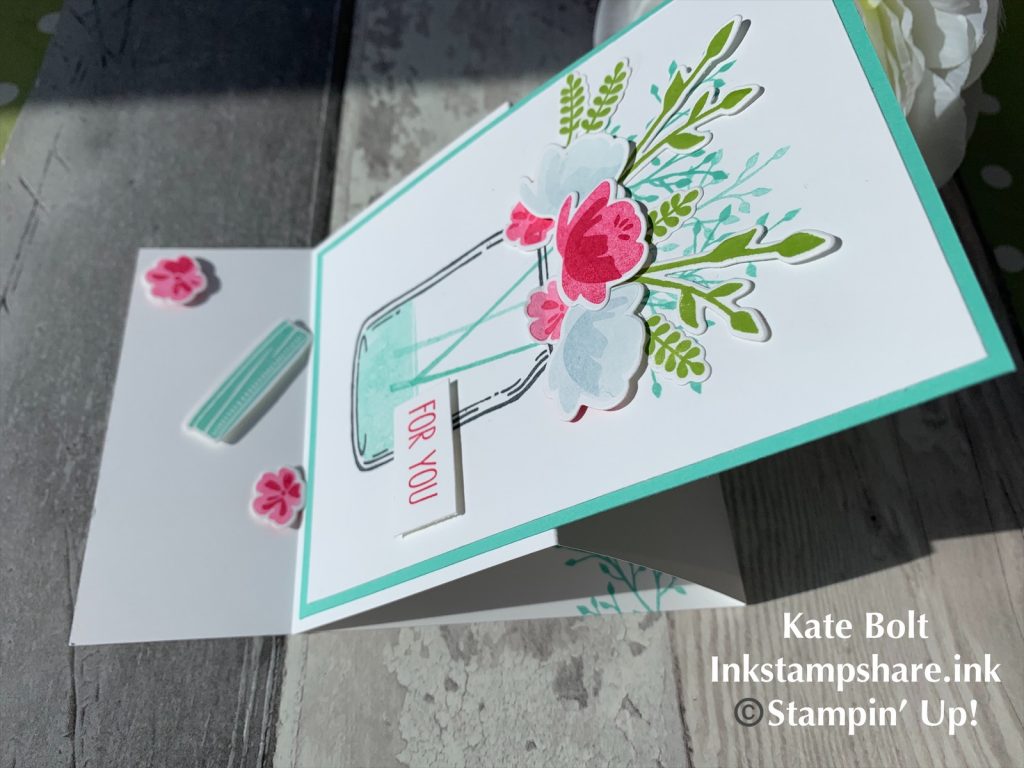 I decided to make an easel card. A simple but effective card fold.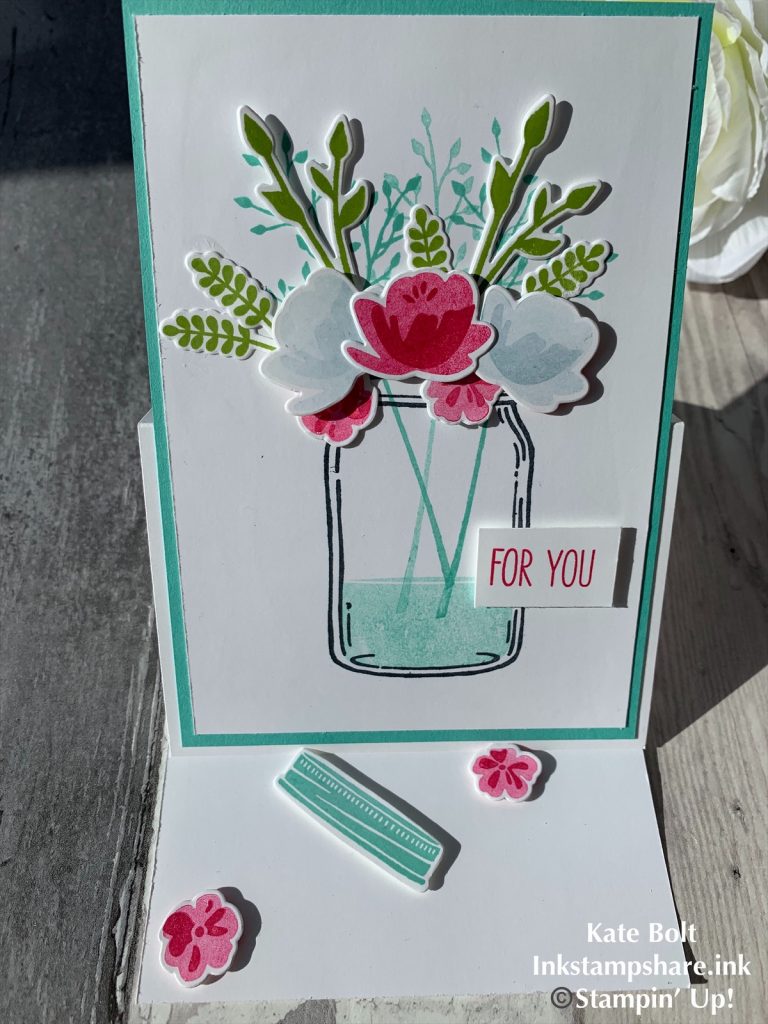 How I Made It
The card base is Thick Whisper White card. A4. Scored at 14.9 cm and cut at 10.5 cm. The front of the card base is scored and folded again at 7.5 cm.
The layer is Coastal Cabana card, 10 cm x 14.3 cm
The front is Whisper White. 9.5 cm x 13.8 cm
The jar is stamped in Memento Black and the water in Coastal Cabana. The ferns are stamped in Coastal Cabana, One of them stamped off twice.
The leaves are stamped in Granny Apple Green, die cut and adhered.
The flowers are stamped in Coastal Cabana stamped off three times and also in Melon Mambo, die cut and adhered,
I have stamped For You in Melon Mambo onto a small square of Whisper White and popped up on Dimensionals.
The elements used to prop up the easel are the jar lid, stamped in Coastal Cabana and the flowers in Melon Mambo. Die cut and popped up on Dimensionals.
I have taken the inside sentiment from the Eastern Beauty stamp set , ( it was perfect for what I needed) and added some more of the ferns in Coastal Cabana.
I hope you like the card and that I might inspire you to dust off your much loved but less used stamp sets too. Here are the products I used to make the card with clickable links to my online shop.
The new Spring Summer catalogue and the Saleabration brochure is in full swing with a whole new host of additional Saleabration items coming on February 15th. It is full of beautiful, fresh, spring colours and is stuffed full of everything you need for your papercrafting. Do let me know if you would like a copy wont you!
Browse all the free items from Saleabration here.
I am of course, very grateful if you choose me to be your demonstrator and you shop with me.
If you shop with me online, don't forget to use the hostess code if your order is between £20 – £150 for a small gift from me.
Hostess Code This Month
I also send a little hand made gift and card to all my customers . I really appreciate all my customers because without them I wouldn't be here.
Drop me an e mail or a message if you would like me to send you your own – theres nothing like browsing a paper copy 💕
I really hope you like seeing what I have been up to. Do drop back in to see what I will be making next! Click on the subscribe button in the side bar to follow my bl
og if you don't want to miss anything.
Hope to speak to you soon,