You're Inspiring! Mothers Day Card

Inspire Create Challenge #037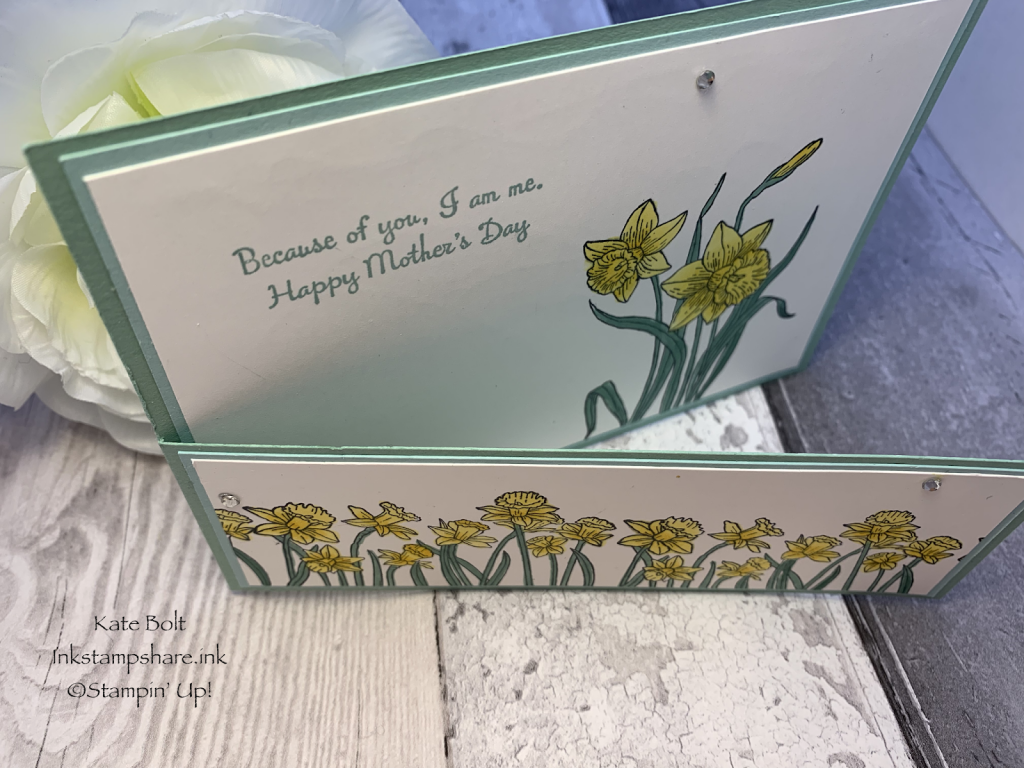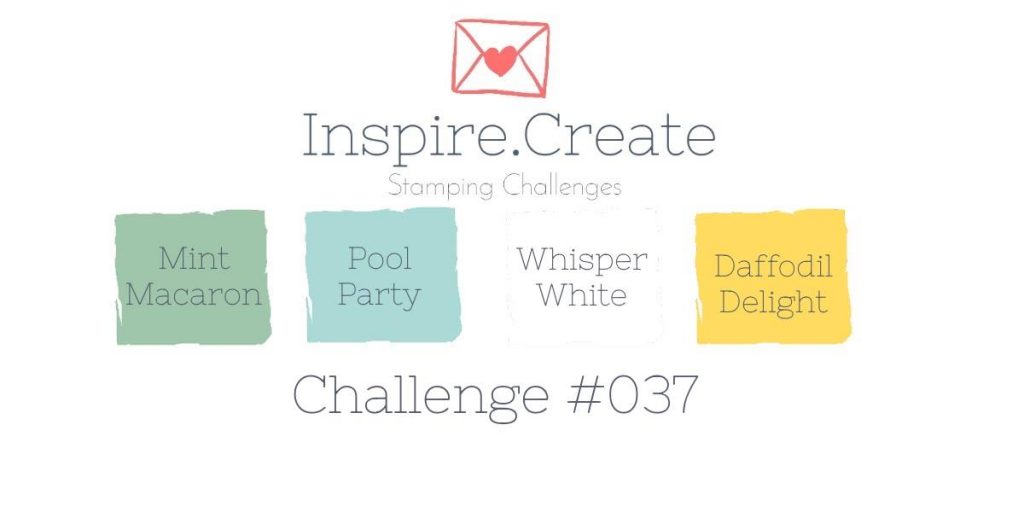 This week on the Inspire Create Challenges we have a colour challenge. I have to admit that I was definitely a little challenged with it and was looking around for inspiration. It's still cold around here but spring is definitely in the air so I brought home a couple of bunches of daffodils with me from the shops this morning. And so the inspiration for this card! This stamp set is called You're Inspiring, which is completely appropriate don't you think!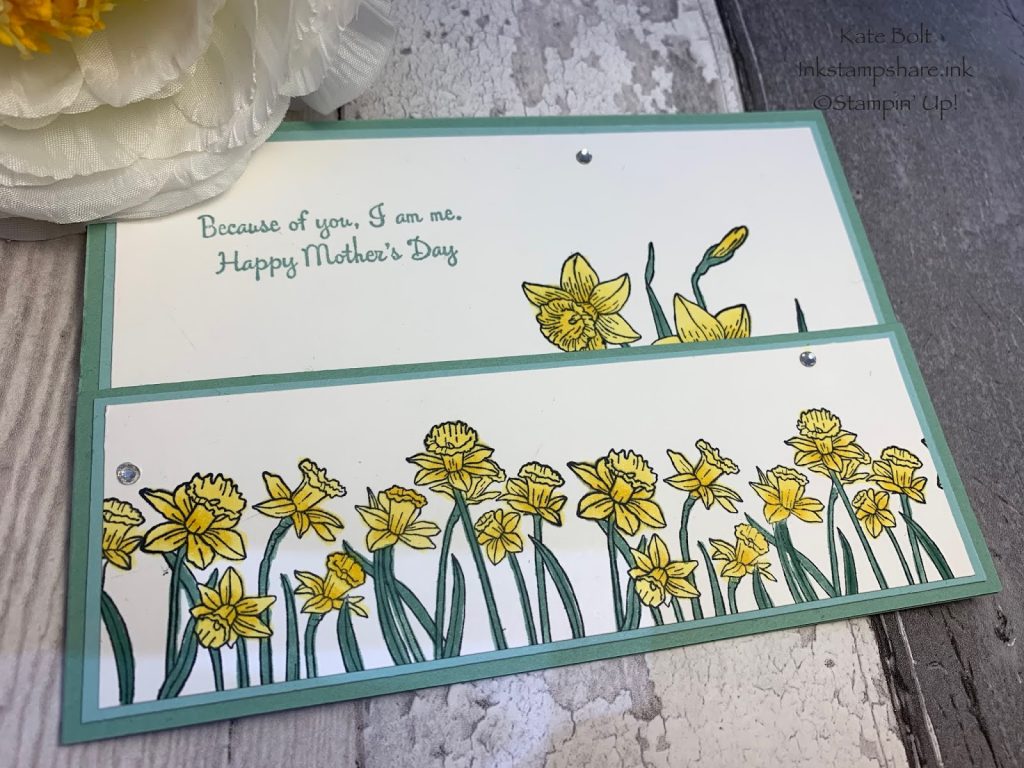 I just love daffodils, they are one of my most favourite flowers, they herald Spring and Mothers Day which for us in the UK is just next month. The bright yellow trumpets are just so cheerful.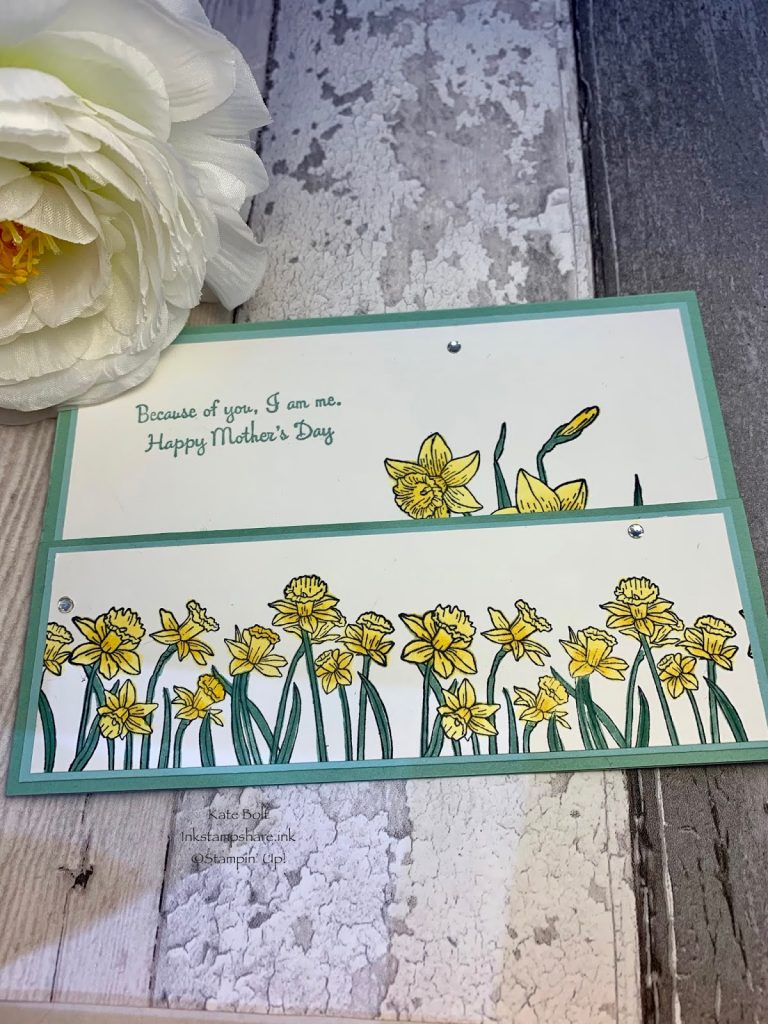 How I met the Colour Challenge
The card base is Mint Macaron with a layer of Pool Party. I have stamped on Whisper White and coloured in the daffodils with the Dark and Light Daffodil Delight Stampin' Blends – these are alcohol markers and blend beautifully. The stems and leaves are coloured in with a Mint Macaron Stampin Write Marker. I thought colouring the leaves in this colour ( as there was no green in the challenge) might be a bit of a stretch but it seems to fit quite well.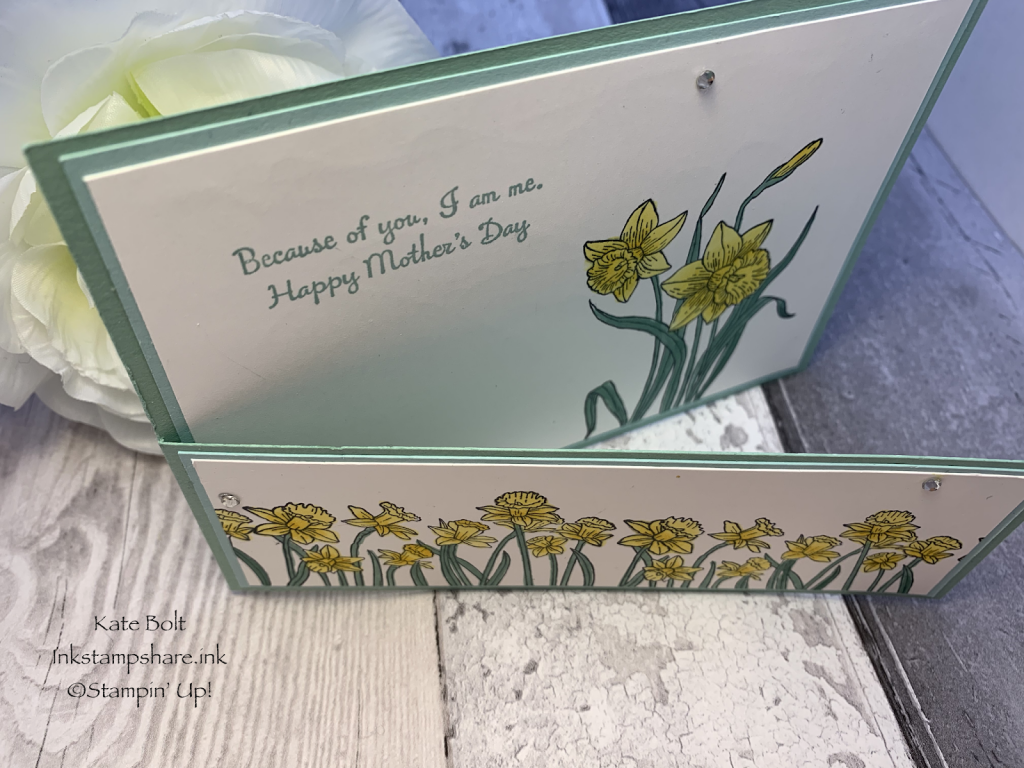 How I made the card/dimensions
It's got a fun opening which is very simple to make. The card base in Mint Macaron is A4, cut in half at 10.5 cm and scored in half at 14.9 cm. the front side of the card, I then cut in half using my trimmer at 5.2 cm.
Each layer is then approx half a cm smaller.
Pool Party – 14.3 cm x 4.8 cm
Whisper White – 13.8 cm x 4.3 cm
Pool Party – 14.3 cm x 10 cm
Whisper White – 13. 8 cm x 9.5 cm
I added the sentiment in Mint Macaron and a few rhinestones dotted about to finish it off.
Have you thought about Mothers day yet? There's lots of other occasions you can use this stamp set for too. It has Happy Birthday, Kind Thoughts For You and You're Inspiring.
I hope you like the card. Here are the products I used with clickable links to my online shop. Don't forget to use the Hostess Code when you shop with me.
This month's code is
AHY2UK9H
The new Spring Summer catalogue and the Saleabration brochure is in full swing with a whole new host of additional Saleabration items coming on February 15th. It is full of beautiful, fresh, spring colours and is stuffed full of everything you need for your papercrafting. Do let me know if you would like a copy wont you!
I am of course, very grateful if you choose me to be your demonstrator and you shop with me.
If you shop with me online, don't forget to use the hostess code if your order is between £20 – £150 for a small gift from me.
Hostess Code This Month
I also send a little hand made gift and card to all my customers . I really appreciate all my customers because without them I wouldn't be here.
Drop me an e mail or a message if you would like me to send you your own – there's nothing like browsing a paper copy 💕
I really hope you like seeing what I have been up to. Do drop back in to see what I will be making next! Click on the subscribe button in the side bar to follow my bl
og if you don't want to miss anything.
Hope to speak to you soon,