Just Fur You – Pet Treat Gift Bag

Inspire Create Stamping Challenge #039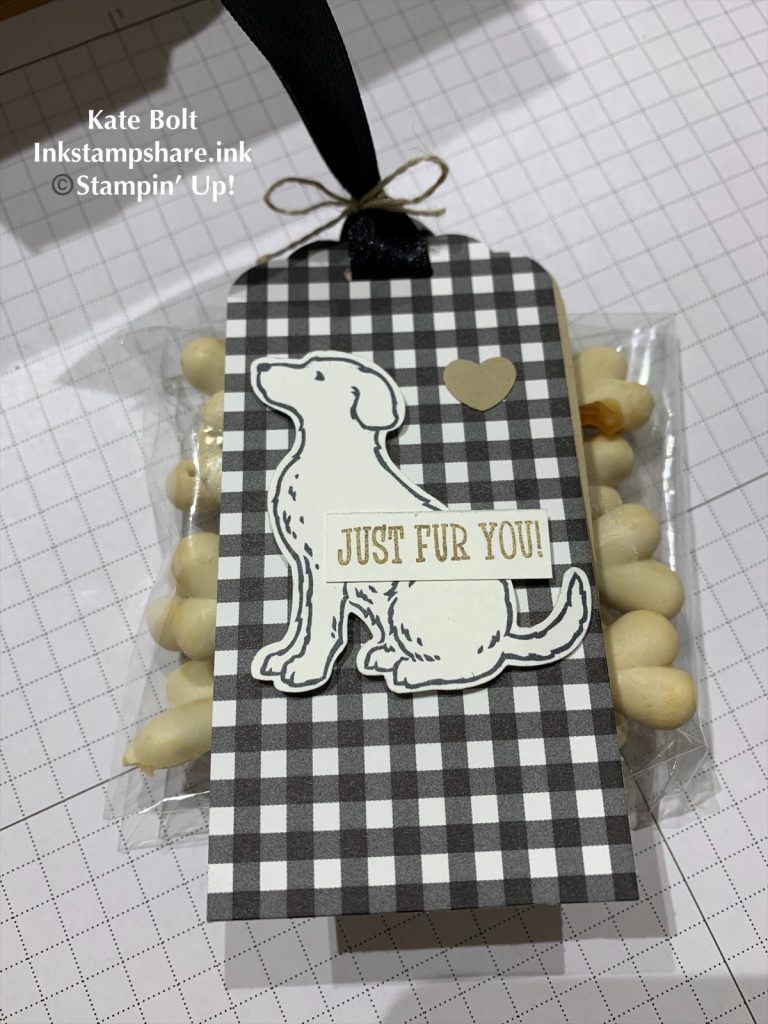 Woo hoo! this week over at the InspireCreate Stamping Challenges we have a pet challenge!
Are you an animal person? Dogs or cats? which is your favourite? Are you the kind of person who celebrates their pet's birthday or buys them a Christmas stocking? It might sound daft but I have a couple of family members who always bring our dog a little something at Christmas and it makes me so so happy!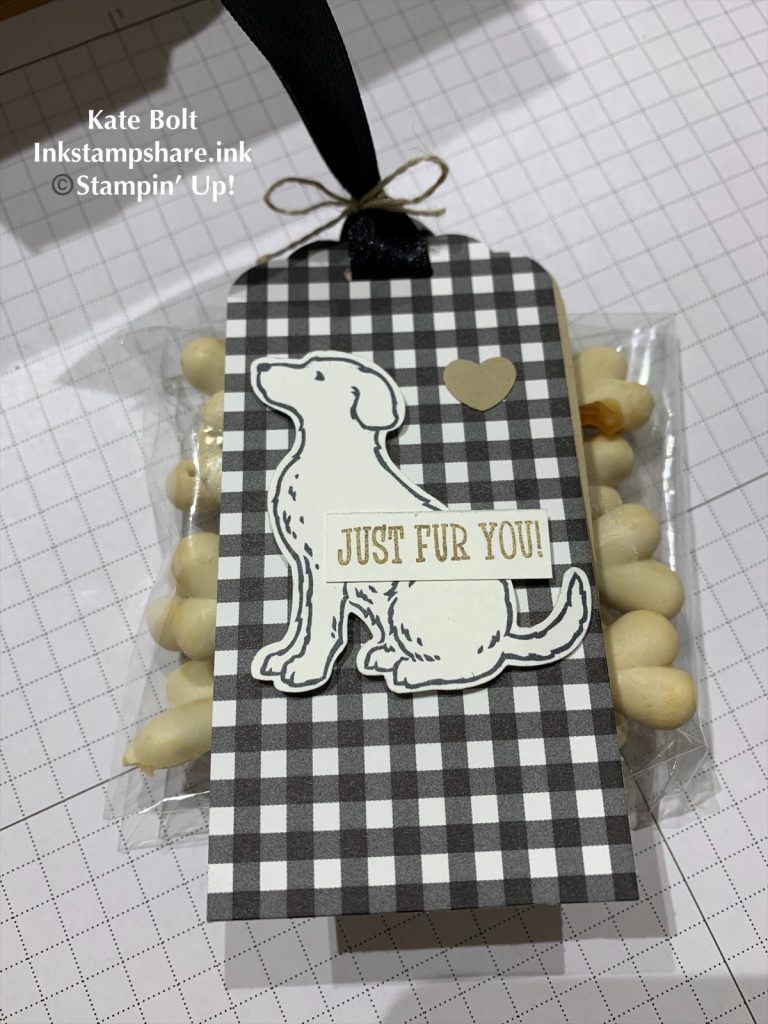 So with the theme being pets this week I had to get out the Happy Tails stamp set and matching punch to create this little gift. Perfect for when we go visiting doggy friends. You can see what the rest of the talented Design Team made for this challenge over at the Inspire Create Challenge #039 here
Here is my You Tube Tutorial showing how I made it.
I hope you like it. Do give me a thumbs up and subscribe. Oh and don't forget to click the little bell fo notification of future videos .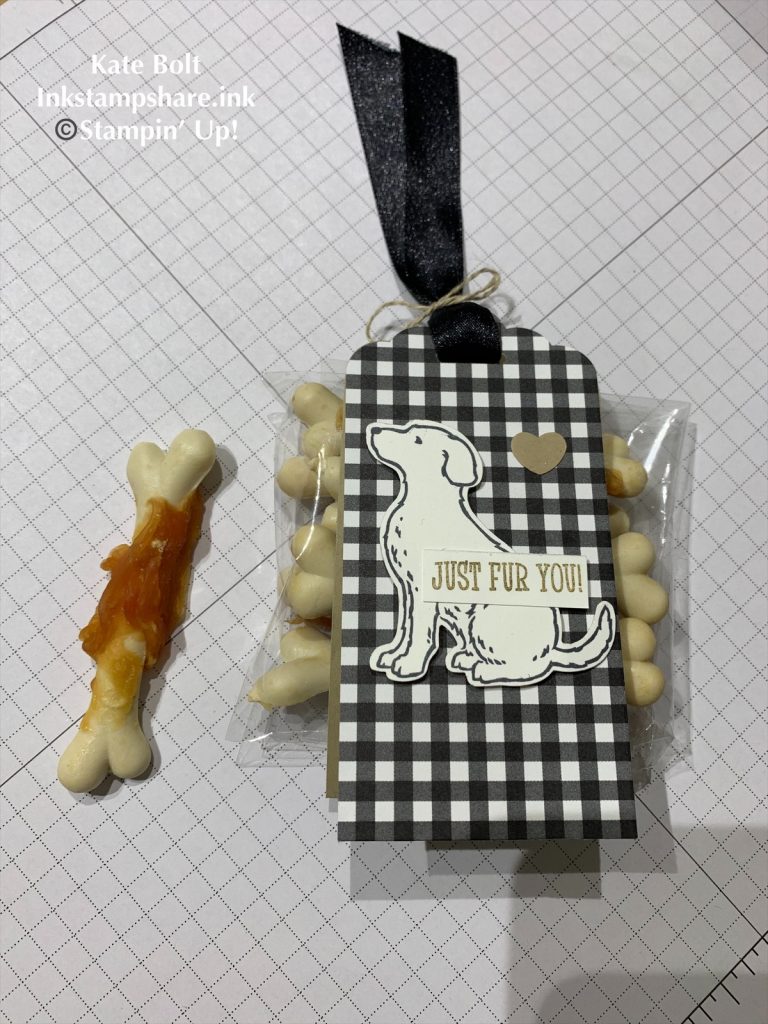 I bought the little treats in our supermarket but you could put in whichever you prefer. It's so simple to make.
Cut a piece of Sahara Sand card . 2 x 8 1/4
score in half at 4 1/8th and use the scalloped Tag Topper punch to punch the tops.
Cut a 2″ x 4 1trip of DSP and use the tag topper punch at the top,
Decant some of the pet treats into one of the small cello bag, fold the top over ,secure with tear and tape and trim any excess from the bag. Add the ribbon and the Linen Thread.
Stamp the dog in Memento black ink and punch out using the Dog Punch – adhere to the front using Dimensionals.
Stamp Just Fur You in black ink on a small scrap of Whisper White and add to the front.
Punch out a little heart using the Dog Punch and add to the front.
So cute. I hope you like it. Do leave me a comment to let me know. Hop over to the Inspire Create Challenges here to see what the rest of the design team have come up with for this pet challenge! Do join along too, it's great fun and very easy to add your entry.
Haha, I've a very happy dog here this evening.He's been sampling the wares!
Here are the products I used to make it with links straight to my online shop,
The new Spring Summer catalogue and the Saleabration brochure is in full swing with new items that were added on March 1st, including some from the Annual catalogue!. It's full of beautiful, fresh, spring colours and is stuffed full of everything you need for your papercrafting. Do let me know if you would like a copy wont you!
I am of course, very grateful if you choose me to be your demonstrator and you shop with me.
If you shop with me online, don't forget to use the hostess code if your order is between £20 – £150 for a small gift from me.
Hostess Code This Month
I also send a little hand made gift and card to all my customers . I really appreciate all my customers because without them I wouldn't be here.
Drop me an e mail or a message if you would like me to send you your own – theres nothing like browsing a paper copy 💕
I really hope you like seeing what I have been up to. Do drop back in to see what I will be making next! Click on the subscribe button in the side bar to follow my bl
og if you don't want to miss anything.
Hope to speak to you soon,