Be Cool, Be Chill, Be Merry! Hello and welcome to my blog. I need no excuse to show off the playful Penguins from the Penguin Place Bundle and the Penguin Playmates Designer Series Papers.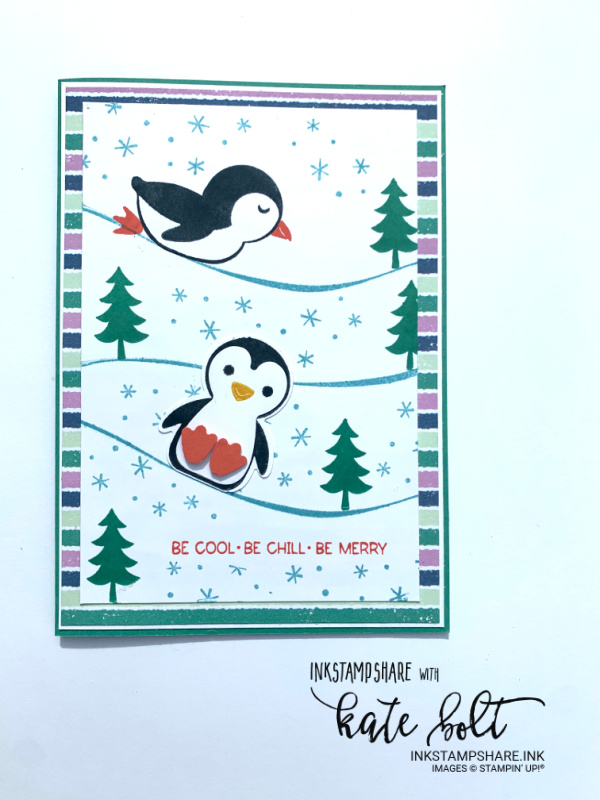 Be Cool, Be Chill, Be Merry!
How cute are these guys?! So fun. This is one of the cards I made for my class last week. The stamp set has great images including the snow slopes for your penguins to slide down. It has both Christmas and birthday sentiments too. Lots of images to create really cool scenes! The Punch is of course fabulous – I'm a big fan of punches. So quick and easy. Raise the penguin up on Dimensional foam pads and his cute little feet too! The Designer Series Papers (patterned papers) are great! They have lots of fun penguins, polar bears, and fox images in snow scenes on one side and a print on the other. Choose whichever you like and match the colours in your ink pads and card.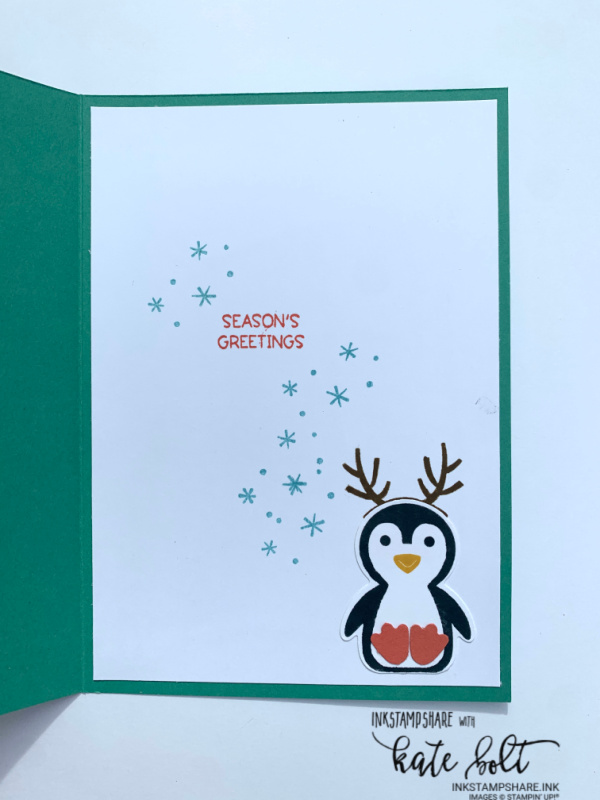 And add a little Penguin inside too. This one had to have reindeer antlers of course!
We had such a lovely time at class. Here are just a couple of the cards made. It's fabulous to be able to do face-to-face classes again! My September class is now open for booking, so let me know if you'd like a spot. Details at the top of the page. I am also adding an online option to the class so if you aren't local or the date/time doesn't work for you, you can still take the class!
I hope you like my fun, penguin card using the Penguin Place stamps/punch bundle and the Penguin Playmates papers that are free with Saleabration and might be inspired to have some fun with them too! Check out, how you can get these papers for FREE with Saleabration until the end of the month further down the page.
You can find all the products used for this card here with clickable links. Don't forget to add this month's Host code at checkout. TTQ24F34. For a thank you gift when shopping with me.
Thanks for popping by, do come back soon for more crafty inspiration!