I have fallen in love with the Penguin Place & Penguin Playmates! The Penguin Place Bundle – stamp set and punch are fabulous and they coordinate with the Penguin Playmates patterned papers which are free from Saleabration. How cool is that! See what I did there. oh, dear! The stamp set is full of fun images for whatever you like really. The sentiment contains both Christmas, birthday, and friendship. The fact that it has a punch is brilliant! And there also seems to be a lot of punch art emerging using it too.
Perfect for this month's class to create fun projects!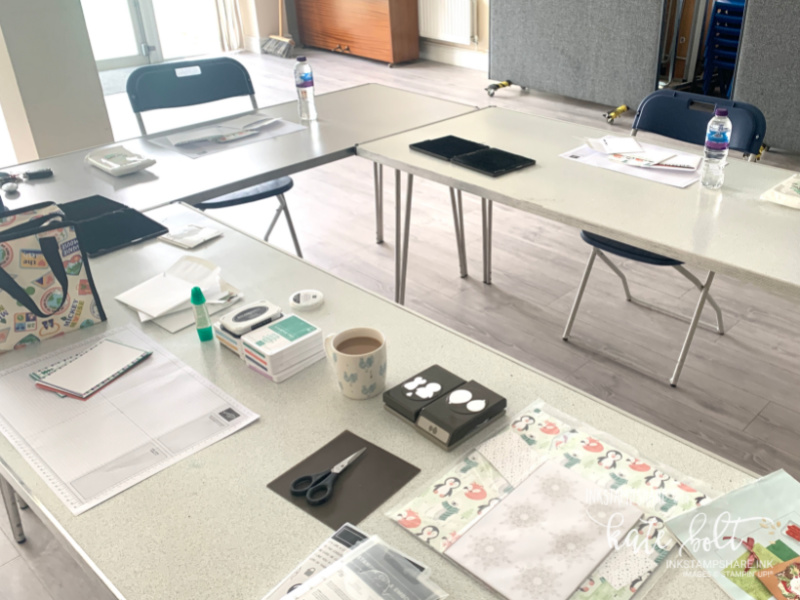 Coffee in hand – the calm just before class, just when I am starting to set up. All quiet and calm. I love this bit, all the designing, prep, and setup is done. All there is left to do is anticipate the class fun. Oh, and add some chocolate to the tables of course!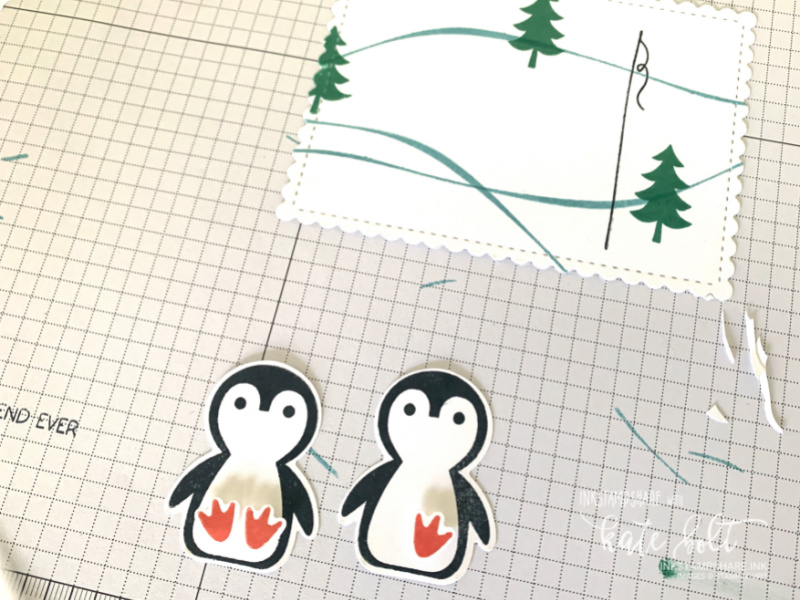 Some of the little Penguins being created for one of the projects. I managed a quick photo. Just one foot and their little beaks to go! So cute! I LOVE these penguins.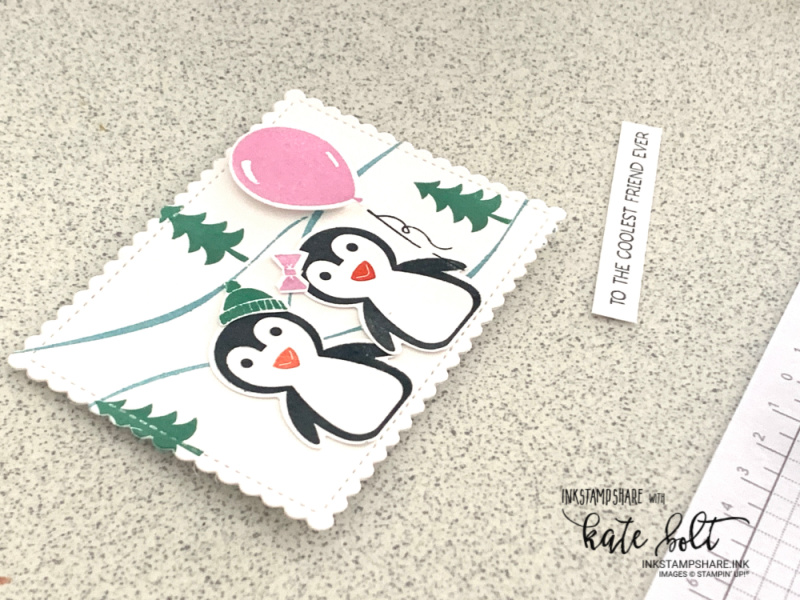 A little hat for one and a hair bow for the other. They are firm friends! Did you own the Ballon punch before it retired? Well when I designed this card, I discovered that it fits the balloon stamp in the Penguin Place stamp set perfectly! What a bonus! If you don't have it, the balloon is of course a very simple shape to cut out.
Penguin Place & Penguin Playmates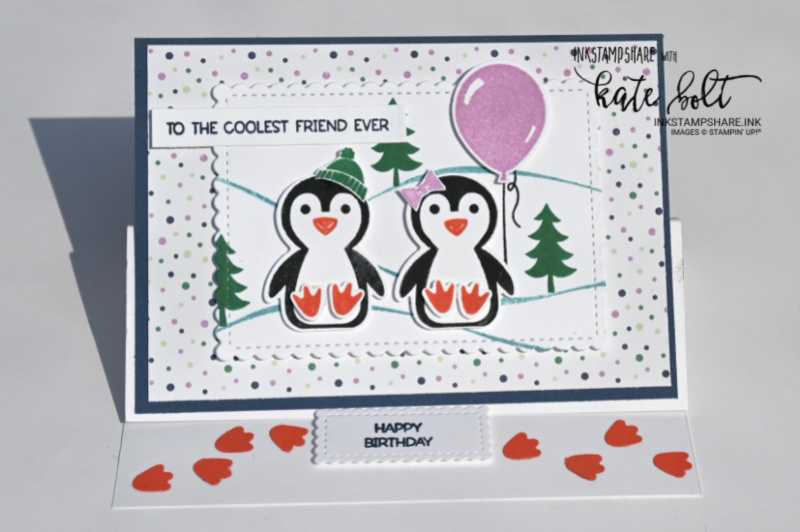 An easel card. Add some of those little penguins' footprints at the bottom. Perhaps they should be facing inwards instead? The Designer Series Paper is the FREE Penguin Playmates. This patterned paper is a pack of 12″ x 12″ double-sided sheets. It has lots of fun images on one side including penguins that can be punched out using the punch. It has smaller patterns on the other side too – so useful.
We had so much fun in class making this card! Let me know if you like it won't you. I love to read your comments. If you would like the Penguin Place stamp and punch bundle for FREE! You can grab it if you join my team this month! Check out the Salebration joining offer below! Get in touch if you'd like more information. It's open to everyone!
Here is a list of all the products used to make this card with clickable links to my online shop.
Woohoo for our second Saleabration of the year! From the beginning of August to the end of September you can earn free items when you shop, host, or join in Saleabration.

Earn free products when you shop with me in Saleabration. So much to choose from. Gorgeous Be Dazzled glimmer paper, stamp sets, and packs of Designer Series paper. Choose one for every £45 spend. Or step it up a little with the Distinktive Delicate Dahlia stamp set free with a £90 spend. Click on the image to browse and see what Saleabration has to offer!
Join My Inkredible stampers team during Saleabration and get one of a choice of 12 BUNDLES for free, on top of your £130 product of your choosing. For just £99. You of course get an ongoing discount and join a great crafty community too. Browse the free bundles from the new Winter catalogue here.
Spend over £275 by hosting a party, collecting orders, or placing the order yourself and earn the exclusive In Your Words stamp set for free during Saleabration. That's on top of your Stampin rewards and your Saleabration items.
Thanks for popping by, do come back soon for more crafty inspiration!