Hello and welcome! We are almost halfway through January! Stampin' Up"s Saleabration is in full swing! Have you seen this year's offering yet? It's fabulous. But these Dainty Flowers Papers are one of my favourites.
If you haven't seen them yet, here they are. They are so pretty, they look like watercolour paper.
Dainty Flowers Papers From Saleabration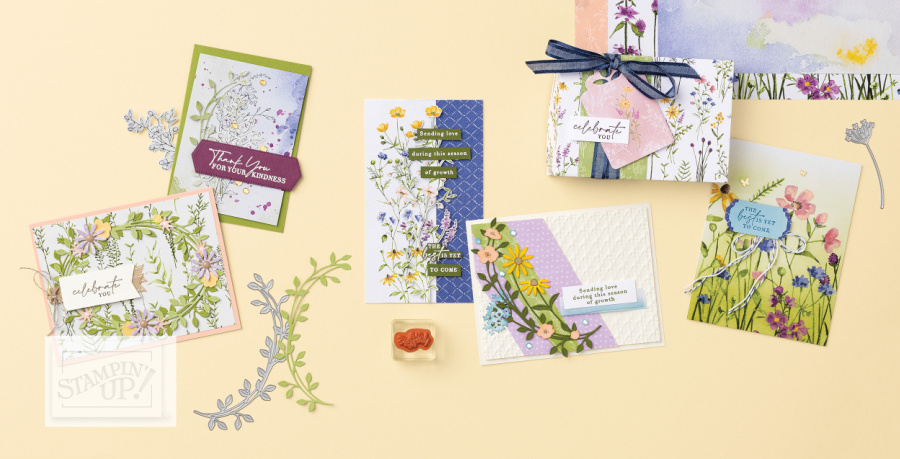 I am using the flowers to create this card. This card is totally inspired by this week's Inspire Create Challenge #134. The challenge this time is to CASE Designer Verity at Inky Butterfly. You can see her card, the rest of the Design Team projects, and all the entries here. It's amazing to see all the different designs inspired by one card. They are all beautiful! Check out the entries as they come in and vote for your favourite.
Would you like to join along the challenge? You can add your post ( it doesn't have to be a blog post – could be a link to your project on your social media) It's so much fun. It's open to everyone. Check out the guidelines here.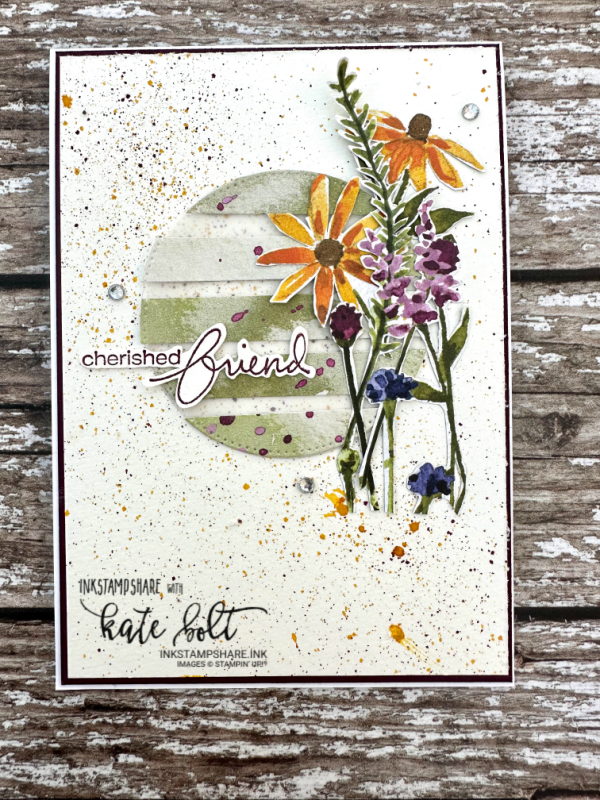 Create The Card
The colours in the papers are gorgeous. I am using Rich Razzleberry for the card layer on top of a Thick Basic White card base. The top layer is our Fluid 100 Water Colour paper. Inspired by the Dainty Flowers papers. Using ink refills and a brush, add some splatters of Rich Razzleberry and Crushed Curry ink. Just a few random splatters echo the papers. You don't need to be precise so have fun! Do remember to protect your working space though. Ink spatters travel – ask me how I know! The circle is cut from the papers – those splatters are part of the paper design.
Cut the flowers from the papers, it's far easier than you'd think and very mindful too. You can use this card for any occasion. I am using a sentiment stamp from the Lovely You stamp set. The beautiful Dainty Delight stamp/die bundle in the new mini coordinates with these free papers. Of course, it does! ! I love how Stampin Up coordinates and gives us choices. Check those out here. The dies cut out the stamped images and have some stand-alone dies too. And what's more, the purchase of the bundle qualifies to get the Saleabration papers for free!
Jan – Apr Mini Catalogue & Saleabration
The new January to April catalogue is in full swing. It's full of beautiful, fresh, spring colours and is stuffed full of everything you need for your paper crafting. The new Saleabration brochure runs from January to the end of February this year and is full of FREE items you can earn with a £45 or £90 order or multiples as you like! Do let me know if you would like a copy won't you? In the mean time, you can click on the image to view a digital copy.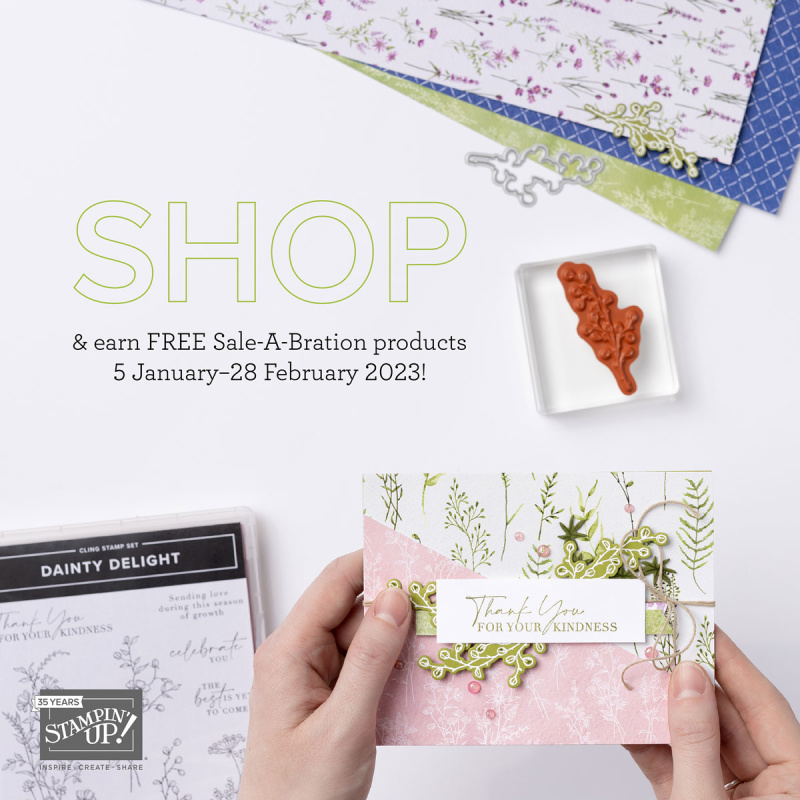 SHOP THE PRODUCTS USED IN MY PROJECT
Sale-A-Bration is an excellent time to join Stampin' Up! It runs January 5th to the end of February. I would absolutely love to have you in my lovely team. Whether you join for the discount or as a business.
In addition to the already excellent value of the Starter Kit, if you decide to sign up as a Stampin' Up! demonstrator during Sale-A-Bration, you can choose from three incredible options:
Option 1: The exclusive Boho Blue Mini Machine (77,00 € | £55.00 value) + your choice of 230 € | £170* of Stampin' Up! products for only 160 € | £125.
Option 2: The original white Mini Machine (77,00 € | £55.00 value) + your choice of 230 € | £170* of Stampin' Up! products for only 160 € | £125.
Option 3: Your choice of 230 € | £170* of Stampin' Up! products for only 129 € | £99.
*That's 55 € | £40 more product than the standard Starter Kit offer! Contact me for chat if you'd like more details or JOIN HERE.