Hello and welcome. I absolutely love an interactive card, and one with a "secret" shutter inside is even better. Hello, Irresistible is a brand new collection – part of our new Online Exclusives launching on March 1st and it's so beautiful! Perfect to use for this shutter card.
This card is much easier to create than it looks. You can see how in my tutorial here, made for my Coffee & Cards YouTube live this week. I hope you enjoy it and might be inspired to try it. Do let me know. Measurements are near the bottom of this post.
Hello Irresistible Shutter Card
Click on the image to see the YouTube tutorial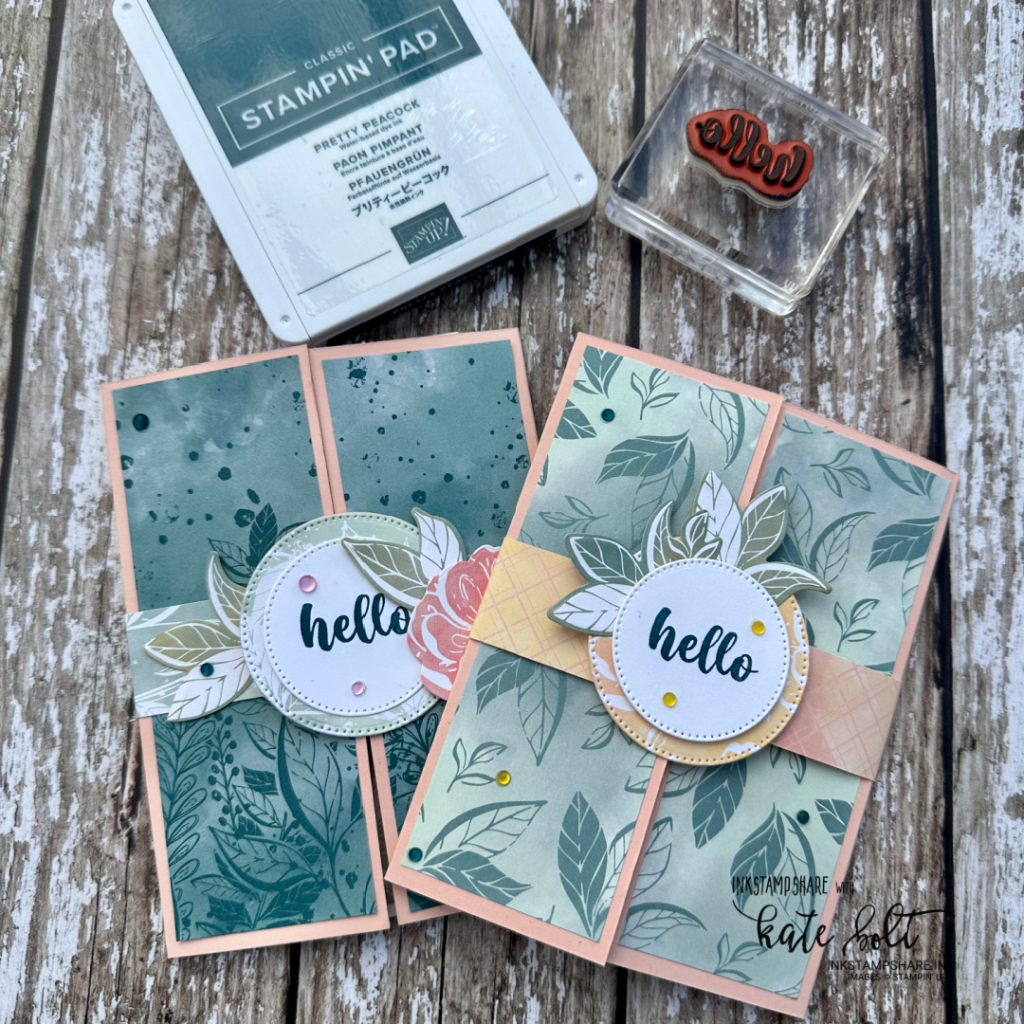 Please give me a thumbs up and subscribe if you enjoy it. It really helps.
We have some exciting news this week too! Can you spot a couple of returning colours to our Stampin Up palate? We have Pretty Peacock and Lost Lagoon! Both of these gorgeous colours feature in the Hello Irresistible collection's Designer Series Papers alongside Daffodil Delight, Calypso Coral ,Flirty Flamingo and Soft Sea Foam.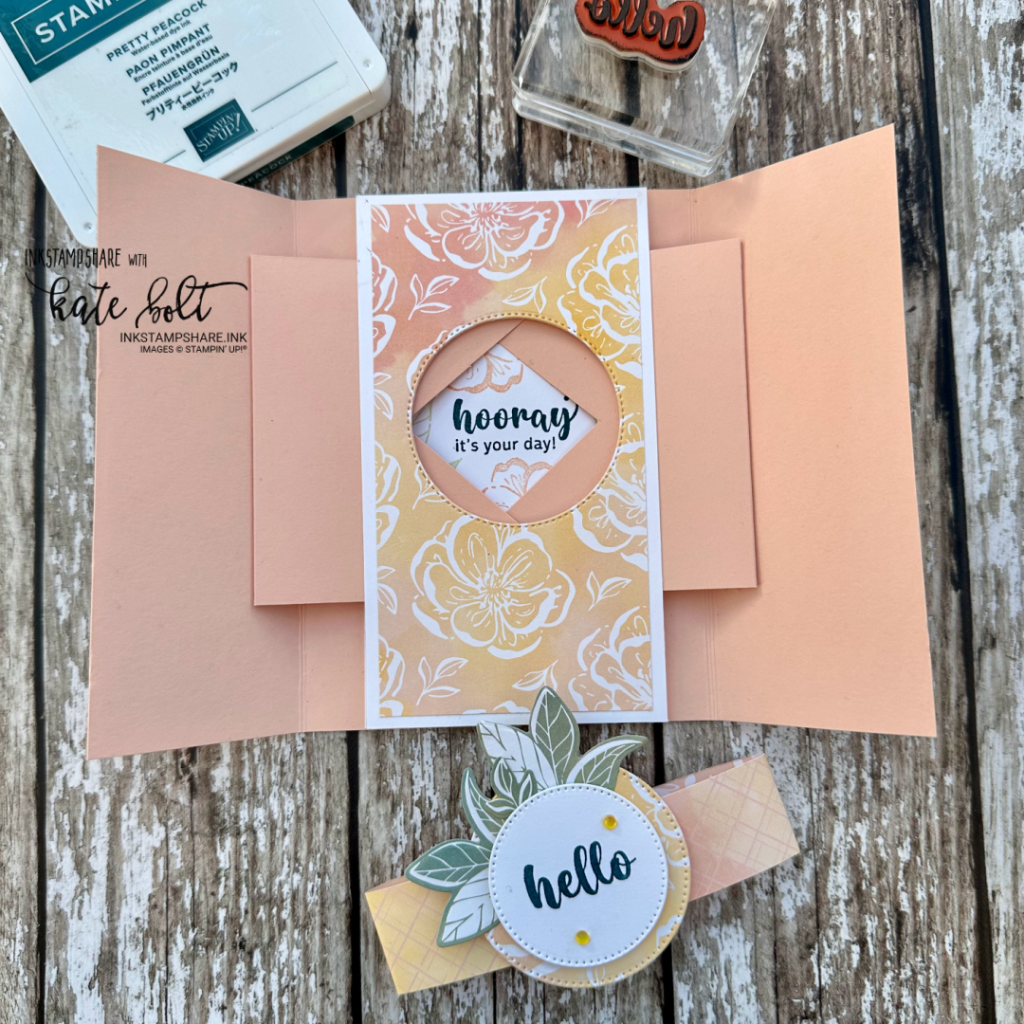 Such a fun opening!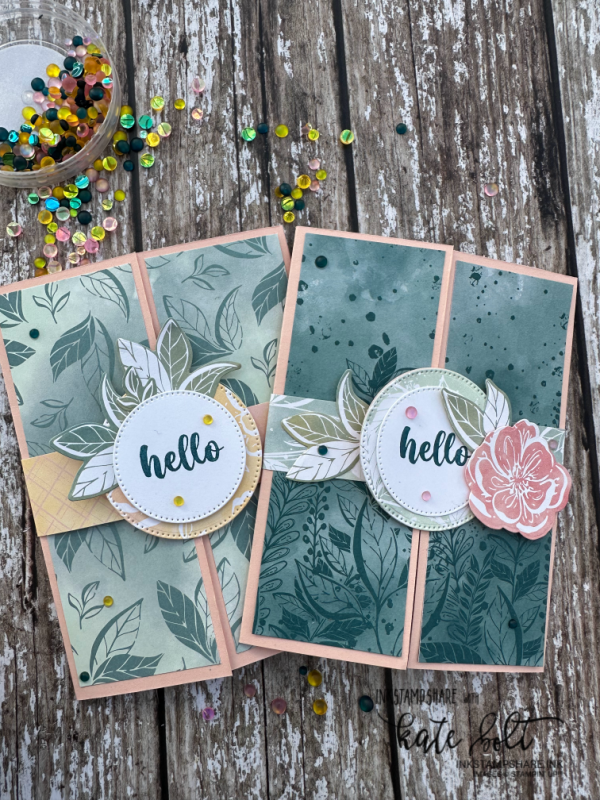 The Loose Frosted Dots are soooooo pretty! I may have to get lots of these! I'm also very much in the swing of creating shutter cards! Friends may all be getting these for birthdays and occasions for a while! Do you have a favourite fun fold?
Measurements
Card Base – 5 1/2″ x 8 1/2″ (Score at 2 1/8″ and 6 3/8″)
Basic White x 2 – 3″ x 5 1/2″
Aperture Card Pieces x2 (same colour as the card base) – 3 1/2″ x 4″ (See Video as to how to cut these)
DSP for middle – 2 3/4″ x 5 1/4″
DSP x2 for the card front x2 – 5 1/4″ x 1 7/8″
DSP for the belly band x2 – 1″ x 6″
I hope you love the project I've created. This collection is part of the new Online Exclusive's available here in my online shop from March 1st. You can see them all here.
All the products I've used in this project are listed here with clickable links to my online shop.
Don't forget to use the host code at checkout if your order is between £20 – £150 for a thank-you gift when shopping with me. The Host Code for this month is