It was a beautiful day on Saturday and the perfect day to get away from it all and spend the day crafting. This is precisely what we did. I held my first Craft Retreat Day and I am so happy to say that everyone has told me they had a lovely time!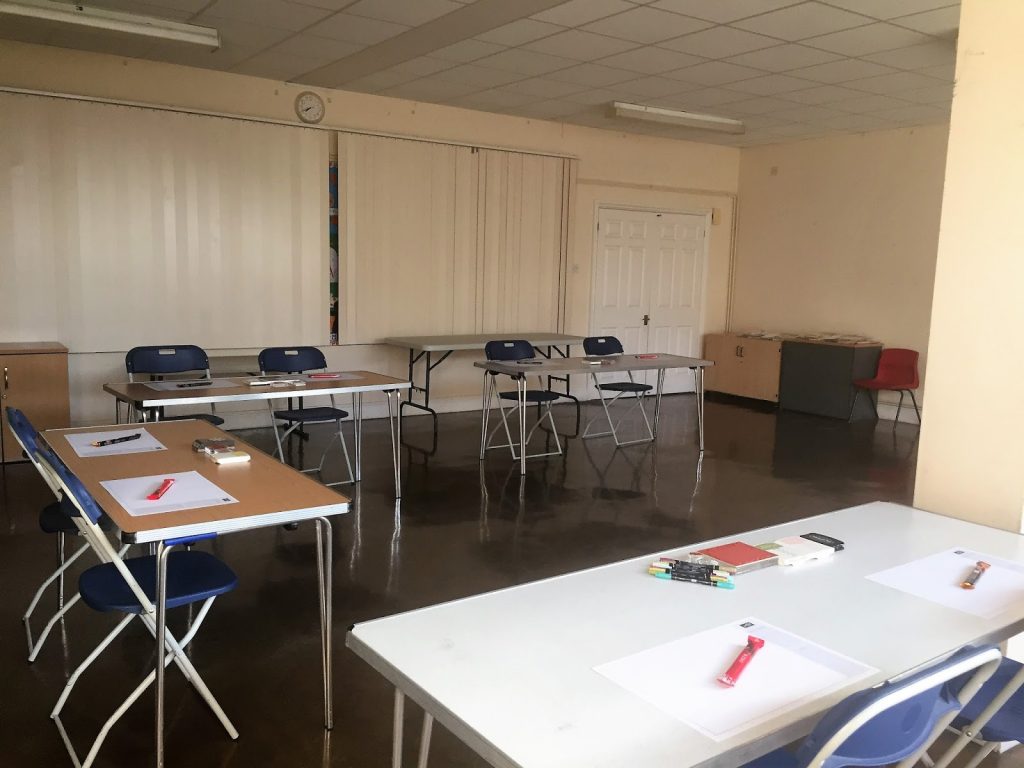 The calm before everyone arrives.
Everyone had a prepared kit full of the supplies they needed for the day to make 20 cards. Five designs to make four of each and also a gift bag. With lots left over to take home and play with too. I had prepared all the card bases and layers in advance leaving more time for creativity. I emphasise that the aim of the day though is fun and relaxation! So make as many of the cards as you like and take home the kit to be able to complete at home as wished. No pressure, just fun!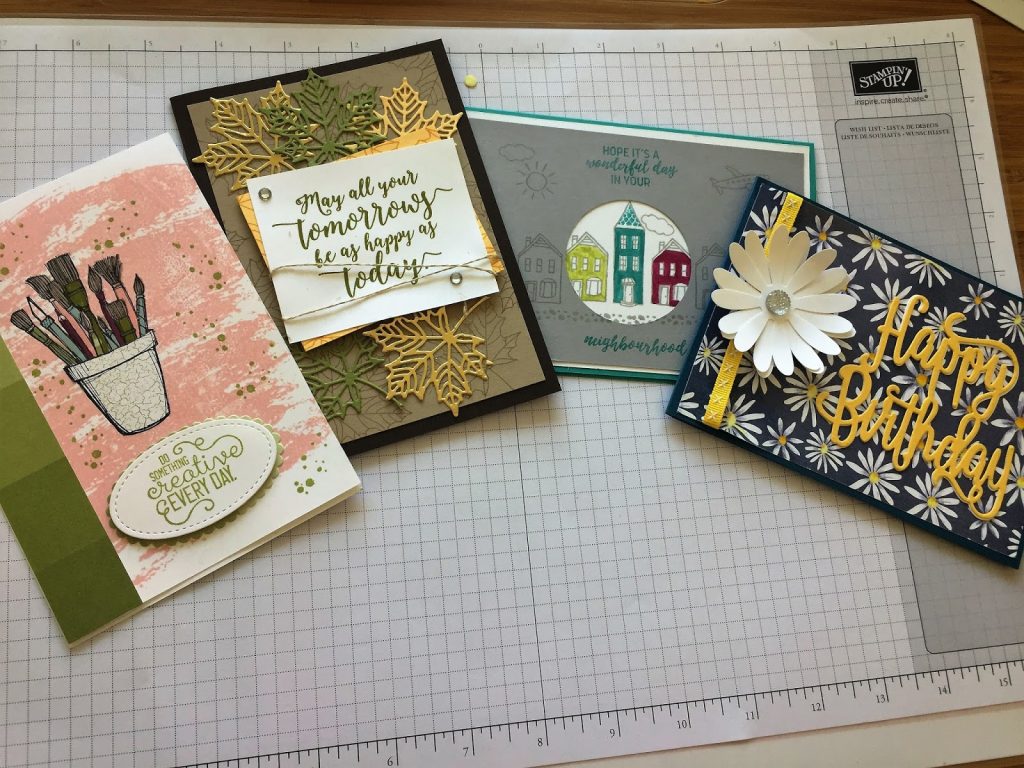 These at four of the five card designs we made using all new products from the new Annual Stampin Up range. Alas my other card sample has disappeared! Though if it turns up I will add it on the blog.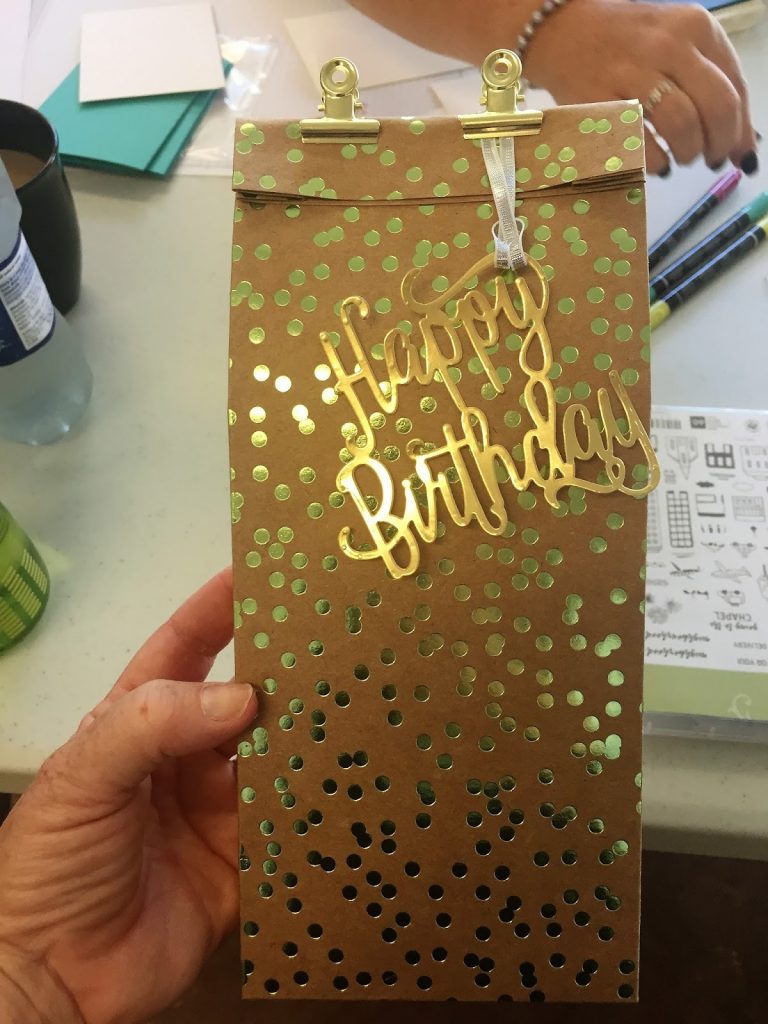 Our gift bag using the new Foil Frenzy 12 x 12 papers. (Though it is card stock weight). Perfect for this very simple to make bag and I used the new gold Library clips to secure the top.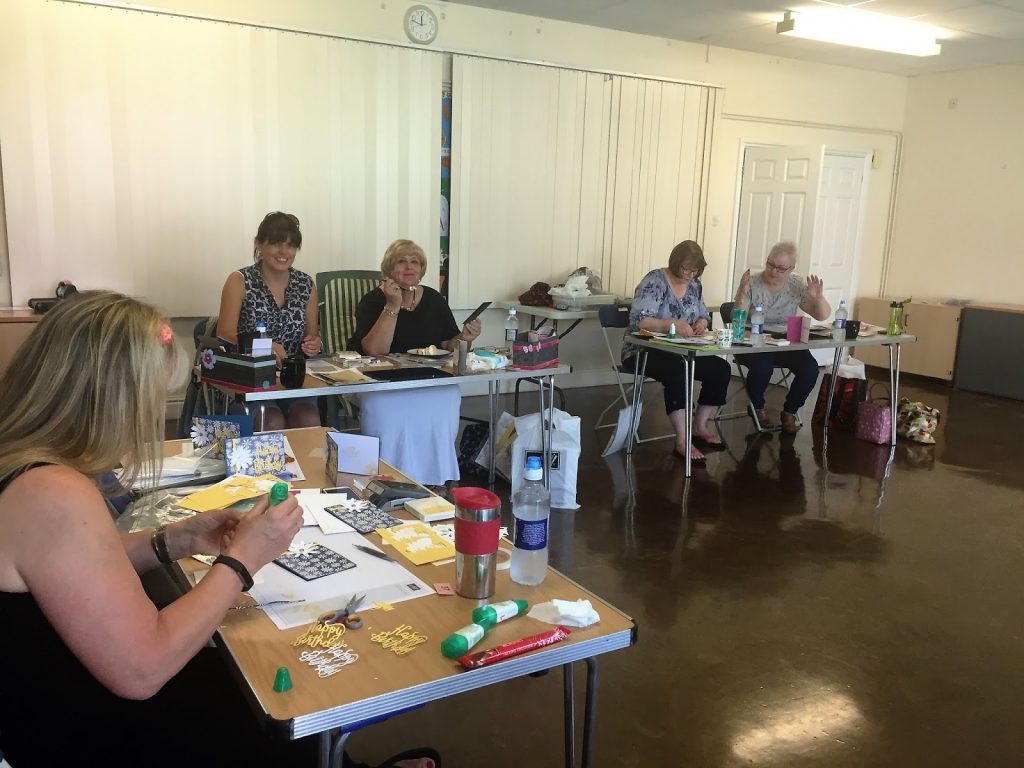 I provided bottles of cold water and of course a little chocolate. (what's crafting without a little chocolate!) Tea and coffee flowed all day 😋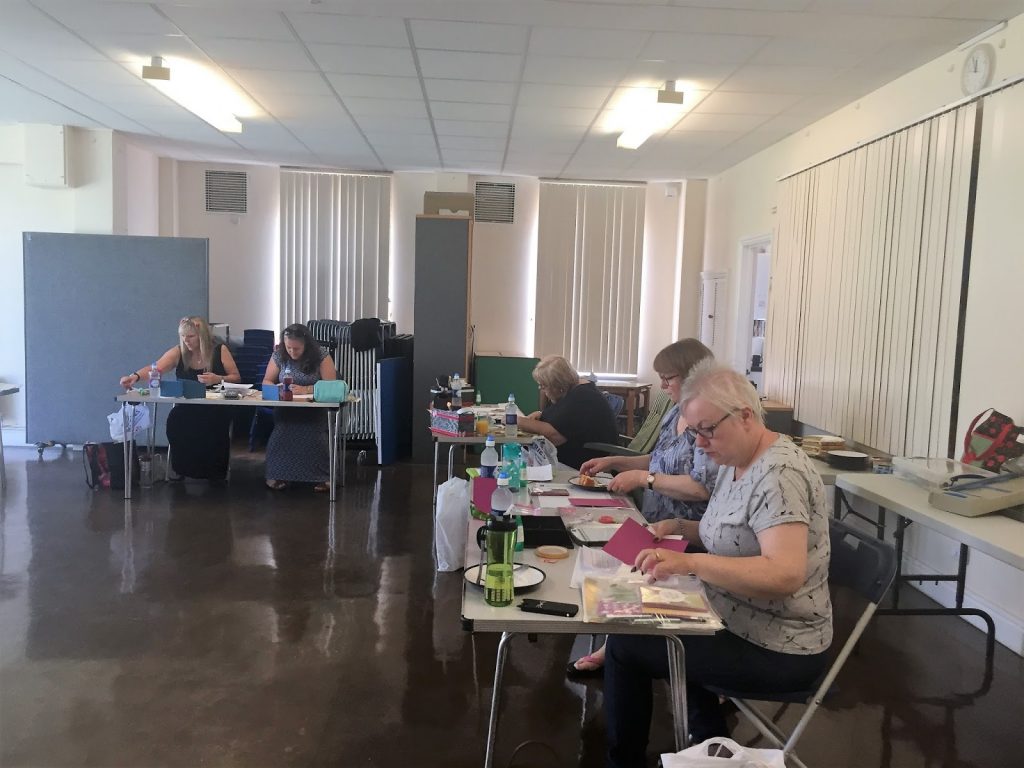 So much creativity from everyone!
Cake for elevenses of course and being the lovely crowd we are we also sang Happy Birthday to Caroline who celebrated the day before.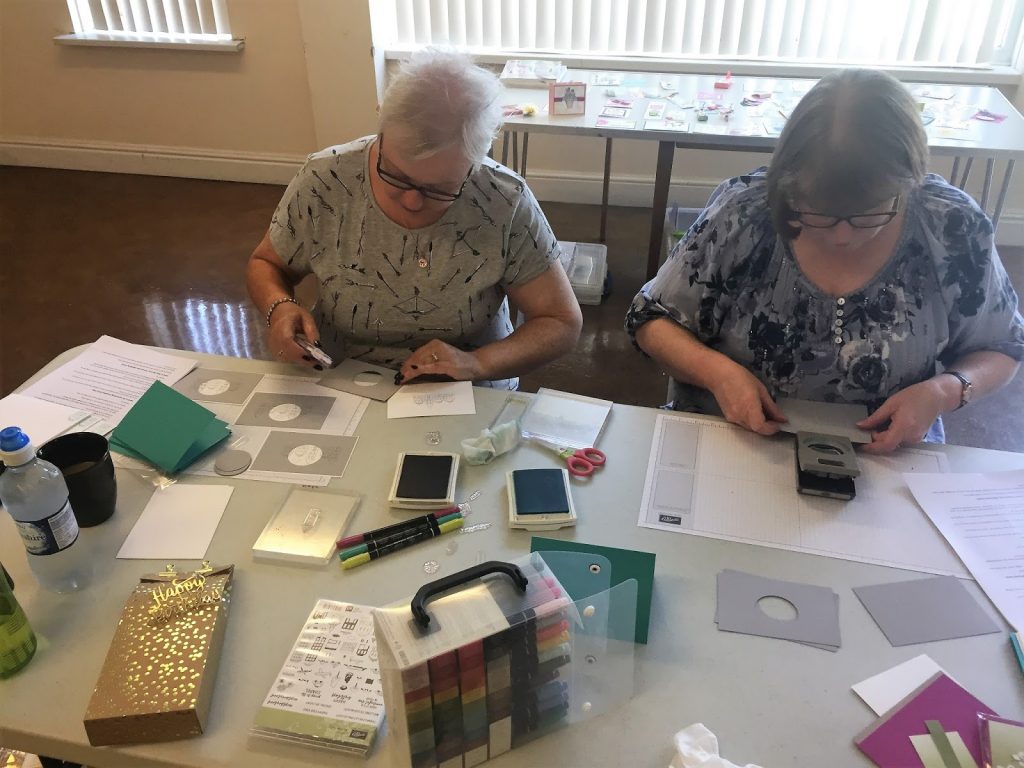 No naked envelopes here. 😄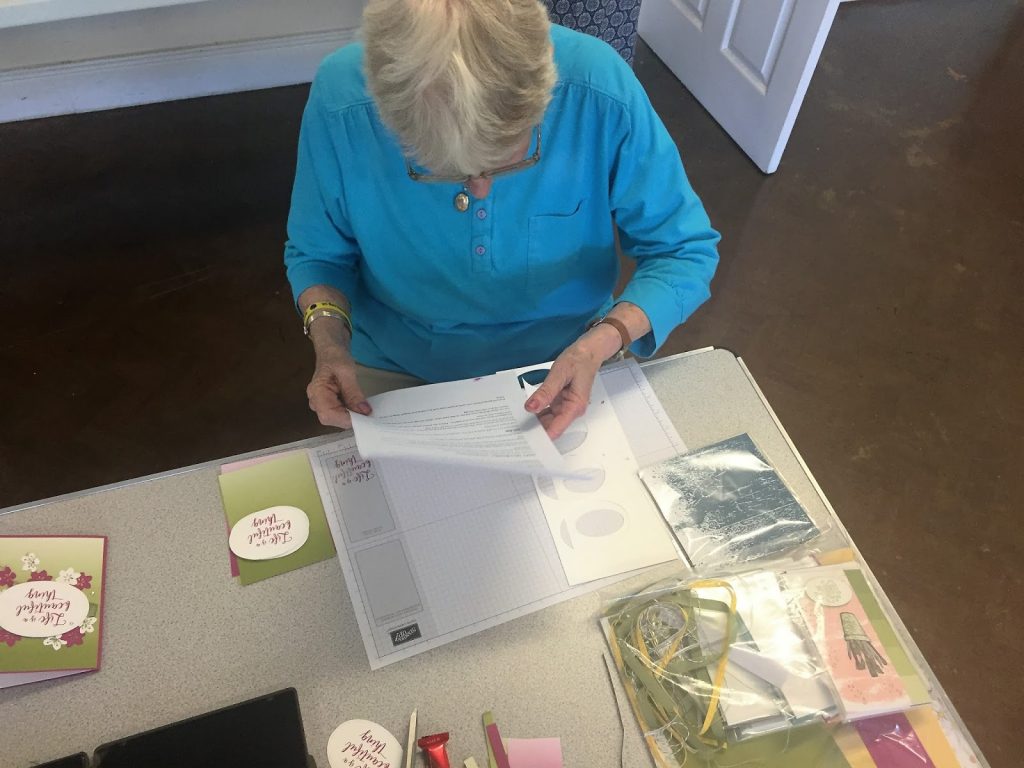 We had delicious warmed scones, clotted cream and also strawberries and cream for our Crafternoon tea. Although I didn't get a photograph before we tucked in!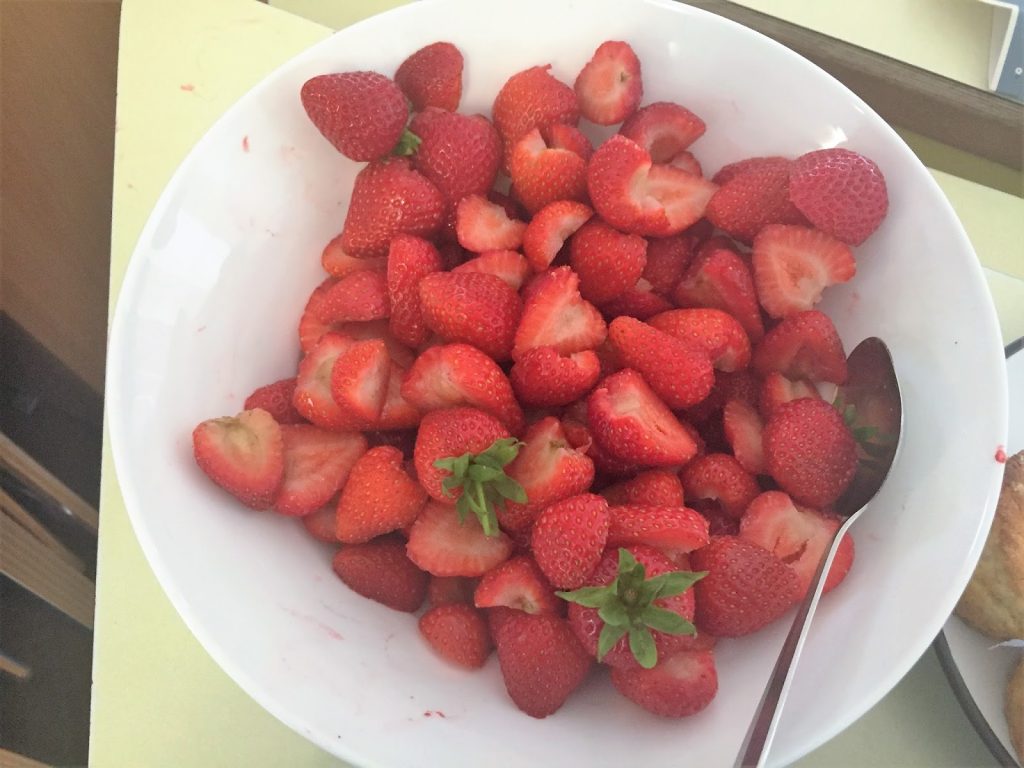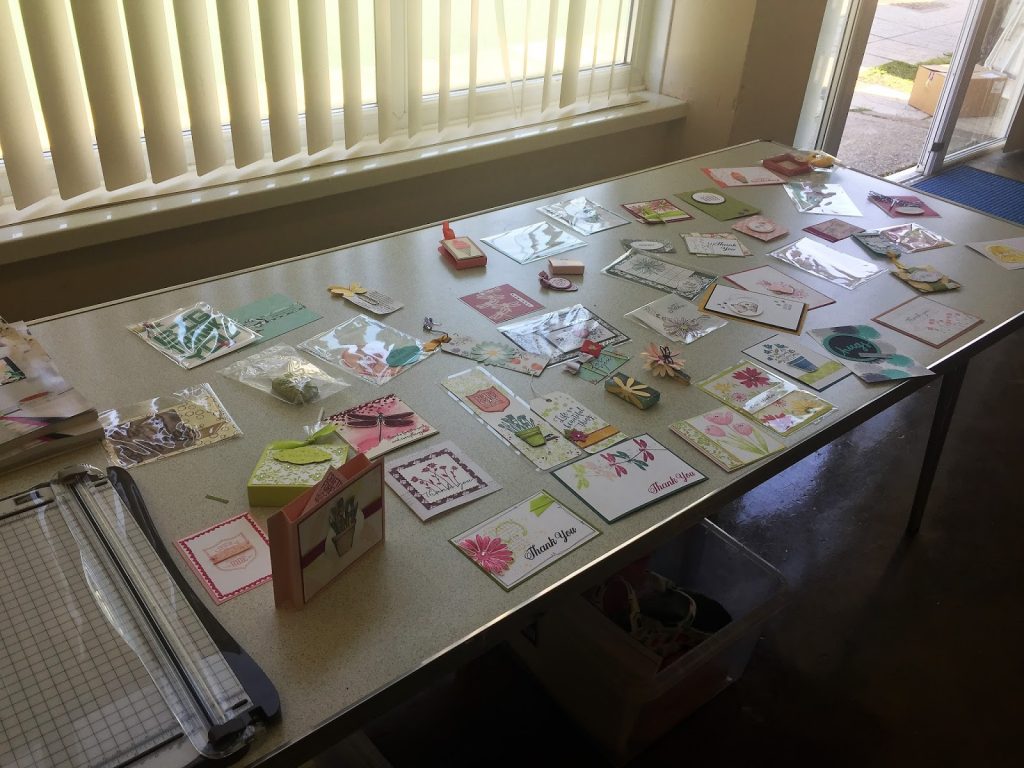 Some samples I received as swaps at a tea training event the previous weekend. Its always great to get lots of ideas!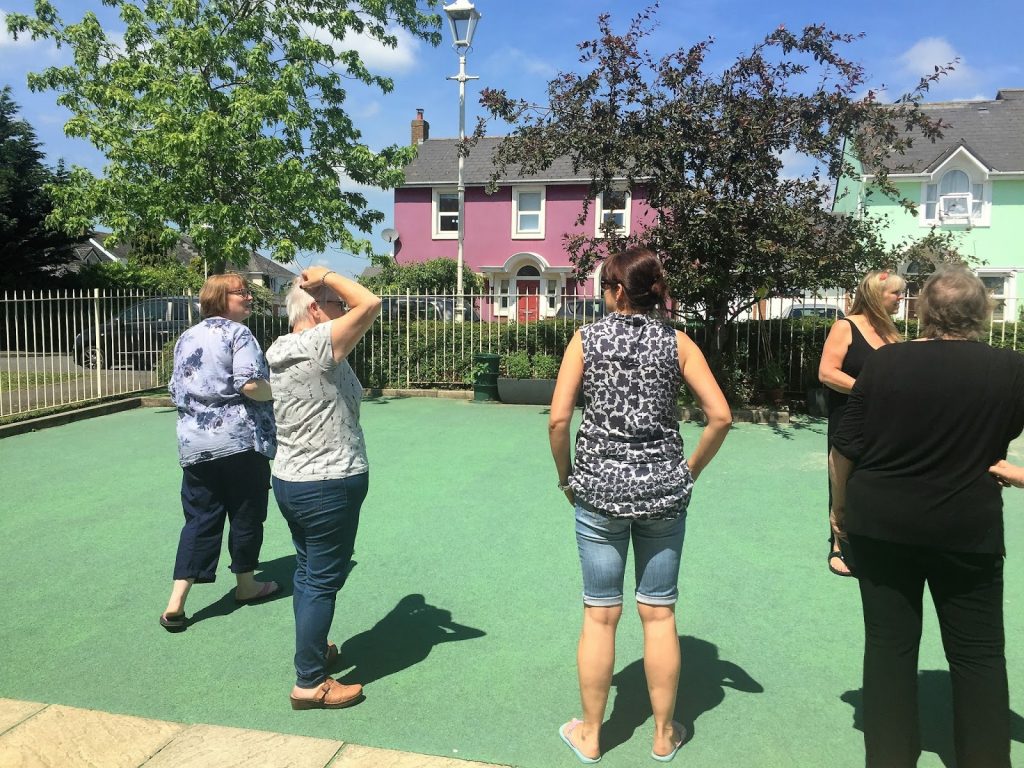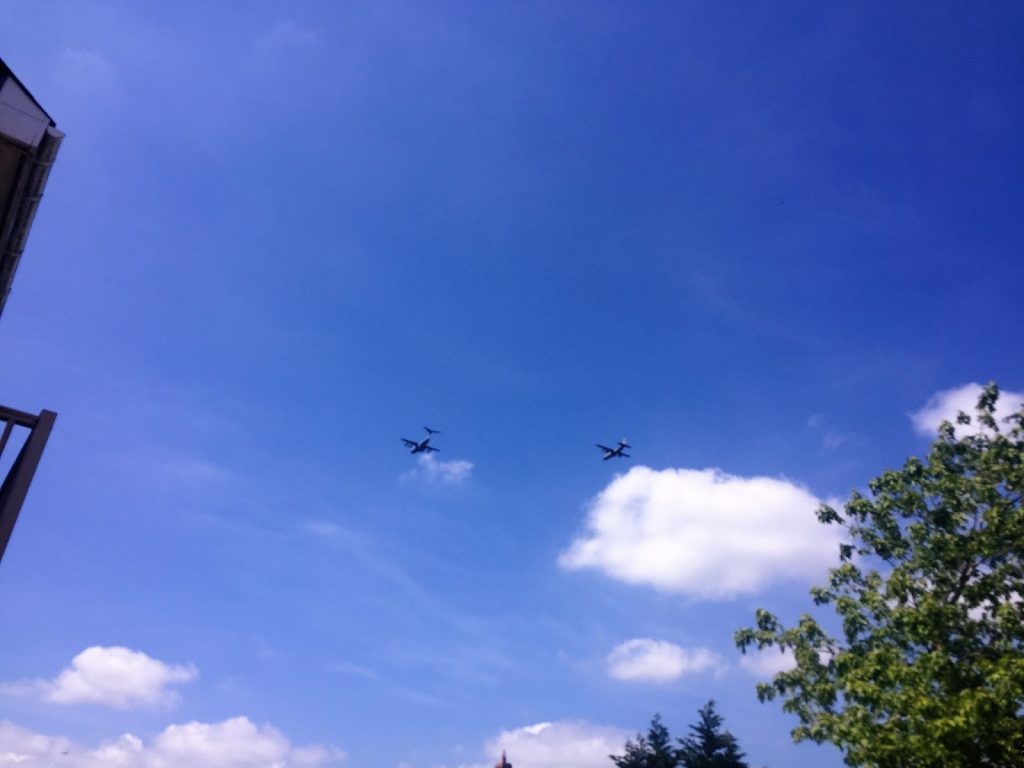 We saw the fly past for the Queens Birthday and Armed Forces Day ( we like to think they were out for Caroline's Birthday too 😂)
We all had such a lovely time and it was great to be able to spend time with everyone crafting. Lots of cards and gift bags were made. I have to say a great big THANKYOU to everyone who came as they are such a lovely group of ladies and made it a success. I loved it so much I have already planned the next one !
See the details and how to book in the side bar. I'd love to have you! Suitable for all abilities including new stampers.
I run monthly card classes and Memories and More Scrapbooking crops too. Suitable for all abilities. See the dates on my events page in the side bar or contact me here for more details. I'd love to craft with you.
You can shop for all the new Stampin Up products here:
If you place an on line order for between £20 and £150 please
add
hostess code
AN969V3Y
on checking out and I will send you a little thank you gift at the end of the month. If your order is £150 or more there is no need to add the code as you will earn your own Stampin Rewards! If there is anything you would like help with, don't hesitate to ask. I would love to earn your custom.
If you have a
big wish list
and want to save money or would like to get your hands on all the
new Stampin Up products at a great discount!
join an amazing paper crafting family, have access to training and of course a great discount then
JOIN THE FUN HERE
or get in touch for a chat. It really is easy. I'd love to have you in my team!
Thanks for stopping by. See you soon X