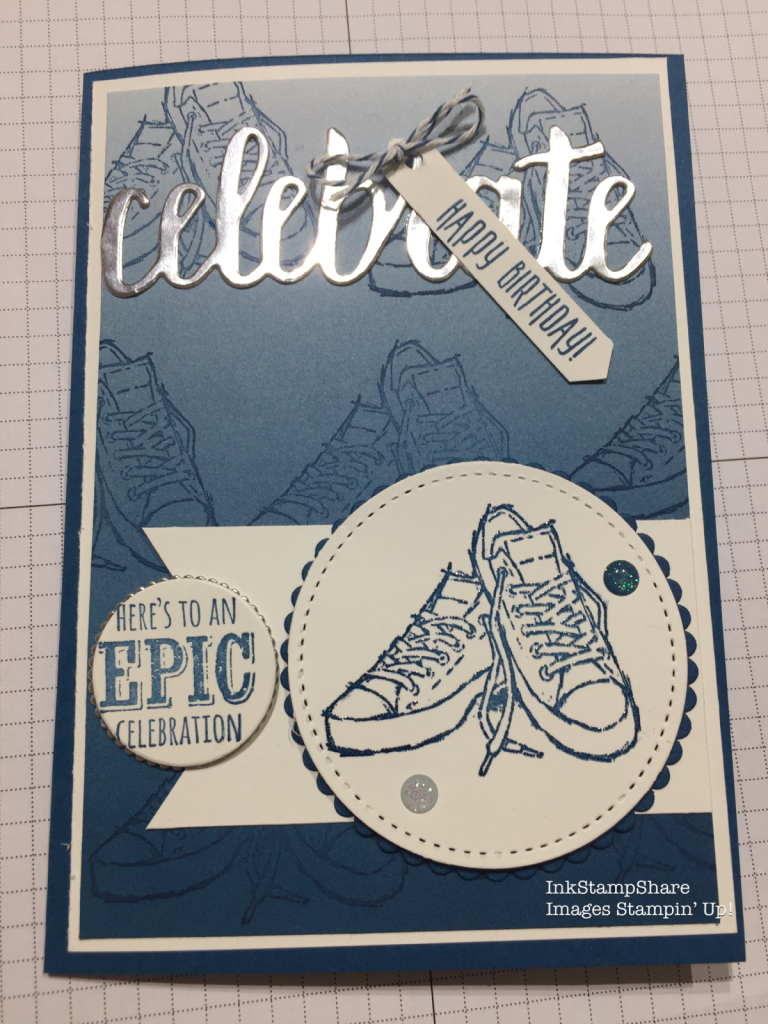 Every fortnight we have a new challenge, this time it's a sketch challenge and I have used the Epic Celebration Stamp set.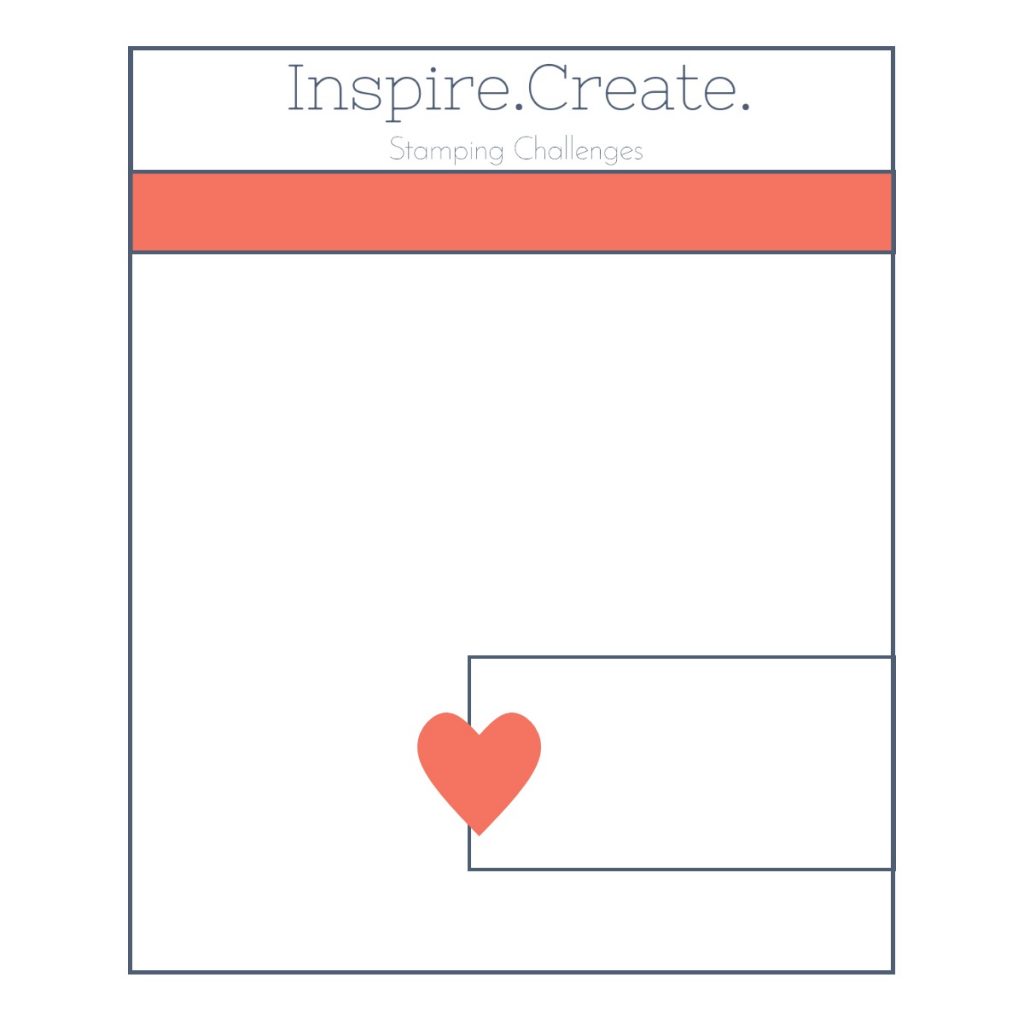 I love a sketch challenge. It's fun to see that given the same sketch we all come out with such different cards. I am looking forward to seeing what the rest of the Design team have come up with. We have the very talented Kylie Bertucci as Guest Designer with us this week! Do pop over and have a look,
HERE
you can see all the other entries and join in too. I hope you do, we would love to see what you come up with!
We have a birthday in our house this week! One of our boys is turning 11. How did that happen?! so I thought the Epic Celebration stamp set would be perfect for this. We have three children in the house and many pairs of converse so it seemed very fitting.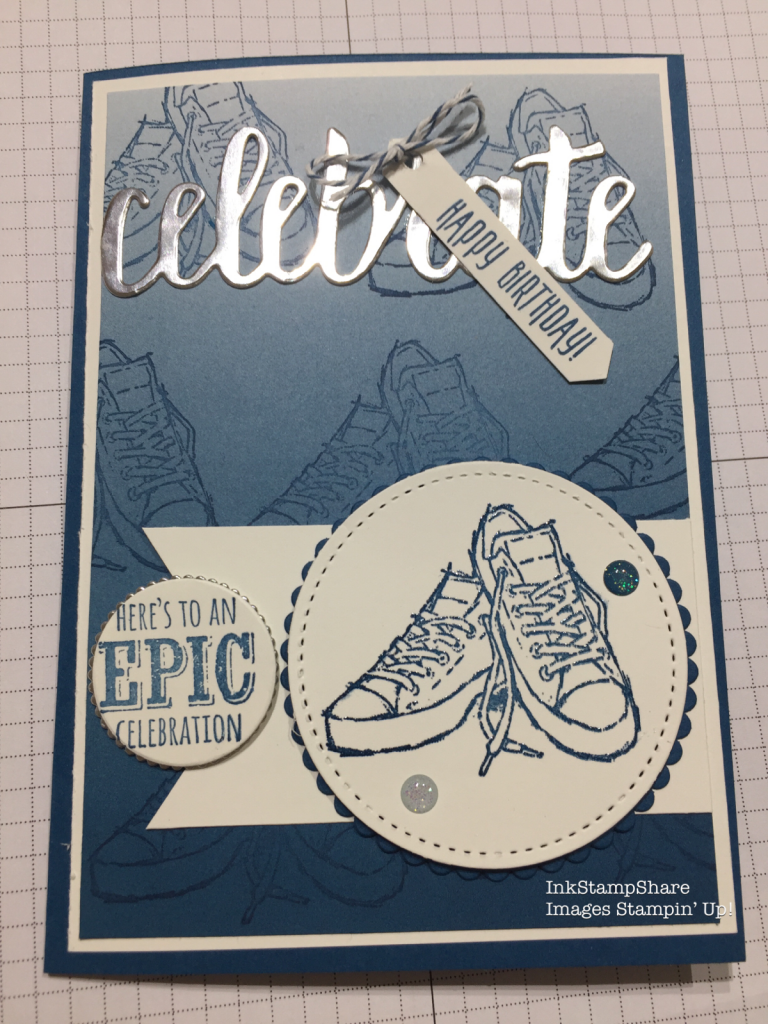 I have used the Colour Theory as the background in my card in Dapper Denim and stamped with the Converse image also in Dapper Denim to give a water mark effect.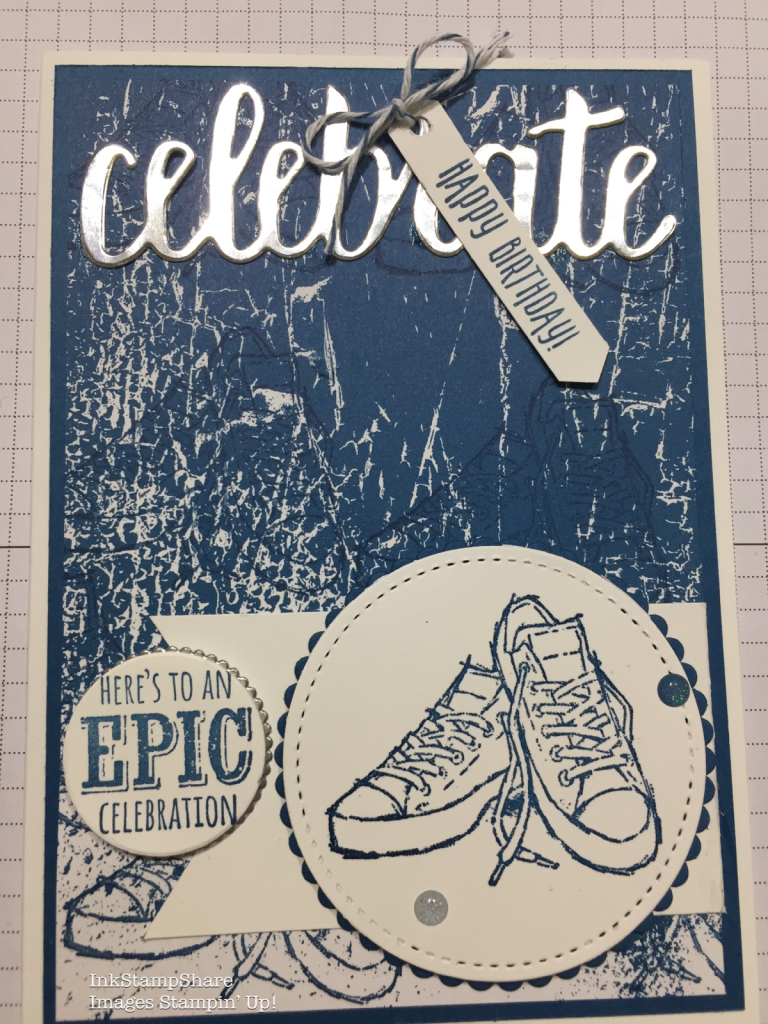 I have used the reverse side pattern of the same DSP for this one. It is like a crackle glaze and quite effective. Which one do you like?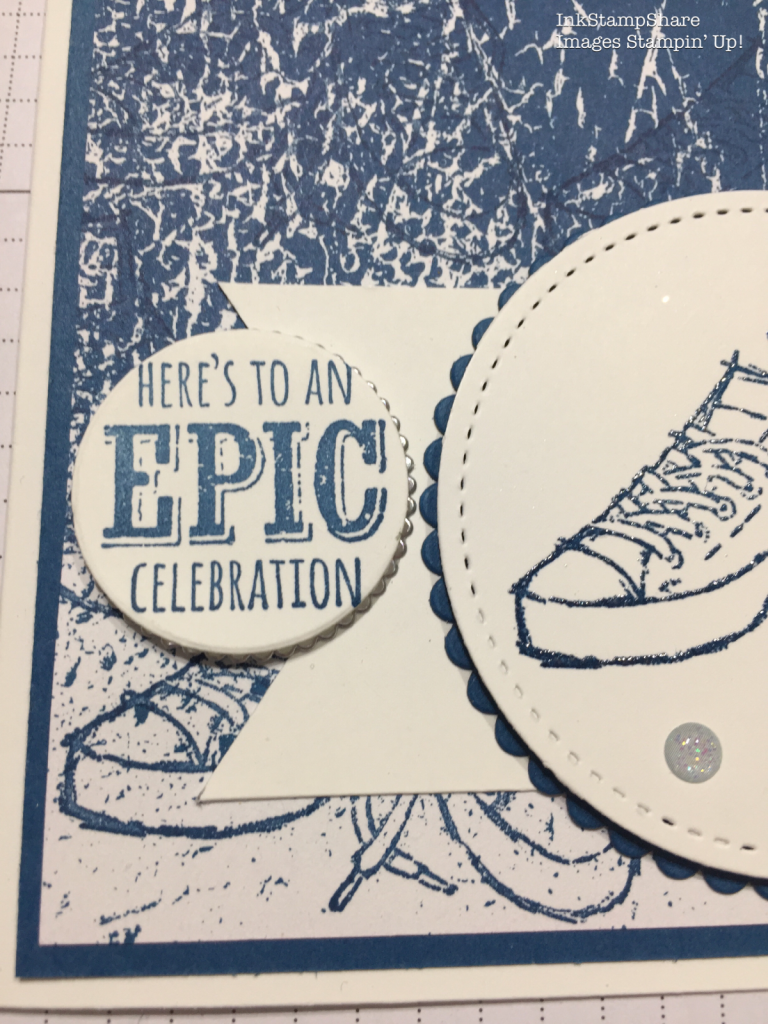 You can see that stamped the DSP on this one too.It is more obvious on the whiter parts of the paper.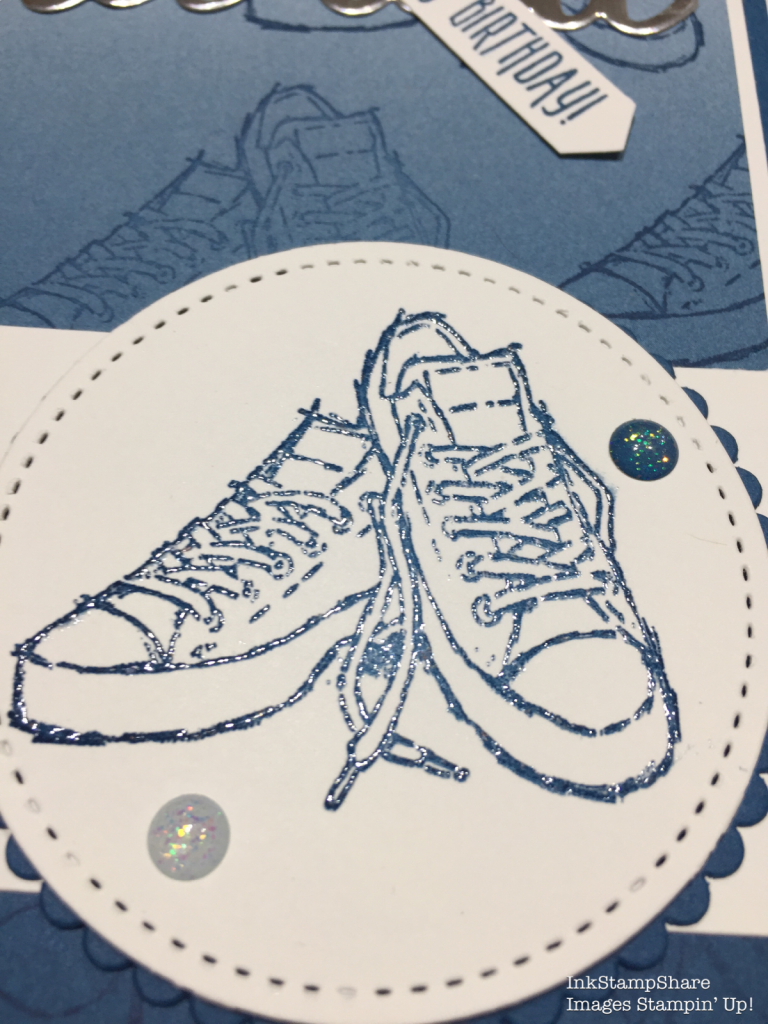 I have embossed the Converse image using Dapper Denim ink and clear embossing powder and added a couple of Glitter Enamel dots in Dapper Denim.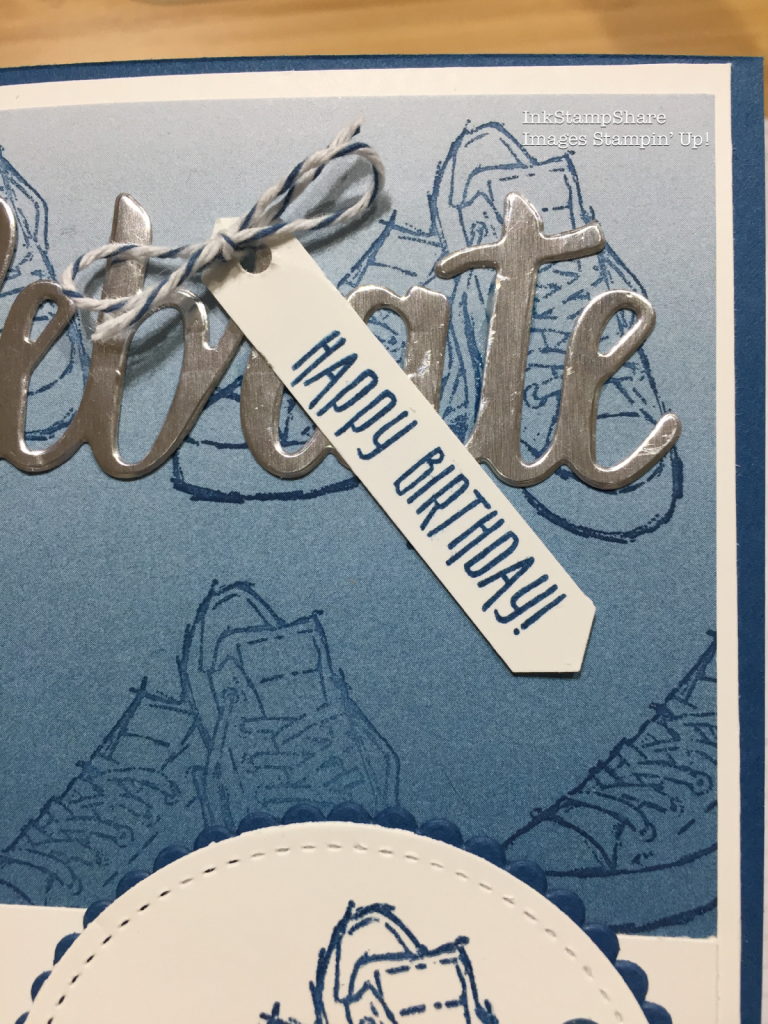 I have cut the "Celebrate" from the silver foil card using another set free with Saleabration. The Celebrate You Thinlit Dies. The Happy Birthday sentiment was stamped in Dapper Denim, punched using the classic label punch and attached to the Celebrate using Dapper Denim Bakers Twine.
The card base is A4, scored at 10.5 cm and cut at 14.8 cm.
The Whisper White layer is 14.3 cm x 10 cm.
The DSP layer is 9.5 cm x 13. 8 cm.
I can't quite believe my youngest is turning 11! I think he will love his card. He loves coming into my craft room and messing about with ink and paper too.
Here are all the products I used in my card with clickable links direct to my online shop.
Do drop back in to see what I will be making next. You can subscribe to my blog for more crafty inspiration by clicking the subscribe button in the side bar.
Here is a little information about Saleabration
You can choose a Saleabration item with an order over £45, or two for £90 or instead, one of the higher value reward items which are free with a £90 spend.
I hope you have enjoyed the Saleabration posts so far and that I may have given you a little crafty inspiration. If you would like to take advantage of the free products don't leave it too long. Saleabration ends on March 31st – Everyone who orders from me online receives a hand made card and a small hand made gift. Don't forget to use the hostess code when you checkout to get an added gift from me when you place an online order.
This Month's Hostess Code is K2SAED93
However, there is a much better deal
than that going on during Saleabration. Join Stampin' Up! and choose any £130 of products to go in your starter kit, plus a further two stamp sets of your choice of up to £90 value plus free shipping all for £99!
That's £220 of products for £99! WHAT A BARGAIN!
There is no risk involved, there is lots of support if you wish to take it as a business opportunity but also no obligation to sell or demonstrate if you choose not to WIN WIN! I would love to have you on my team. Do get in touch if you would like to take advantage of this great offer, only on during Saleabration or
Join Here
I really hope you like seeing what i have been up to. Click on the subscribe button in the side bar to follow my blog if you don't want to miss anything.
Thank you for stopping by. Kate x