I have a box for you today and I love it! I went shopping for the item to go in it – I knew a Honey Body Butter Box was something I would make with this bundle and the Golden Honey papers as soon as I saw it!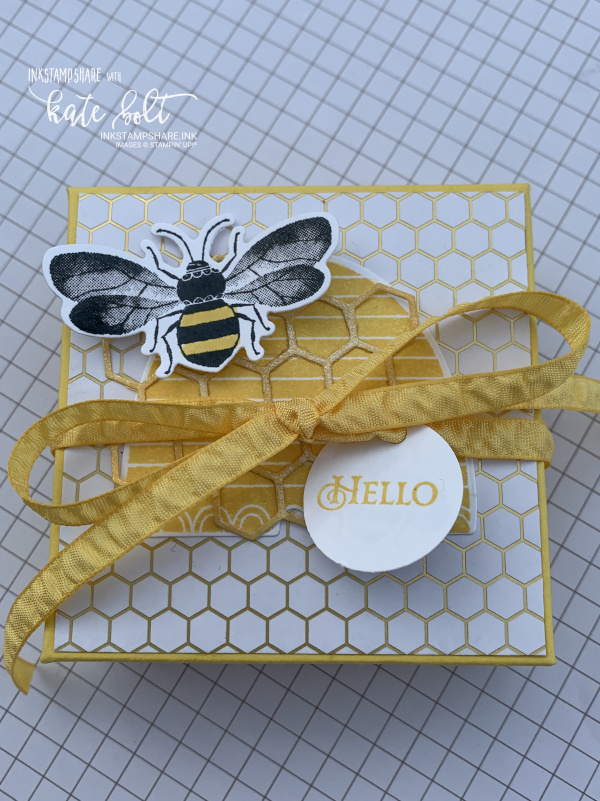 Use the Honey Bee stamps and dies bundle, card and ink in Daffodil Delight and the gorgeous Ruched Daffodil Delight ribbon to finish it off. The beautiful foiled Honey Bee papers are free with Saleabration! All available in my online shop. Click here to order.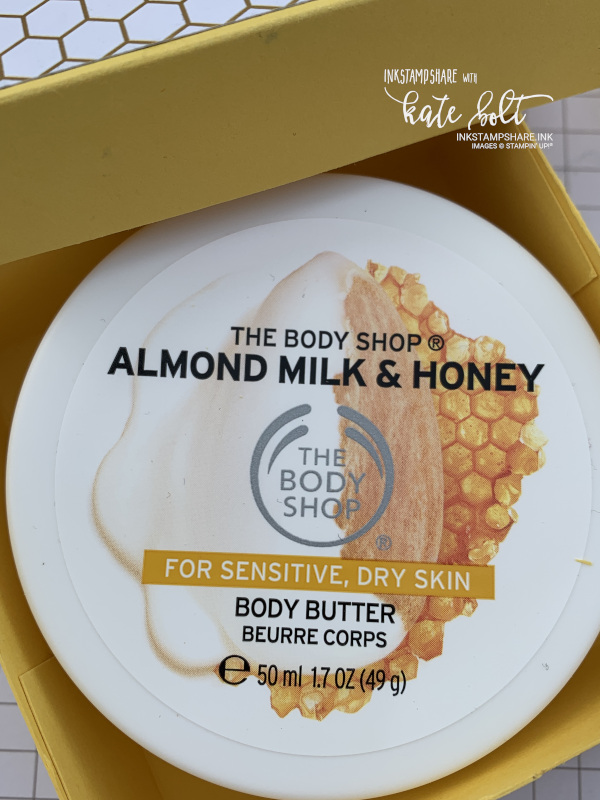 The Almond Milk & Honey Body Butter is gorgeous and is packaged in exactly the right colours for my box too.
It's really easy to make and fits the smaller size of Body Butter. Perfect for a little gift! I would love it.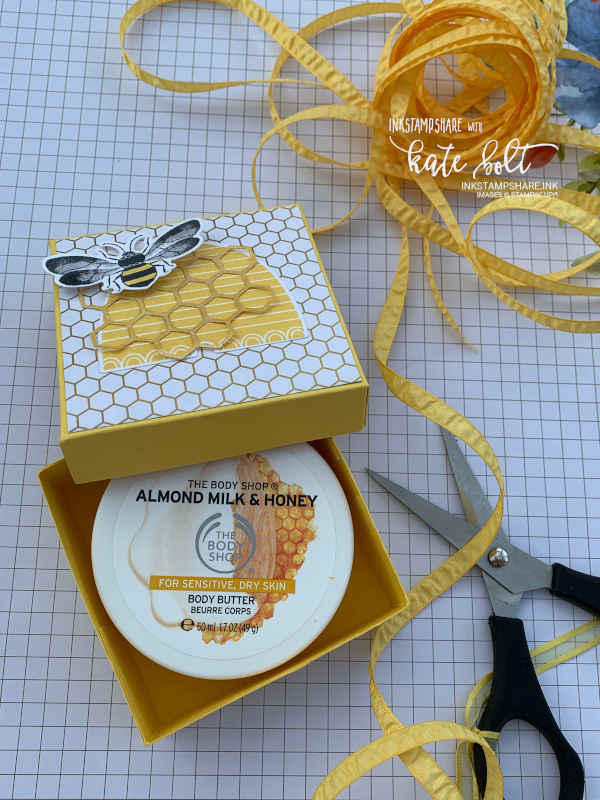 Honey Body Butter Box
Daffodil Delight Card
For the bottom of the box: Daffodil Delight card 5 1/2″ x 5 1/2″.
Score all 4 sides at 1 1/4′ Fold and burnish the score lines. Cut the tabs, notching a tiny sliver from the edges for neatness.
For the top: Daffodil Delight card 4 1/2″ x 4 1/2″
Score all four sides at 3/4. Fold and burnish the score lines. Cut the tabs, notching a tiny sliver from the edges for neatness.
Cut a piece of the Golden Honey Designer Series Paper at 3 3/4″ x 3 3 1/4″ and adhere to the top.
Stamp the bee in Memento ink and colour in his body with a Daffodil Delight Stampin Write Marker. Stamp the beehive and in Daffodil Delight and cut both out. Die-cut the honeycomb using Daffodil Delight card. Assemble your pieces and adhere to the top. Use a Dimensional to raise your bee and leave his wings free. Stamp a smaller bee onto Whisper White card and punch out with a circle punch. On the other side, stamp Hello in Daffodil Delight ink. Use a small hole punch to make this into your tag and attach it with the ribbon, tying a bow.
I hope you love it and will give it a try. You can see other projects using the Honey Bee Bundle here, here and here ...and here!
You can see all the products I have used listed below with clickable links to my online shop.
Do click on the subscribe button in the sidebar to follow my blog if you don't want to miss anything.
Don't forget to use the hostess code at checkout if your order is between £20 – £150 for a thank you gift when shopping with me. The Hostess Code for this month is 7KXQA6UX
I really hope you like seeing what I've been up to. Do drop back in to see what I will be making next!