Hello and welcome to my blog. Have you heard of swapping? It's something Stampin Up demonstrators do to share ideas and inspiration with each other! It's great fun to take part, to give and receive. We generally do it in groups for events or the launch of a catalogue. Here's how it works – Make a card, replicate it for however many participants there are and give or send them out. Together with the recipe of how to make it. This time I am swapping with my team for the July to December Mini Catalogue. With Christmas on the horizon, it's the perfect time to do a swap! Lots of crafty inspiration!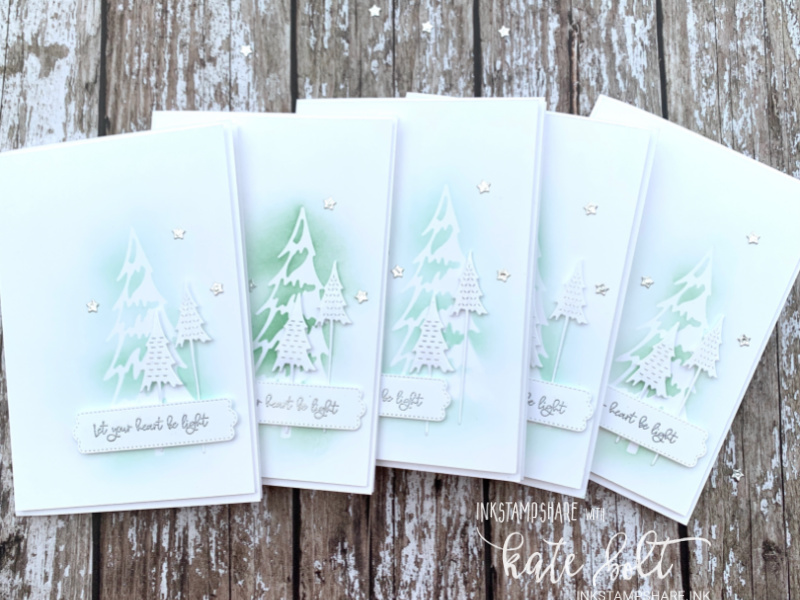 These are a few of the swap I made. A very simple card using the gorgeous Whimsical Trees Bundle. Just one colour ink – Mint Macaron, a blending brush, and a little heat embossing in silver. A little die cutting too – those trees!
Swapping With My Team
Here is the video showing you exactly how to make it during my Coffee and Cards live, with an alternative too. I hope you enjoy it! Please give it a thumbs up and subscribe if you do. Thank you so much.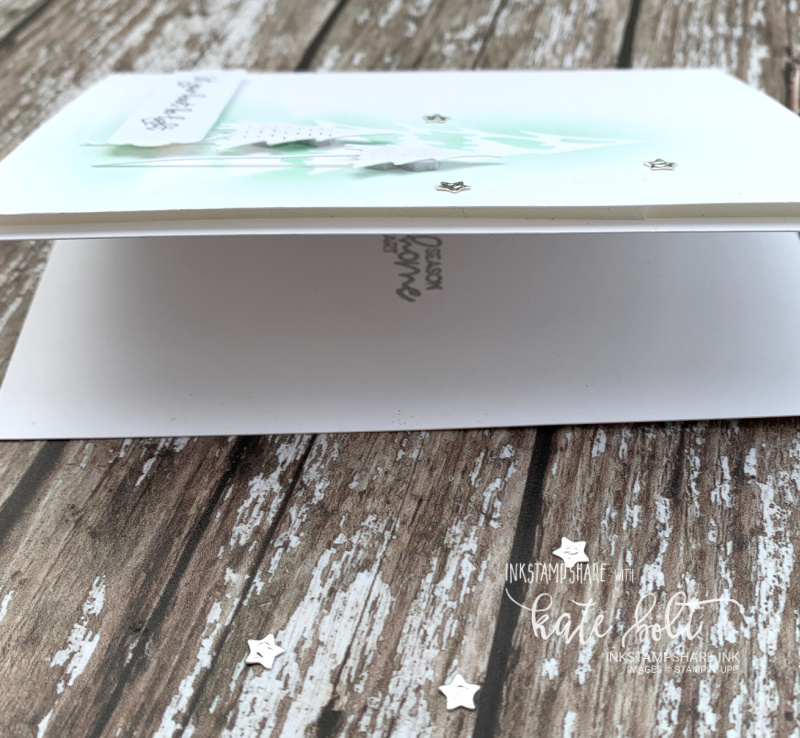 Stamp inside or heat emboss your sentiment in silver as I have done to match the front and the tiny die cut silver stars.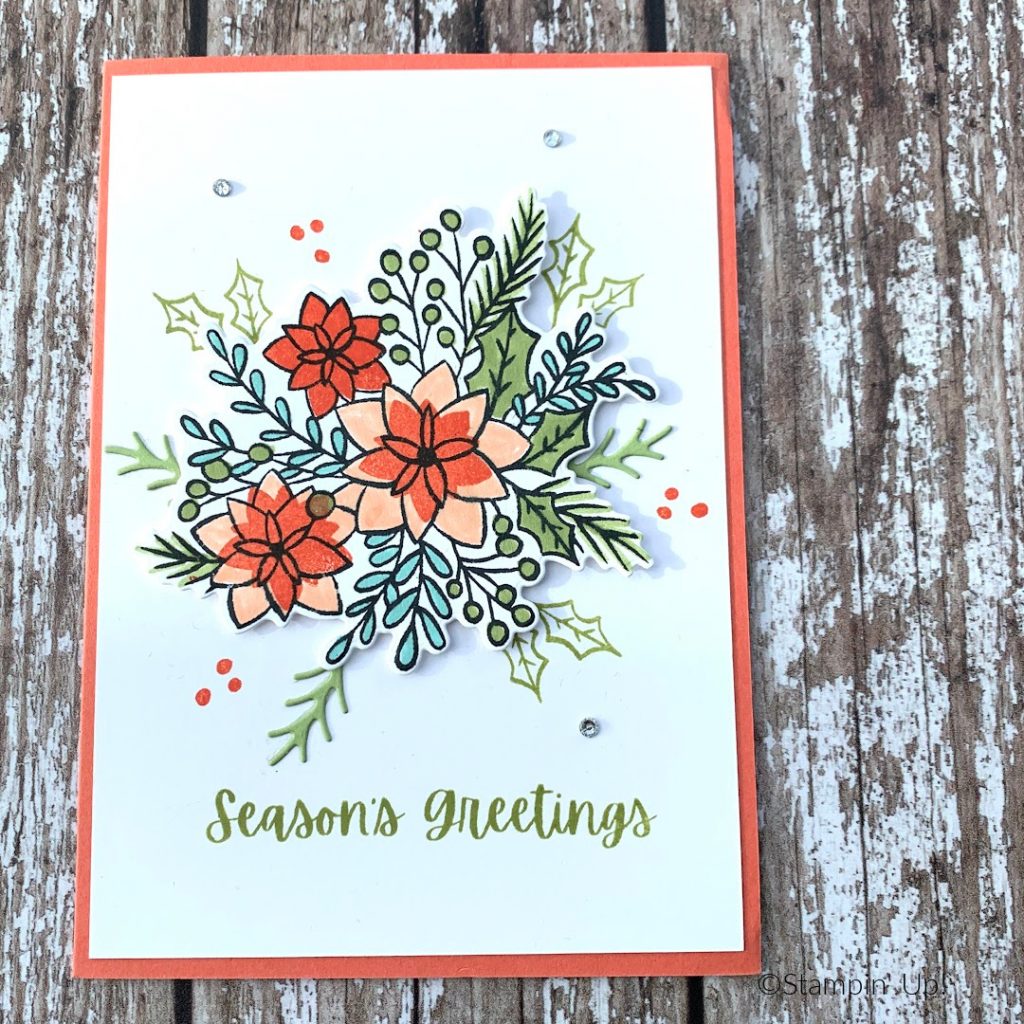 This swap is beautiful! Made by my lovely team member Joanne. I love the non traditional colours she has used. So, so pretty!
This beautiful swap is from my team member Samantha. What a brilliant way to show off both sides of the Designer Series Papers! Love it. I will definitely be trying it!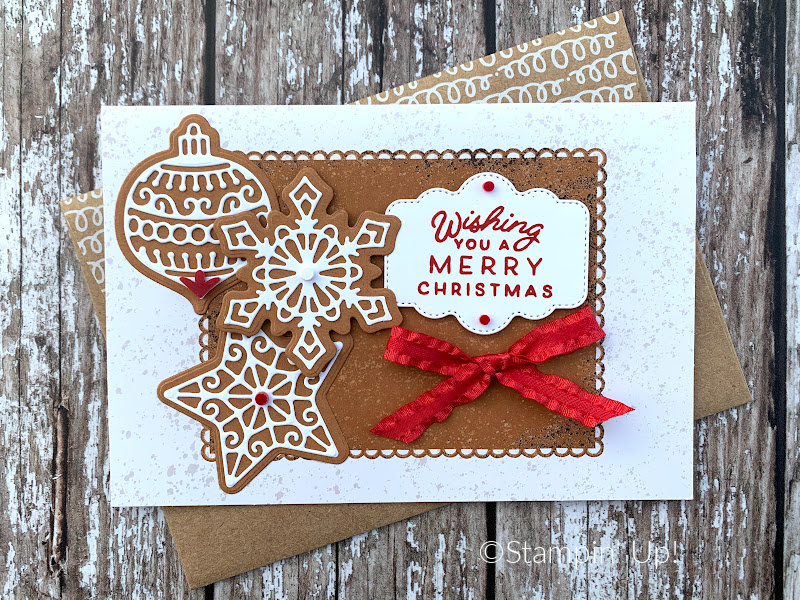 How beautiful is this!!! I absolutely love it. This swap is made by my team member Jennifer. I really love everything gingerbread around Christmas. It's made using the Gingerbread & Peppermint Suite. It's good enough to eat!
Swapping With My Team
Swaps are sent blank. We include the swap recipe so that it can be easily recreated. Use them for inspiration or send them out of course! Swapping is such a lovely thing to do. Create your swap, multiply, send out and you will receive lots of lovely inspiration back. It's great for all stampers – everyone joins in from beginner stampers to advanced. Sometimes we swap in little groups and sometimes we have the opportunity to swap in big numbers at large events if you choose to. You get to make lots of new friends too! Swapping is a fun part of being in Stampin Up!
I hope you like our swaps! Do leave a comment and let me know. Maybe you would like to join the Stampin Up community too!? We have the most incredible joining offer this month and I would love to have you in my Inkredible stampers team. (see what I did there? haha)