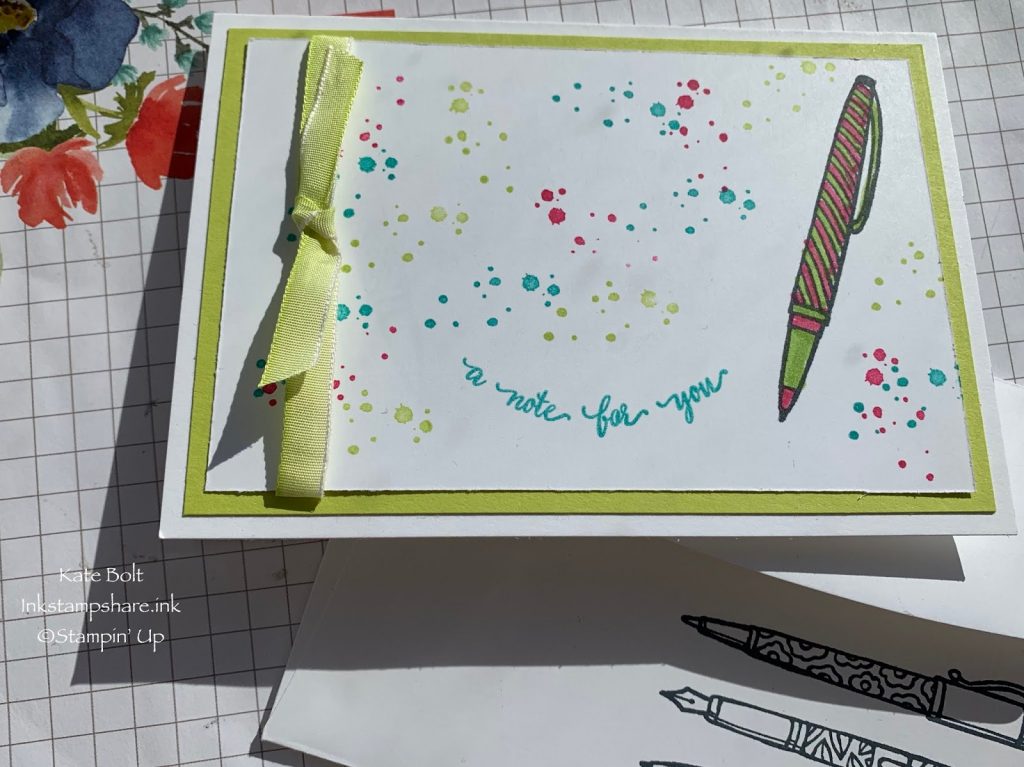 There is always a reason to send some happy mail. Thanks for helping me out, Hope you feel better soon, Thinking of you, Thanks for being there, Lets meet up for coffee… Isn't it lovely to receive a little hand made note card in the post? That little spark of colour in amongst the bills and junk mail?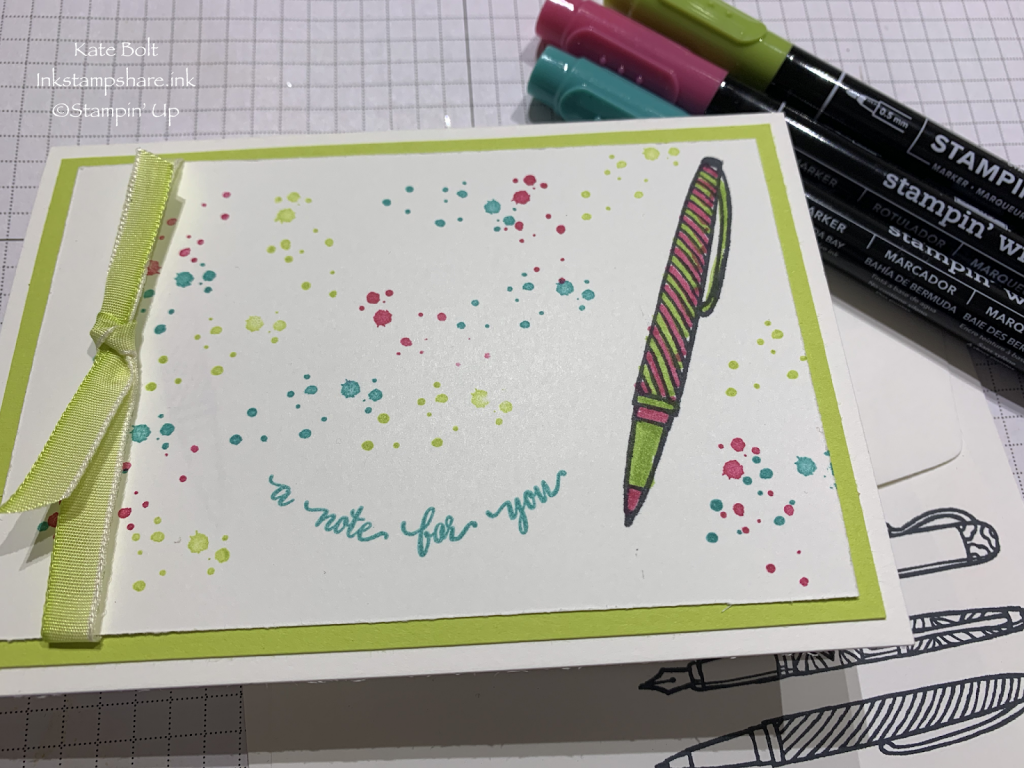 So I had a little play with the Crafting Forever stamp set to create this one.
The note cards come in a pack of 20 with envelopes, all pre scored and ready to go. I added a little stamping and used three colours. Lemon Lime Twist, Melon Mambo and Bermuda Bay. I added a little Lemon Lime Twist Ombre Ribbon to the card and stamped on the envelope, I want it to stand out in the post!
An added bonus with this stamp set is that it contains Stampin' Up!'s angel policy stamp too.
I wanted to use just one of the pens on the stamp that has three imag
es on it, to make it look like it has written "a note for you" . You can see how easy it is to do that here in my quick You Tube Tutorial of how I made the card.
A quick and simple card I will pop in the post . I hope it brightens their day 😊 It has got me thinking of all the people I could send a little handmade notecard to. So many… Do you like getting a hand written card? Let me know in the comments.

Dimensions
Notecards are 5″ x 3 1/2 "
Lemon Lime Twist layer: 4 3/4″ x 3 1/4 "
Whisper White layer 4 1/2″ x 3 "
I have used the stamp set a lot. It's a firm favourite in my stash. You can see some other projects I have made with it here , here, and here.
Here are the products I used to make the note card with clickable links to my online shop
I am of course, very grateful if you choose me to be your demonstrator and you shop with me.

If you shop with me online, don't forget to use the hostess code if your order is between £20 – £150 for a gift from me

.



I really hope you like seeing what I have been up to. Do drop back in to see what I will be making next! Click on the subscribe button in the side bar to follow my bl

og if you don't want to miss anything.

Hope to speak to you soon,







Shop Stampin" Up! Here: http://bit.ly/2J4BwE1