Silver raindrops & sparkly wellies! Just how beautiful is this brolly too?! It's not so bad to go out in the rain with these! I am just loving the Under My Umbrella stamp set and matching punch! There's so much you can do with it and what's more, we now have the Pleased As Punch papers that match the stamps and punch too!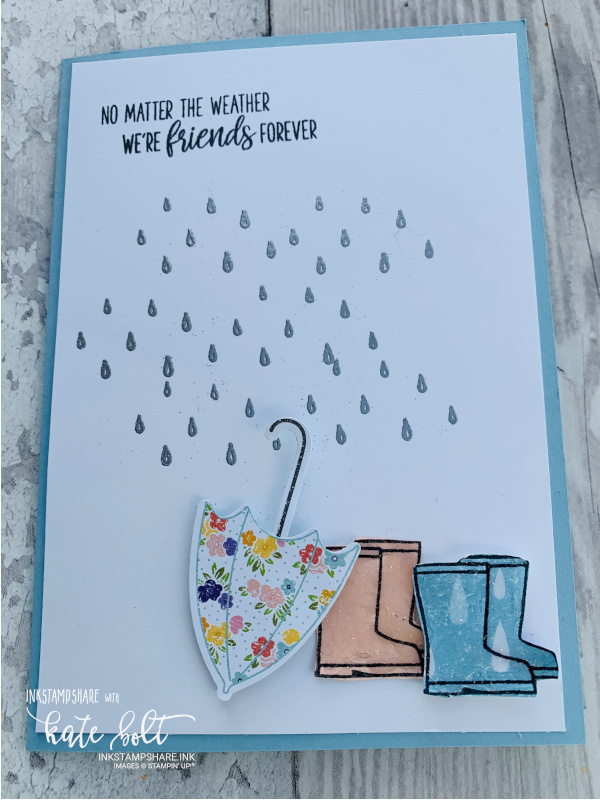 Silver Raindrops & Sparkly Wellies.
This is a card that's great fun to make, There are a few easy techniques on this card that make it easy create the silver raindrops & sparkly wellies. You can punch these beautiful umbrellas from the paper.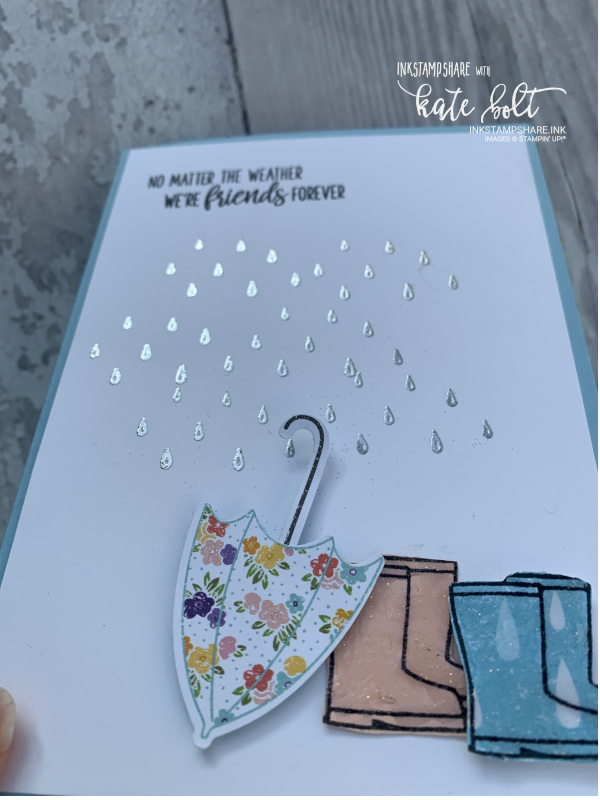 You might know how much I love heat embossing. It's so easy to make sparkly raindrops using the stamp and silver embossing powder. There are lots of useful sentiments in this set. I love this one, great to send to a friend who is having a tough time.
The wellies are wet! This is also fun to do. You might have seen this on my Instagram the other day. It's a simple technique. Stamp the wellies onto the patterned paper or card. This is the raindrop paper (the B side of the Pleased As Punch papers) and some Petal Pink card. Cut out with your scissors – easy I promise. Then use the Shimmery Crytal Effects flood the image, little by little and then leave to dry. Voila! wet, sparkly wellies!
You can see another project I've made using the Under My Umbrella stamps/punch bundle here.
OK, have you seen the Pleased As Punch Papers? They please me so much! Sorry about the pun. They match the Umbrella, Tulip, Blossom and Heart Punches. So cool! They are part of the new Coordination Product Release just out! We have dies and papers to match products from both the Mini and the Saleabration items. See them all here in this little video.
I am so excited about the Mini Catalogue. It's full of gorgeous new products I am loving creating with. We have Saleabration too with lots of great products including papers, dies and stamps and they are all free with a £45 spend from either the new Mini Catalogue or the Annual. Click on the catalogue images to browse. See which you like most from Saleabration or collect them all!
JOIN DURING SALEABRATION!
We also have the most amazing joining offer during Saleabration too! Don't miss out. Choose £130 of products and receive the mini trimmer, the gorgeous paper sampler and choose another stamp set all for £99! Free shipping is included. Take advantage of at least 20% off, free Saleabration items and Stampin Rewards on all your subsequent orders whist you are a demonstrator too. Get in touch if you'd like to know more. I'd love to have you on my team!